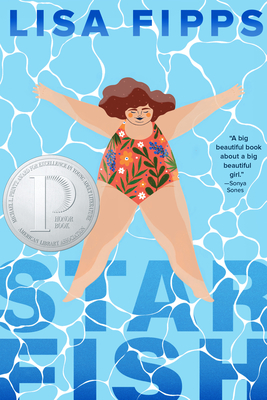 Starfish
Hardcover

* Individual store prices may vary.
Description
Ellie is tired of being fat-shamed and does something about it in this poignant debut novel-in-verse.

Ever since Ellie wore a whale swimsuit and made a big splash at her fifth birthday party, she's been bullied about her weight. To cope, she tries to live by the Fat Girl Rules--like "no making waves," "avoid eating in public," and "don't move so fast that your body jiggles." And she's found her safe space--her swimming pool--where she feels weightless in a fat-obsessed world. In the water, she can stretch herself out like a starfish and take up all the room she wants. It's also where she can get away from her pushy mom, who thinks criticizing Ellie's weight will motivate her to diet. Fortunately, Ellie has allies in her dad, her therapist, and her new neighbor, Catalina, who loves Ellie for who she is. With this support buoying her, Ellie might finally be able to cast aside the Fat Girl Rules and starfish in real life--by unapologetically being her own fabulous self.
Praise For Starfish…
* "Fipps bursts onto the middle-grade scene with her debut, a verse novel that shines because of Ellie's keen and emotionally striking observations. As she draws readers in with her smart and succinct voice, Ellie navigates the difficult map of knowing she deserves better treatment while struggling with the conflict that's necessary to achieve it. Fipps hands her young narrator several difficult life lessons, including how to self-advocate, how not to internalization of the words of others, and what it means to defend yourself. Ellie's story will delight readers who long to see an impassioned young woman seize an unapologetic victory."—Booklist, starred review
Nancy Paulsen Books, 9781984814500, 256pp.
Publication Date: March 9, 2021
About the Author
Lisa Fipps is a library marketing manager. Starfish is her debut novel. She lives in Kokomo, Indiana.