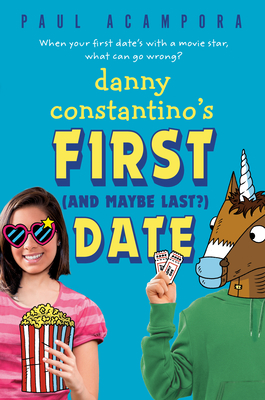 Danny Constantino's First (and Maybe Last?) Date
Hardcover

* Individual store prices may vary.
Description
Between going out with his celebrity crush and his mom's campaign to be the next town mayor, Danny's got a lot to learn about life in the spotlight.

When Danny Constantino asks his old-friend-turned-Hollywood-movie-star, Natalie Flores Griffin, to his local school dance and homecoming parade, she surprises him . . . by saying yes! Unfortunately, now everyone in Cuper Cove has something to say about Danny's love life--especially since Natalie is the hometown hero. Throw in herds of TV reporters and NFG groupies, his mom using Natalie's arrival for free publicity, and a pep rally gone horribly, horribly awry, and Danny's left absolutely clueless in this new world of crushes and becoming (kind of) famous.
Praise For Danny Constantino's First (and Maybe Last?) Date…
Louisiana Readers' Choice nominee!

"Danny and Natalie's blossoming romance is well drawn, and Acampora steers clear of treacle territory with deft deployment of subplots. . . . Every first date should be this charming."—Kirkus Reviews

"A fast-paced, humorous escapade that tackles the social awkwardness of middle school dating. Authentic yet witty."—School Library Journal

"DANNY CONSTANTINO'S FIRST (AND MAYBE LAST?) DATE is laugh-out-loud funny, touching,  and a pure delight. It reminds me of one of my favorite movies, Notting Hill, which I watch over and over again. This is a book that kids will adore, and read more than once!" – Deborah Heiligman, National Book Award Finalist and Printz Honor author of Torpedoed: The True Story of the World War II Sinking of "The Children's Ship"
 
"Funny, charming, deeply real, and wonderfully inventive, DANNY CONSTANTINO'S FIRST (AND MAYBE LAST?) DATE is that rare novel that is both an amazing adventure filled with twists and surprises and a believable look at real life and the human condition." – David Lubar, bestselling author of Sleeping Freshmen Never Lie
 
"Take one small town, add one big star, one baffled boy, and, of course, a giant cardboard unicorn, and you've got DANNY CONSTANTINO'S FIRST (AND MAYBE LAST?) DATE, a funny, charming tale of first love in the age of Insta-fame." – Michael Northrop, New York Times–bestselling author of TombQuest and Dear Justice League
 
"Acampora's hilarious story set in the world of modern middle school life is pitch perfect. A great read!" – E.J. Altbacker, Emmy-nominated screenwriter and bestselling author of Shark Wars
 
"A perfect mix of humor and heart, DANNY CONSTANTINO'S FIRST (AND MAYBE LAST?) DATE is equally sweet and hilarious, with crackling dialogue and lovable characters so real they jump off the page." – Josh Berk, Edgar Award nominee and co-author of Camp Murderface!
 
"DANNY CONSTANTINO'S FIRST (AND MAYBE LAST?) DATE gives readers all the feels! Heart and humor shine through in this tribute to friendship, rom-coms, and cardboard unicorns." – Erin Dionne, award-winning author of Secrets of a Fangirl
 

Praise for Paul Acampora

Defining Dulcie
*"An affecting, engaging family story."--Booklist, starred review
*"Teens will appreciate both the warm security that surrounds Dulcie and the hard truth that life can be painful."--School Library Journal, starred review

Rachel Spinelli Punched Me in the Face
"Quirky characters, small-town hominess, and frequent touches of humor create a Joan Bauer feel with cross-gender appeal."--School Library Journal
"An outstanding, humane coming-of-age tale of loss, yearning and forgiveness."--Kirkus Reviews

I Kill the Mockingbird
"The banter among the three whip-smart friends would make John Green proud . . . You won't have to hide any copies of this to create demand."--BCCB
"Fans of Janet Tashjian's The Gospel According to Larry series will enjoy this look at how the power of creativity and the internet can cause a cultural movement."--VOYA

How to Avoid Extinction 
"Some of the chapter headings are funny enough to convince people to read the book all by themselves."--Kirkus Reviews

Confusion Is Nothing New
"The idiosyncratic characters bring the story to life and the irrepressible humor . . . is laugh-aloud funny. A satisfying novel of loss, change, and renewal."--Booklist
"A multilayered and thought-provoking read that doesn't take itself too seriously."--Horn Book Review

Dial Books, 9781984816610, 224pp.
Publication Date: July 14, 2020
About the Author
Paul Acampora writes novels and short stories for young readers. Kids, parents, and critics praise his work for its laugh-out-loud humor, rollicking dialogue, and heartfelt characters. His books include Defining Dulcie, Rachel Spinelli Punched Me in the Face, I Kill the Mockingbird, How to Avoid Extinction, and Confusion Is Nothing New. Paul is a dad, husband, former kindergarten teacher, and full-time development professional now living in Pennsylvania's Lehigh Valley.