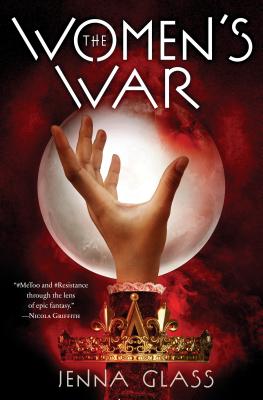 The Women's War (Hardcover)
A Novel
Del Rey, 9781984817204, 560pp.
Publication Date: March 5, 2019
Other Editions of This Title:
Digital Audiobook (3/4/2019)
Paperback (9/10/2019)
* Individual store prices may vary.
Description
In a feminist fantasy epic, a revolutionary spell gives women the ability to control their own fertility—with consequences that rock their patriarchal society to its core.

"A compulsive read, riveting characters, life-or-death stakes . . . a smashing book!"—Tamora Pierce

When a nobleman's first duty is to produce a male heir, women are treated like possessions and bargaining chips. But as the aftereffects of a world-altering spell ripple out physically and culturally, women at last have a bargaining chip of their own. And two women in particular find themselves at the liberating crossroads of change.

Alys is the widowed mother of two adolescent children, and the disinherited daughter of a king. Her existence has been carefully regulated, but now she discovers a fierce talent not only for politics but also for magic—once deemed solely the domain of men. Meanwhile, in a neighboring kingdom, young Ellin finds herself unexpectedly on the throne after the sudden death of her grandfather the king and everyone else who stood ahead of her in the line of succession. Conventional wisdom holds that she will marry quickly, then quietly surrender the throne to her new husband. Only, Ellin has other ideas.

The tensions building in the two kingdoms grow abruptly worse when a caravan of exiled women and their escort of disgraced soldiers stumble upon a new source of magic in what was once uninhabitable desert. This new and revolutionary magic—which only women can wield—might well tear down what is left of the patriarchy. The men who currently hold power will do anything to retain it. But what force in the world can stand against the courage and resolution of generations of women who have tasted freedom for the very first time?

Praise for The Women's War

"The Women's War is an epic feminist fantasy for the #MeToo era. . . . The Women's War does what so many classic adult fantasy books do not: It gives us a nuanced portrayal of grown women dealing with a wretchedly unfair society. It is rare to read a fantasy novel with a middle-aged mother as a main character. And it is refreshing to see women becoming heroes in a world that wishes to keep them muzzled."—Sabaa Tahir, The New York Times Book Review

"A blend of the traditional Western European epic fantasy and the birth control revolution of the 1960s, The Women's War takes the reader on a journey toward revolution. . . A fascinating and entertaining read, and a welcome addition to the world of epic fantasy."—New York Journal of Books
About the Author
Jenna Glass wrote her first book—an "autobiography"—when she was in the fifth grade. She began writing in earnest while in college and proceeded to collect a dizzying array of rejections for her first seventeen novels. Nevertheless, she persisted, and her eighteenth novel became her first commercial sale. Within a few years, Glass became a full-time writer, and she has never looked back. She has published more than twenty novels under various names. The Women's War marks her first foray into epic fantasy.
Praise For The Women's War: A Novel…
"The Women's War is an epic feminist fantasy for the #MeToo era. . . . While feminist science fiction and fantasy books have been around for decades—see Octavia Butler, Ursula K. Le Guin and Anne McCaffrey—tales that reflect recent feminist movements like #MeToo are an essential next step in an ongoing conversation. That's what makes The Women's War, by Jenna Glass, so noteworthy. . . . The Women's War does what so many classic adult fantasy books do not: It gives us a nuanced portrayal of grown women dealing with a wretchedly unfair society. It is rare to read a fantasy novel with a middle-aged mother as a main character. And it is refreshing to see women becoming heroes in a world that wishes to keep them muzzled."—Sabaa Tahir, The New York Times Book Review

"Gloriously paced, plotted, and constructed with such elegance that it ceases to feel like a story and begins to feel like the truth."—Seanan McGuire

"A thrilling and heartwrenching tale that explores the issue of body autonomy, with a middle-aged mom as the heroine . . . I couldn't put it down."—Kevin Hearne

"A must-read, with gripping action, a complex plot, and engaging characters . . . I thoroughly loved it!"—Melissa Marr

"The Women's War is more than a story. It is a roar. And it's magnificent! The wonderful fierceness of its women will steal your breath and your heart."—Sarah Beth Durst

"A rich and multilayered dark fantasy filled with unforgettable characters."—Kelley Armstrong
 
"A wonderful read set in a well-realized world filled with terrific characters . . . I cannot wait for the next book!"—Kristen Britain

"A bold, gripping story of women and power that had me cheering both for its rich, wonderful characters and its vital message."—Callie Bates

"The interconnected story lines, excellent pacing, and heart-wrenching ending will have readers clamoring for the next book. Offer this to fans of other recent feminist speculative fiction like Naomi Alderman's The Power, Ausma Zehanat Khan's The Bloodprint, or Tasha Suri's Empire of Sand."—Booklist (starred review)
 
"Stands out as both social commentary on contemporary issues of bodily autonomy, gender, and social power and as feminist retribution fantasy, made manifest through an appealing epic fantasy setting and grounded in a carefully designed magic system. . . . Though female leads take center stage, Glass gives real depth to her male characters as well. Personal and political aspects of the story blend gracefully together to provide a high-energy story with sweeping forward momentum toward the next installment."—Publishers Weekly (starred review)
 
"I am very here for this book . . . the first what's sure to be an incredible series."—SyFyWire
 
"The Women's War is #MeToo and #Resistance and #Prochoice through the lens of epic fantasy. Read it."—Nicola Griffith