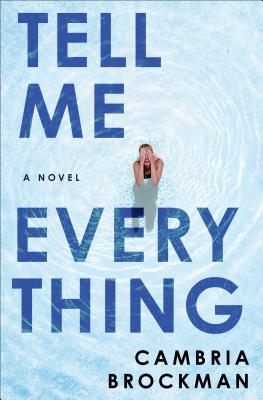 Tell Me Everything (Hardcover)
A Novel
Ballantine Books, 9781984817211, 368pp.
Publication Date: July 16, 2019
* Individual store prices may vary.
Description
"A compulsive page-turner with shades of Donna Tartt's The Secret History peopled by a new generation."—Catherine Steadman, New York Times bestselling author of Something in the Water

In her first weeks at Hawthorne College, Malin is swept up into a tight-knit circle that will stick together through all four years. There's Gemma, an insecure theater major from London; John, a tall, handsome, wealthy New Englander; Max, John's cousin, a shy pre-med major; Khaled, a wisecracking prince from Abu Dhabi; and Ruby, a beautiful art history major. But Malin isn't like the rest of her friends. She's an expert at hiding her troubled past. She acts as if she shares the preoccupations of those around her—dating, partying—all while using her extraordinary insight to detect their deepest vulnerabilities and weaknesses.

By Senior Day, on the cusp of graduation, Malin's secrets—and those of her friends—are revealed. While she scrambles to maintain her artfully curated image, her missteps set in motion a devastating chain of events that ends in a murder. And as fragile relationships hang in the balance and close alliances shift, Malin must test the limits of what she's capable of to stop the truth from coming out.

In a mesmerizing novel that peels back the innumerable layers of a seductive protagonist, debut author Cambria Brockman brings to life an entrancing story of friendship, heartbreak, and betrayal.

Advance praise for Tell Me Everything

"At once a complex thriller and antihero origin story, Cambria Brockman's riveting debut is a true page-turner."—Lisa Lutz, New York Times bestselling author of the Spellman series and The Passenger

"The aptly named Malin, as smart as she is misanthropic, narrates this tale of collegiate rivalry—we see the Maine campus and her flawed friends through her disaffected eyes, even as she conceals the details of what has left one of them dead. In this dark romp through a world of privilege and petty slights, it's hard not to get caught up in the question of which of the characters is doomed, and who is most responsible."—Caite Dolan-Leach, author of Dead Letters

"Cambria Brockman's dark and twisty Tell Me Everything is an impressive debut, a complicated and compelling novel of psychological suspense that deftly explores the questions of how well we know our friends and of whom we can trust."—Karen Dionne, author of the international bestseller The Marsh King's Daughter
About the Author
Cambria Brockman grew up in Houston, London, and Scotland and attended Holderness School in New Hampshire. She graduated from Bates College in Lewiston, Maine, with a degree in English literature. She owns an award-winning wedding and portrait photography company, Cambria Grace, along with its popular Instagram account. Brockman lives in Boston with her husband, son, and dog. Tell Me Everything is her first novel.
Praise For Tell Me Everything: A Novel…
"By telling parts of the story out of sequence, Brockman successfully builds each character in fragments, preventing us from seeing the full context until close to the end. The college-centered plot is reminiscent of many novels that have come before about quirky kids forming a family of sorts only to destroy each other—Tana French's The Likeness, Donna Tartt's The Secret History—but the development of Malin as a narrator is truly inspired. While French and Tartt use the outsider-as-narrator to further emphasize the group's isolation and the narrator's failure to find true acceptance, Brockman's Malin draws riveting attention to humankind's vulnerability to evil. She is a shadowy figure; an unreliable narrator we get to know through subtle hints and slanted comments in addition to flashbacks. A truly chilling thriller with a twist so quiet, you never hear it coming."—Kirkus Reviews (starred review)
 
"Tension builds in a narrative that switches back and forth between Senior Day and freshman year, punctuated by flashbacks to events in Malin's childhood, and the tension is amplified by the focus on an insular group in an isolated setting. . . . Brockman's first novel will appeal to readers looking for another Gone Girl."—Booklist  (starred review)
 
"An edgy exploration of loyalty and human desire. Readers in search of a true page-turner will savor this electrifying novel."—BookPage (starred review)

"Cambria Brockman's debut, Tell Me Everything, ultimately does tell all; yet, in line with psychologically twisted college clique tales, not before putting the reader through a maddeningly enjoyable wringer. Malin is patently unreliable, but in a wonderfully fresh, clear-headed way. . . . Brockman has turned in a compelling slow burn with focus justly on its furtive protagonist. Malin's retelling of each period in her life is fraught with competing control and unease that make for a dynamite combination." ––Shelf Awareness

"Gripping . . . Brockman paints an unnerving portrait of the power people hold over one another—especially as they blur the line between protective and obsessive."––Time

"Brockman's novel of secrets and murder at a New England college will undoubtedly remind readers of Donna Tartt's The Secret History. Dripping with drama and mystery, Tell Me Everything is a page turner to the last." ––Newsweek

"One word: J-U-I-C-Y."—Woman's Day

"Clear your schedule—from its stunner of a first chapter, Tell Me Everything will have you reading all night until you reach its terrifying-but-perfect conclusion. The vivid characters, tangled by the bonds of college friendship and mad love, will remind you of the work of Donna Tartt and the master of Maine stories, Stephen King."—Amanda Eyre Ward, author of The Same Sky and How to Be Lost

"Brockman perfectly captures the insecurities that plague young adults, as well as the intense relationships that form in the crucible that is college. Deliberate pacing complements the sinuous structure, with anxiety and dread mounting as the story lines coalesce. . . . Fans of Patricia Highsmith and Donna Tartt should take notice."—Publishers Weekly