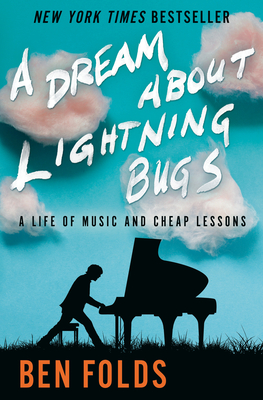 A Dream About Lightning Bugs (Hardcover)
A Life of Music and Cheap Lessons
Ballantine Books, 9781984817273, 336pp.
Publication Date: July 30, 2019
* Individual store prices may vary.
Description
From the genre-defying icon Ben Folds comes a memoir that is as nuanced, witty, and relatable as his cult-classic songs.

Ben Folds is a celebrated American singer-songwriter, beloved for songs such as "Brick," "You Don't Know Me," "Rockin' the Suburbs," and "The Luckiest," and is the former frontman of the alternative rock band Ben Folds Five. But Folds will be the first to tell you he's an unconventional icon, more normcore than hardcore. Now, in his first book, Folds looks back at his life so far in a charming and wise chronicle of his artistic coming of age, infused with the wry observations of a natural storyteller. He opens up about finding his voice as a musician, becoming a rock antihero, and hauling a baby grand piano on and off stage for every performance.

In the title chapter, "A Dream About Lightning Bugs," Folds recalls his earliest childhood dream—and realizes how much it influenced his understanding of what it means to be an artist. In "Measure Twice, Cut Once" he learns to resist the urge to skip steps during the creative process. ("There will be plenty of time for the limitations of the real world to impose themselves on your creation.") In "Hall Pass" he recounts his 1970s North Carolina working-class childhood and the race and class tensions that shaped his early songwriting, and in "Cheap Lessons" he returns to the painful life lessons he learned the hard way—but that luckily didn't kill him. Folds also ruminates on music in the digital age, the absurdity of life on the road, and the challenges of sustaining a multidecade, multifaceted career in the music business.   

In his inimitable voice, both relatable and thought-provoking, Folds digs deep into the life experiences that shaped him, imparting hard-earned wisdom about both art and life. Collectively, these stories embody the message Folds has been singing about for years: Smile like you've got nothing to prove, because it hurts to grow up, and life flies by in seconds.
About the Author
Ben Folds is an American musician who has created an enormous body of genre-bending music that includes pop albums with Ben Folds Five, multiple solo albums, and collaborations with artists ranging from Sara Bareilles to Regina Spektor to William Shatner. His most recent album, "So There," a blend of pop songs and his Concerto for Piano and Orchestra, soared to #1 on both the Billboard classical and classical crossover charts. Folds was also a judge for five seasons on NBC's acclaimed a capella show The Sing-Off, and in 2017 he was named the first ever artistic advisor to the National Symphony Orchestra at the Kennedy Center. An avid photographer, Folds is a member of the prestigious Sony Artisans of Imagery, has worked as a guest photo editor for National Geographic, and was recently featured in a documentary by the Kennedy Center for his photographic works. Folds is also an outspoken champion for arts education and music therapy funding in our nation's public schools, and has served for more than five years as an active member of the distinguished Artist Committee of Americans for the Arts. A Dream About Lightning Bugs is his first book.