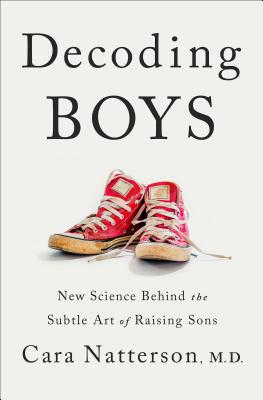 Decoding Boys
New Science Behind the Subtle Art of Raising Sons
Hardcover

* Individual store prices may vary.
Other Editions of This Title:
Digital Audiobook (2/10/2020)
Paperback (2/9/2021)
Description
"If you're raising a boy, you need this brilliant book. It is clear, wise, and eye-opening." —Lisa Damour, Ph.D., author of Untangled

When boys enter puberty, they tend to get quiet—or at least quieter than before—and parents often misread their signals. Here's how to navigate their retreat and steer them through this confusing passage, by the bestselling author of The Care and Keeping of You series and Guy Stuff: The Body Book for Boys.

What is my son doing behind his constantly closed door? What's with his curt responses, impulsiveness, newfound obsession with gaming, and . . . that funky smell? As pediatrician and mother of two teenagers Cara Natterson explains, puberty starts in boys long before any visible signs appear, and that causes confusion about their changing temperaments for boys and parents alike. Often, they also grow quieter as they grow taller, which leads to less parent-child communication. But, as Natterson warns in Decoding Boys, we respect their increasing "need" for privacy, monosyllabic conversations, and alone time at their peril. Explaining how modern culture mixes badly with male adolescent biology, Natterson offers science, strategies, scripts, and tips for getting it right:

• recognizing the first signs of puberty and talking to our sons about the wide range of "normal" through the whole developmental process
• why teenagers make irrational decisions even though they look mature—and how to steer them toward better choices
• managing video game and screen time, including discussing the unrealistic and dangerous nature of pornography 
• why boys need emotional and physical contact with parents—and how to give it in ways they'll accept
• how to prepare boys to resist both old and new social pressures—drugs, alcohol, vaping, and sexting 
• teaching consent and sensitivity in the #MeToo culture 

Decoding Boys is a powerful and validating lifeline, a book that will help today's parents keep their sons safe, healthy, and resilient, as well as ensure they will become emotionally secure young men.

Praise for Decoding Boys

"Comforting . . . a common-sensical and gently humorous exploration of male puberty's many trials."—Kirkus Reviews
Praise For Decoding Boys: New Science Behind the Subtle Art of Raising Sons…
"We know boys need our support to grow up safe, healthy, happy, and emotionally whole. But how do we provide that when faced with their adolescent silence? Decoding Boys to the rescue! Dr. Natterson's practical, wise insight (undergirded by hard science) into young men's development is absolutely essential reading for anyone with a boy in their life!"—Peggy Orenstein, author of Boy & Sex

"Decoding Boys offers remarkable scientific insight as to why teenage boys seem to shut down and behave antisocially once they enter puberty. We would say we wish this book was around when we were teenagers, but we were too busy playing videogames, underage drinking, and lying to our parents to read."—Nick Kroll & Andrew Goldberg, co-creators of Big Mouth

"Fifty years ago the publication of Our Bodies, Ourselves lifted women up by replacing ignorance and prejudice with knowledge and the power of sisterhood. Decoding Boys is equally revolutionary in its mission to help us understand the nuances of how boys develop. Natterson's warm, candid, and conversational style gives us a vibrant, page-turning deep dive into both their emotional and physical growth; hers is an authoritative and passionate voice. I finished reading this book enlightened and excited to share it with parents of boys everywhere."—Wendy Mogel, Ph.D., New York Times bestselling author of The Blessing of a Skinned Knee and The Blessing of a B Minus

"Decoding Boys debunks the widespread myth of the inscrutable teenage boy. Dr. Cara Natterson illuminates boys' inner lives, details the pressures they face from the outside world, and teaches parents how to effectively engage and support their adolescent sons. Decoding Boys is clear, wise, and eye-opening. If you're raising a boy, you need this brilliant book."—Lisa Damour, Ph.D., New York Times bestselling author of Untangled and Under Pressure

"For every parent who asks me how to get their son to say more than 'I'm fine,' I now have an answer: read Decoding Boys and absorb Cara Natterson's wise, thoughtful, compassionate, and informed advice. It will empower parents to have better relationships with their sons and guide them to become confident, honorable young men."—Rosalind Wiseman, New York Times bestselling author of Queen Bees and Wannabes

"Decoding Boys is the ultimate guide to help you understand and raise your boys with acceptance and perspective. Reading it is like having an empathetic, really smart friend who totally gets what you are going through and is helpful every step of the way!"—Mallika Chopra, author of Living with Intent

"Decoding Boys is the book we've been waiting for! Dr. Cara Natterson tackles the topics that are difficult for parents to understand, let alone discuss with their children. She demystifies the complex science of male puberty and delivers sound advice for any adult living with—and wanting to support—an increasingly silent teenage boy."—Louise Greenspan, M.D., coauthor of The New Puberty: How to Navigate Early Development in Today's Girls
Ballantine Books, 9781984819031, 256pp.
Publication Date: February 11, 2020
About the Author
Cara Natterson, M.D., is a pediatrician, popular speaker, consultant, and New York Times bestselling author of multiple parenting and health books, including The Care and Keeping of You, a three-book series with more than six million copies in print, and Guy Stuff, the corollary for boys. A graduate of Harvard College and Johns Hopkins Medical School, Natterson trained in pediatrics at University of California at San Francisco. After working as a general pediatrician for many years, she founded Worry Proof Consulting, a first-of-its-kind practice offering parents open-ended time. She also provides medical expertise for numerous parenting websites and serves on several boards including Starlight Children's Foundation, Mattel's Barbie Council, The Honest Company medical advisors, and Zemcar. She lives in Los Angeles with her husband and their two teenagers.
or
Not Currently Available for Direct Purchase