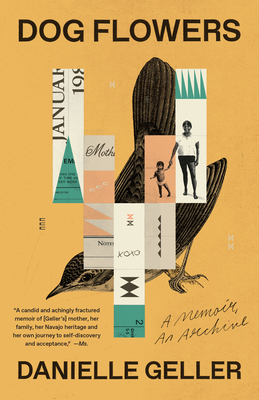 Dog Flowers
A Memoir, an Archive
Paperback

* Individual store prices may vary.
Other Editions of This Title:
Digital Audiobook (1/11/2021)
Hardcover (1/12/2021)
Description
A daughter returns home to the Navajo reservation to retrace her mother's life in a memoir that is both a narrative and an archive of one family's troubled history.
 
"A candid and achingly fractured memoir of [Geller's] mother, her family, her Navajo heritage and her own journey to self-discovery and acceptance."—Ms.
 
SHORTLISTED FOR: The Hubert Evans Non-Fiction Prize, The Jim Deva Prize for Writing That Provokes • ONE OF THE BEST BOOKS OF THE YEAR: Esquire, She Reads

When Danielle Geller's mother dies of alcohol withdrawal during an attempt to get sober, Geller returns to Florida and finds her mother's life packed into eight suitcases. Most were filled with clothes, except for the last one, which contained diaries, photos, and letters, a few undeveloped disposable cameras, dried sage, jewelry, and the bandana her mother wore on days she skipped a hair wash.

Geller, an archivist and a writer, uses these pieces of her mother's life to try and understand her mother's relationship to home, and their shared need to leave it. Geller embarks on a journey where she confronts her family's history and the decisions that she herself had been forced to make while growing up, a journey that will end at her mother's home: the Navajo reservation.

Dog Flowers is an arresting, photo-lingual memoir that masterfully weaves together images and text to examine mothers and mothering, sisters and caretaking, and colonized bodies. Exploring loss and inheritance, beauty and balance, Danielle Geller pays homage to our pasts, traditions, and heritage, to the families we are given and the families we choose.
Praise For Dog Flowers: A Memoir, an Archive…
"[A] transcendent story [of] the agonizing cycles of abuse and addiction . . . with deep compassion about the limitations of the people we love."—Esquire

"This shattering memoir . . . combines image and text to reveal a portrait of home."—Elle

"Dog Flowers by Danielle Geller is a journey story we've never read before. Geller travels through snippets of her own life and that of her mother's, creating a narrative where all roads lead to her mother's home in the Navajo Nation. It's an honest, intimate, and heart-wrenching memoir that explores fractured family, the damaging effects of alcoholism and poverty, and what it means to seek healing from legacies of trauma. This book gave me chills. Trained as a librarian and archivist, Geller has created a type of archive, a living collection of memories and documents that speak to a life that is at once precisely individualistic while also being universally resonant. Read this book."—Kali Fajardo-Anstine, author of Sabrina & Corina

"Dog Flowers pulls the few remaining threads of an unraveled family life. This courageous, honest, desperate, tender, and compelling book tells a daughter's story of her troubled mother. In Dog Flowers, we learn that a handful of threads can never reweave the blanket of family, or patch up what a mother's abandonment has torn . . . Even [Geller's] return to her mother's Navajo Nation does not bring about an easy cultural reunion, although it does give us a satisfying sense that while an immediate family can fall apart, an extended family, a tribe, ties a tight web that might just hold."—Heid E. Erdrich, award-winning poet, author, and editor of the award-winning New Poets of Native Nations

"Combining images and text, Dog Flowers tells Geller's personal story. She writes of the loss of her mother to alcohol withdrawal and the journey she took to learn more about her mother's life. The search takes her to a Navajo reservation, her mother's onetime home, where an uneasy reunion and revelations—equal parts hopeful and heartbreaking—await. A beautiful book by a Native American author, Dog Flowers explores themes of addiction, family, and community."—Reader's Digest

"A Navajo woman's memoir of family, loss, and self-discovery. [Danielle Geller] takes readers on two parallel journeys: that of her mother, Laureen, who left the Navajo reservation at age nineteen, "almost as soon as she could," and her own, which begins with her notifying her sister Eileen that their mother was dying. . . . Geller's mix of archival research and personal memoir allows readers to see a refreshing variety of perspectives and layers, resulting in an eye-opening, moving narrative. A deftly rendered, powerful story of family, grief, and the search for self."—Kirkus Reviews (starred review)
One World, 9781984820419, 272pp.
Publication Date: April 12, 2022
About the Author
Danielle Geller is a writer of personal essays and memoir. She received her MFA in creative writing for nonfiction at the University of Arizona, and a Rona Jaffe Writers' Award in 2016. Her work has appeared in The New Yorker, Brevity, and Arizona Highways, and has been anthologized in This Is the Place. She lives with her husband and two cats in British Columbia, where she teaches creative writing at the University of Victoria. She is a member of the Navajo Nation: born to the Tsi'naajinii, born for the white man.
or
Not Currently Available for Direct Purchase