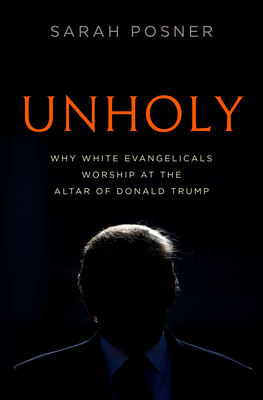 Unholy
Why White Evangelicals Worship at the Altar of Donald Trump
Hardcover

* Individual store prices may vary.
Other Editions of This Title:
Digital Audiobook (5/25/2020)
Paperback (6/1/2021)
Description
"In terrifying detail, Unholy illustrates how a vast network of white Christian nationalists plotted the authoritarian takeover of the American democratic system. There is no more timely book than this one."—Janet Reitman, author of Inside Scientology

Why did so many evangelicals turn out to vote for Donald Trump, a serial philanderer with questionable conservative credentials who seems to defy Christian values with his every utterance? To a reporter like Sarah Posner, who has been covering the religious right for decades, the answer turns out to be far more intuitive than one might think.

In this taut inquiry, Posner digs deep into the radical history of the religious right to reveal how issues of race and xenophobia have always been at the movement's core, and how religion often cloaked anxieties about perceived threats to a white, Christian America. Fueled by an antidemocratic impulse, and united by this narrative of reverse victimization, the religious right and the alt-right support a common agenda–and are actively using the erosion of democratic norms to roll back civil rights advances, stock the judiciary with hard-right judges, defang and deregulate federal agencies, and undermine the credibility of the free press. Increasingly, this formidable bloc is also forging ties with European far right groups, giving momentum to a truly global movement.

Revelatory and engrossing, Unholy offers a deeper understanding of the ideological underpinnings and forces influencing the course of Republican politics. This is a book that must be read by anyone who cares about the future of American democracy.
Praise For Unholy: Why White Evangelicals Worship at the Altar of Donald Trump…
"Few reporters are more astute about the intersection of the evangelical movement and American politics than Posner, and in Unholy she reveals a backstory that anyone trying to understand how we got to this disturbing state of affairs should read."—Jane Mayer, chief Washington correspondent, The New Yorker, and author of Dark Money: The Hidden History of the Billionaires Behind the Rise of the Radical Right

"A meticulous deconstruction of the Christian right's long, slow infiltration of Republican politics. Sarah Posner has been writing on this subject for years, and it shows. Before Donald Trump, it was easy to claim the Christian right lacked the power it had during the 1980s; Posner shows that this analysis was dead wrong."—Janet Reitman, contributing writer, The New York Times Magazine, and author of Inside Scientology: The Story of America's Most Secretive Religion

"Reading Unholy unsettles you and shows that what ails this country goes way beyond the current occupant in the White House. This book is a must-read for anyone who claims to be Christian and for anyone who is concerned about our democracy."—Eddie S. Glaude Jr., author of Begin Again: James Baldwin's America and Its Urgent Lessons for Our Own
 
"Unholy explains how moralizing evangelicals fell in love with one of the most outwardly immoral presidents in modern American history. Religion reporter Sarah Posner makes bold claims, but she brings receipts. As a Christian, I found this book far more disturbing and damning than I expected. We ignore it at our collective peril."—Jonathan Merritt, author of Learning to Speak God from Scratch and contributing writer for The Atlantic

"Posner shows how conservative politics have shifted since the 1970s, with the line between church and state blurring as conservative Christians gained steady influence in government. Her extensive research offers a dizzying array of right-wing think tanks and coalitions, driven by both high- and low-profile names. . . . Posner reckons that Trump is merely 'a catalyst, not a cause,' capitalizing on racial fear, economic uncertainty, and social unrest."—Booklist

"Posner (God's Profits), longtime analyst of the religious right, . . . begins with the sense of displacement and racial grievance white Christian conservatives experienced following Brown v. Board of Education (1954) and traces the development of the religious right's political infrastructure up until the Obama presidency, demonstrating how decades of patient strategizing created an environment in which Trump, the perfect televangelist candidate, could take center stage. . . . Highly recommended for those seeking to understand how white evangelicals developed political power."—Library Journal

"Posner [is a] reporting fellow at Type Investigations. [Her] authoritative investigation will be a must-read for those interested in the connections between the Trump presidency and evangelicalism."—Publishers Weekly
Random House, 9781984820426, 368pp.
Publication Date: May 26, 2020
About the Author
Sarah Posner is a reporting fellow with Type Investigations. Her investigative reporting has appeared in Rolling Stone, VICE, The Nation, Mother Jones, The New Republic, HuffPost, and Talking Points Memo. Her coverage and analysis of politics and religion has appeared in The New York Times, The Washington Post, The American Prospect, Politico, and many other outlets. She graduated from Wesleyan University and has a law degree from the University of Virginia. Her story "How Trump Took Hate Groups Mainstream," published before the 2016 election, won a Sidney Hillman Foundation Award.
or
Not Currently Available for Direct Purchase