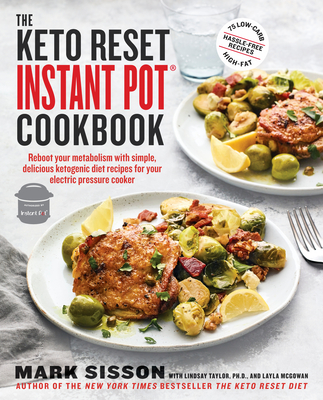 The Keto Reset Instant Pot Cookbook
Reboot Your Metabolism with Simple, Delicious Ketogenic Diet Recipes for Your Electric Pressure Cooker: A Keto Diet Cookbook
Paperback

* Individual store prices may vary.
Description
75 quick and easy electric pressure cooker recipes, authorized by Instant Pot®, for anyone on a ketogenic eating plan—from New York Times bestselling author Mark Sisson

If you want a no-fuss way to get high-fat, low-carb meals on the table faster, The Keto Reset Instant Pot Cookbook makes following a keto-friendly diet easy with 75 all-new pressure cooker recipes. Mark Sisson, author of the New York Times bestseller The Keto Reset Diet and publisher of the number one paleo blog, Mark's Daily Apple, helps you escape carbohydrate dependency and undergo a total health transformation without following a restrictive diet or sacrificing great taste and variety. You'll discover the tenets of ketogenic eating and why burning fat for fuel is so effective for sustained weight loss and improved health.

Try Instant Pot basics like eggs, bone broth, and steamed vegetables; perfect a pot roast or a whole chicken; indulge in nutritious savory treats like lemon cheesecake instead of junk food; and boost your creativity with entrees like Bacon Cauliflower Leek Soup, Spaghetti Squash with Red Sauce and Pine Nuts, and Garlicky Mussels. Free of added sugars, processed grains, and refined vegetable oils, all the recipes are aligned with the low-carbohydrate, moderate-protein, high-fat ketogenic diet guidelines and are an easy and delicious way to help you reboot your metabolism in no time.
Praise For The Keto Reset Instant Pot Cookbook: Reboot Your Metabolism with Simple, Delicious Ketogenic Diet Recipes for Your Electric Pressure Cooker: A Keto Diet Cookbook…
"The Keto Reset Instant Pot Cookbook will afford a significant boost in the overall nutrient quality of your diet—even if you are already a devoted health conscious eater"
-- Dr. Cate Shanahan, author of Deep Nutrition
 
"Mark Sisson inspired me to adopt a low-carb, keto-friendly lifestyle that changed my life!  His keto-friendly Instant Pot recipes are great for people like me who want to adhere to dietary standards, but don't always have hours to cook"
-- Elle Russ, author of The Paleo Thyroid Solution, host of Primal Blueprint Podcast

As an advocate for a healthy, balanced approach to keto, I'm always on the lookout for ways to help people enjoy delicious and nutritious keto-friendly foods. Mark Sisson encourages a nutrient-dense and varied diet, and now paired with the convenience of the Instant Pot, it's a perfect match. You'll love these recipes!
-- Leanne Vogel, author of the international bestseller, The Keto Diet, and host of The Keto Diet Podcast
Harmony, 9781984822390, 192pp.
Publication Date: May 8, 2018
About the Author
Mark Sisson is the bestselling author of The Primal Blueprint, a former world-class endurance athlete, and one of the leading voices of the burgeoning Evolutionary Health Movement. His blog has paved the way for Primal enthusiasts to challenge conventional wisdom's diet and exercise principles and take personal responsibility for their health and well-being.

Lindsay Taylor, Ph.D., writes and researches for Sisson's Primal Blueprint enterprise, hosting podcasts and serving as the lead moderator on the thriving Keto Reset and Primal Endurance communities on Facebook. A social/personality psychologist by training, she helps fitness and healthy eating enthusiasts adopt healthy mindset and goal setting strategies. She lives in Northern California with her husband and two boys. Find her healthy, colorful meal creations on Instagram.

Layla McGowan began cooking at an early age as her mother introduced her to the Korean recipes that had been passed down orally through her family for generations. From those roots, Layla has evolved into a lifestyle of diverse culinary, health, and fitness practices, motivating and inspiring others in and out of the kitchen. She is an avid weightlifter and yoga practitioner in Alabama, where she lives with her husband Ryan. Get inspired for both fitness goals and kitchen creations on her Instagram.