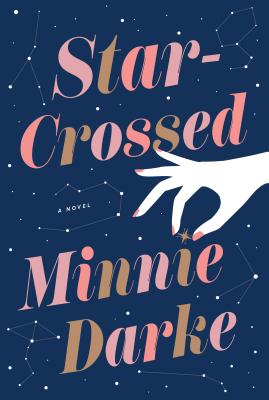 Star-Crossed (Hardcover)
A Novel
Crown, 9781984822826, 368pp.
Publication Date: May 21, 2019
* Individual store prices may vary.
Description
Sometimes even destiny needs a little bit of help.
 
When childhood sweethearts Justine (Sagittarius and serious skeptic) and Nick (Aquarius and true believer) bump into each other as adults, a life-changing love affair seems inevitable. To Justine, anyway. Especially when she learns Nick is an astrological devotee, whose decisions are guided by the stars, and more specifically, by the horoscopes in his favorite magazine. The same magazine Justine happens to write for. As Nick continues to not fall headlong in love with her, Justine decides to take Nick's horoscope, and Fate itself, into her own hands. But, of course, Nick is not the only Aquarius making important life choices according to what is written in the stars.
 
Charting the ripple effects of Justine's astrological meddling, STAR-CROSSED is a delicious, intelligent, and affecting love story about friendship, chance, and how we all navigate the kinds of choices that are hard to face alone.
About the Author
Minnie Darke - Gemini with Virgo Rising, knitter, Scrabble cutthroat, lover of books, freshly sharpened pencils and Russian Caravan tea – wrote this book to amuse herself and to entertain you. She lives with her family in Tasmania.
Praise For Star-Crossed: A Novel…
"I loved this completely. STAR-CROSSED is all about the human impulse to look to others when we are lost, and so it's wonderfully relatable not only in its lively characters who read as faraway-yet-familiar as neighbors, but in its navigation of the kinds of decisions we can't face alone: the phone calls we make to our mothers, the friends we use as mirrors, the horoscope page at the back of the magazine. This is a bright, brilliant, joyful love story that spreads into the size of a small town, with its chorus of voices and old homes and childhoods and gossips. A total triumph."
—Josie Silver, #1 New York Times bestselling author of One Day in December

"You don't need to care a thing about astrology to find Star-Crossed a five-star delight. Minnie Darke has written a sharp, funny and irresistible rom com that melted my cold, skeptical (Gemini/moon in Sag) heart. I predict you'll fall too." 
—Lisa Gabriele, bestselling author of The Winters


"STAR-CROSSED is the funny, clever, big-hearted romance of the year. Brilliant!"
—Heather Rose, author of The Museum of Modern Love