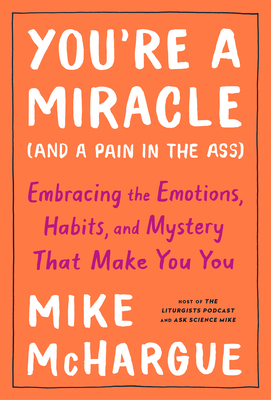 You're a Miracle (and a Pain in the Ass)
Embracing the Emotions, Habits, and Mystery That Make You You
Hardcover

* Individual store prices may vary.
Other Editions of This Title:
Digital Audiobook (4/27/2020)
Paperback (5/18/2021)
Description
"Holding brain science in one hand and rich emotional presence in the other, this book feels timely and necessary."—Shauna Niequist, New York Times bestselling author of Present Over Perfect

Why is there such a gap between what you want to do and what you actually do? The host of Ask Science Mike explains why our desires and our real lives are so wildly different—and what you can do to close the gap.

For thousands of years, scientists, philosophers, and self-help gurus have wrestled with one of the basic conundrums of human life: Why do we do the things we do? Or, rather, why do we so often not do the things we want to do? As a podcast host whose voice goes out to millions each month, Mike McHargue gets countless emails from people seeking to understand their own misbehavior—why we binge on Netflix when we know taking a walk outside would be better for us, or why we argue politics on Facebook when our real friends live just down the street. Everyone wants to be a good person, but few of us, twenty years into the new millennium, have any idea how to do that.

In You're a Miracle (and a Pain in the Ass), McHargue addresses these issues. We like to think we're in control of our thoughts and decisions, he writes, but science has shown that a host of competing impulses, emotions, and environmental factors are at play in every action we undertake. Touching on his podcast listeners' most pressing questions, from relationships and ethics to stress and mental health, and sharing some of the biggest triumphs and hardships from his own life, McHargue shows us how some of our qualities that seem most frustrating—including "negative" emotions like sadness, anger, and anxiety—are actually key to helping humans survive and thrive. In doing so, he invites us on a path of self-understanding and, ultimately, self-acceptance.

You're a Miracle (and a Pain in the Ass) is a guided tour through the mystery of human consciousness, showing readers how to live more at peace with themselves in a complex world.
Praise For You're a Miracle (and a Pain in the Ass): Embracing the Emotions, Habits, and Mystery That Make You You…
"Seldom do I find a book that puts together good psychology, readable science, and practical wisdom as what you now have in your hands! You're a Miracle will reveal that Mike McHargue is a bit of a miracle, too."—Richard Rohr, New York Times bestselling author of The Universal Christ

"This book is full of incredibly important revelations that could change your life. Mike McHargue is not only the smartest person we know, but he has an uncanny ability for communicating complex matters like he's talking to you at a party (not one of those parties with loud music where you can't really hear what people are saying so you just nod a lot, but instead one of those parties with light piano music, filled with smart and interesting people)."—Rhett McLaughlin and Link Neal, New York Times bestselling authors of The Lost Causes of Bleak Creek

"When Mike McHargue writes about the changes in his life from the beginning of the writing process until the end, I nearly cried with relief, because isn't that how life is for all of us? It changes, sometimes over and over, and right in the middle of all the chaos, we keep showing up, telling the truth, writing the story of our lives even as we struggle to make sense of it ourselves. This book feels human, and that's one of the highest compliments I can give."—Shauna Niequist, New York Times bestselling author of Present Over Perfect
Convergent Books, 9781984823243, 240pp.
Publication Date: April 28, 2020
About the Author
Mike McHargue, also known as "Science Mike," is the host or co-host of two podcasts, Ask Science Mike and The Liturgists Podcast, which have attracted a curious following among Christians, the spiritually interested, and the religiously unaffiliated. He is the author of Finding God in the Waves, and his work has been featured in The Atlantic, The New York Times, The Washington Post, and The Huffington Post, and on All Things Considered. Mike is an in-demand speaker who appears all over the world—including recent stops at Google and MIT.
or
Not Currently Available for Direct Purchase