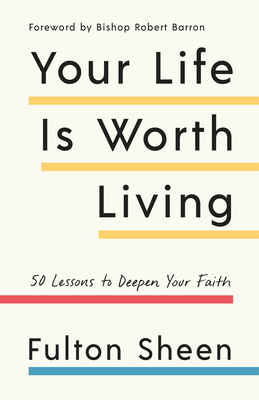 Your Life Is Worth Living (Paperback)
50 Lessons to Deepen Your Faith
Image, 9781984823281, 432pp.
Publication Date: March 5, 2019
* Individual store prices may vary.
Description
Back in print with a new preface by Robert Barron, fifty inspiring lessons to deepen your faith from one of the leading religious figures of the twentieth century and author of the Catholic bestseller Life of Christ.

For over four decades, Fulton Sheen was the face of Catholicism in America and literally received hundreds of thousands of letters from people around the world in search of truth, faith, salvation, and spiritual guidance. In this newly repackaged reissue of one of Sheen's classic works, the Emmy Award-winning priest takes an intimate look at our sacred journey to God and answers some of life's most profound questions. With his clever wit and straightforward language, he explains how we can find contentment in the modern world by applying the Christian philosophy of life in our day-to-day exchanges.

Drawing authority from scripture, and created for people of all ages and backgrounds, Sheen explores our journey home to God in an insightful conversation designed to strengthen the reader's personal relationship with Jesus. Sheen also shares humorous stories that made him one of the most celebrated personalities of his time. This book is a lasting testament that your life is worth living.
About the Author
Venerable Fulton J. Sheen was an archbishop of the Catholic Church. His cause for canonization as a saint was opened in 2002, and in 2012 Pope Benedict XVI recognized a decree stating that he had lived a life of "heroic virtues" and is now posthumously referred to as Venerable. Sheen was host of the radio show The Catholic Hour between 1930 and 1950 before switching to television as the host of Life Is Worth Living and then The Fulton Sheen Program. He was a two-time Emmy Award winner for Most Outstanding Television Personality, and his face appeared on the cover of Time magazine. He died in 1979, and is now remembered as one of the world's first televangelists.

Father Robert Barron is the founder of Word on Fire Catholic Ministries, the Rector of Mundelein Seminary, and the host of CATHOLICISM, a groundbreaking, award-winning documentary about the Catholic faith. He received a master's degree in philosophy from the Catholic University of America (1982) and a doctorate in sacred theology from the Institut Catholique de Paris (1992). He has published numerous books, essays, and articles on theology and the spiritual life. He has also appeared on several media outlets including NBC, PBS, FOX News, CNN, and EWTN. His website, WordOnFire.org, has reached over 3.8 million people and his weekly YouTube videos have been viewed over nine million times. His pioneering work in evangelizing through the new media led Cardinal Francis George, Archbishop of Chicago, to describe him as "one of the Church's best messengers."