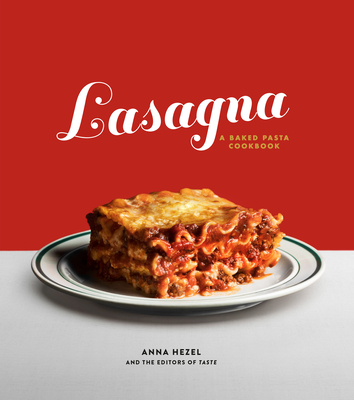 Lasagna (Hardcover)
A Baked Pasta Cookbook
Clarkson Potter, 9781984824066, 144pp.
Publication Date: September 10, 2019
* Individual store prices may vary.
Description
Change the way you think about lasagna with a cookbook featuring 50 recipes that are bold, creative, and always comforting

Bon Appétit's Cookbook of the Month • "What could possibly be better than a great lasagna recipe? A whole slew of them, plus some wonderful baked pastas too."—Ruth Reichl

NAMED ONE OF THE BEST COOKBOOKS OF THE YEAR BY FOOD NETWORK

Whether you're craving a meatball lasagna, keeping it stupid simple with a slow cooker spinach lasagna, or hosting brunch with an eggy carbonara lasagna that shouts "Hello!" from the center of the table, you'll find plenty of new ways to cook the classic dish in Lasagna: A Baked Pasta Cookbook.

In addition to a lasagna recipe for every occasion, the book features many creative ideas for what to eat with it, including the perfect iceberg lettuce salad you've ordered a million times in Italian restaurants, pillowy garlic knots, and a tiramisu for the twenty-first century. A baked pasta chapter delivers non-lasagna showstoppers, like skillet-baked spaghetti and timpano.

With 50 recipes, mouth-watering photography, and plenty of tips, Lasagna is a detailed and delicious celebration of a baked pasta icon.

Praise for Lasagna

"An exuberant love letter to the bubbling, bronzed, bricklike comfort of lasagna. I foresee 200 percent more lasagna in my kitchen this fall, just as Anna Hezel and the editors of TASTE wanted for me."—Deb Perelman, Smitten Kitchen

"Garfield's love of lasagna is well-documented. In his opinion, it's nature's perfect food. I'm often asked, 'Why lasagna?' Truth is, lasagna is my favorite food. So, it looks like Garfield and I will be fighting over this delightful book."—Jim Davis, creator of Garfield

"The sad truth is that lasagna—a dish of such great potential—is too often sloughed together haphazardly, a multithousand-calorie doorstop for the potluck table. Anna Hezel and the team from TASTE have, thankfully, reconsidered Garfield's favorite food and laid out, in friendly and encouraging words and pictures, simple and essential ways to elevate your lasagna game. Plus they've mapped out a great range of baked pastas and the lasagna-adjacent dishes of the world, so you can set sail from red sauce seas to faraway horizons, discovering variations of baked noodle bliss you may have never known were within your reach."—Peter Meehan, food editor of the Los Angeles Times and cofounder of Lucky Peach
About the Author
Anna Hezel is the senior editor of TASTE and lives in Brooklyn, New York. 
 
TASTE is an online food magazine for people who love to cook at home and enjoy reading about approachable recipes, popular and emerging ingredients, and stories reported from the front lines of today's quickly moving food culture.
Praise For Lasagna: A Baked Pasta Cookbook…
"What could possibly be better than a great lasagna recipe? A whole slew of them, plus some wonderful baked pastas too. I've never met a dish that made my family happier than lasagna, and now I have twenty-five ways of pleasing the people I love best."—Ruth Reichl

"Four of the greatest things to eat are tagliatelle Bolognese, spaghetti pomodoro, ricotta stuffed pasta, and pizza. Lasagna is all of that at once. This book shows the way and some wicked cool new stuff too. Lasagna! If you don't like it, can we trust you?"—Brooks Headley, chef and owner of Superiority Burger

"Garfield's love of lasagna is well-documented. In his opinion, it's nature's perfect food. I'm often asked, 'Why lasagna?' Truth is, lasagna is MY favorite food. So, it looks like Garfield and I will be fighting over this delightful book."—Jim Davis, creator of Garfield

"With this book I'm excited to master a new lasagna recipe I'll make again and again. I'm also excited to try out different combinations of carb, cheese, and sauce since the cookbook contains recipes for all manner of baked pastas."—Epicurious

"Beyond the usual meat sauce and ricotta combination, Hezel includes recipes for lasagnas for all occasions, such as a carbonara lasagna that does dual breakfast and dinner duty"—Food & Wine

"You can trust every single recipe in this cookbook."—Bon Appétit 
 
"Keep flipping through the ogle-worthy pages, and you'll find more reasons to get in the kitchen and then remain there as you whip up something delicious. . . . Even better, give this book to someone who loves you, and let them do that."—UrbanDaddy

"The sad truth is that lasagna—a dish of such great potential—is too often sloughed together haphazardly, a multithousand-calorie doorstop for the potluck table. Anna Hezel and the team from TASTE have, thankfully, reconsidered Garfield's favorite food and laid out, in friendly and encouraging words and pictures, simple and essential ways to elevate your lasagna game. Plus they've mapped out a great range of baked pastas and the lasagna-adjacent dishes of the world, so you can set sail from red sauce seas to faraway horizons, discovering variations of baked noodle bliss you may have never known were within your reach."—Peter Meehan, food editor of the Los Angeles Times and cofounder of Lucky Peach

"An exuberant love letter to the bubbling, bronzed, bricklike comfort of lasagna. I foresee 200 percent more lasagna in my kitchen this fall, just as Anna Hezel and the editors of TASTE wanted for me."—Deb Perelman, Smitten Kitchen