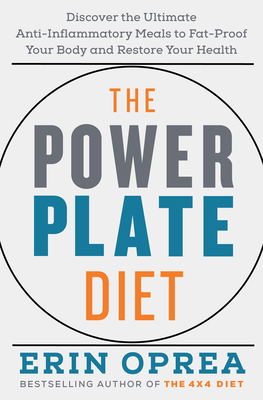 The Power Plate Diet
Discover the Ultimate Anti-Inflammatory Meals to Fat-Proof Your Body and Restore Your Health
Hardcover

* Individual store prices may vary.
Description
A simple, targeted diet plan that balances your plate to reduce inflammation and help you get healthy, from celebrity trainer Erin Oprea.

"Erin has turned the idea of health into something that doesn't feel boring or depriving, but rather something that helps me be a better human and artist."—Kelsea Ballerini, singer-songwriter

After publishing her popular diet and exercise book The 4 x 4 Diet, Erin Oprea discovered the link between food and inflammation and the huge impact it has on our bodies. Chronic inflammation can lead to inflamed fat cells that are unable to release fat and produce unhealthy levels of hormones, causing weight gain. Foods like sugar, vegetable oil, refined flour, grain-fed meats, seed oils, and dairy products are often the true culprits of inflammation. The good news is that by prioritizing clean foods like lean proteins, omega-3 fats, healthy carbs, and antioxidant-rich veggies in your diet, you can reverse the damage and shed the weight. In The Power Plate Diet, you'll be able to cool inflammation by removing reactive foods and combining the healthiest proteins, carbs, and fats for the most powerful plate possible.

Using a few simple guidelines, you have the freedom to make your plates as creative as you'd like with nutrient-dense foods that keep your body free of inflammation. The Power Plate Diet includes a four-week meal plan, tips and tricks like carb substitutes and diet boosters (such as beet juice!), and the exercises and lifestyle principles that work for Erin and her clients. With a balanced, effective approach to diet and exercise, you'll eat clean and fat-proof your body for a healthier, trimmer you.
Praise For The Power Plate Diet: Discover the Ultimate Anti-Inflammatory Meals to Fat-Proof Your Body and Restore Your Health…
"Erin had me doing side planks when I was nine months pregnant, and she kept my body strong. I would have never gotten through the pregnancy the same way without her expertise. With her coaching me seamlessly every week, I have never felt stronger or more like a woman. She celebrates our bodies, never diminishes them."—Maren Morris, singer-songwriter and record producer

"Erin has turned the idea of health into something that doesn't feel boring or depriving, but rather something that helps me be a better human and artist. Between challenging me to push and grow to love my body, teaching me about balanced lifestyle choices, and helping me get back on track after some tequila and chicken nuggets, she's been an accountability partner and friend through a lot of seasons of my life and career. I'm excited to see the lives she continues to change."—Kelsea Ballerini, singer-songwriter

"Erin is one of the most positive people on the planet and she brings an uplifting energy to every workout. She's super encouraging and meets me where I am, while always pushing me to be better. I feel so blessed to know Erin as a friend, trainer, and inspiration."—Tyler Hubbard, musician

"Erin has been able to help me with the importance of balance. I have never been happier with how I look because of her healthy diets and strong workouts."—Jana Kramer, singer, actress, and bestselling author of The Good Fight

"I am so thankful for everything Erin has taught me over the last seven years. She's taught me that clean eating and working out doesn't have to feel like a chore. She helped me learn to celebrate my body and appreciate its strength. Taking care of your body and being your best self is so worth it."—Lauren Alaina, singer-songwriter
Rodale Books, 9781984824547, 320pp.
Publication Date: January 12, 2021
About the Author
Erin Oprea is a certified personal trainer, as well as a former Marine of 9 years who has served two tours of duty in Iraq. She trains Maren Morris, Kacey Musgraves, Kelsea Ballerini, Tyler and BK from Florida Georgia Line, Carrie Underwood for 11 years and many more amazing artists, earning her the title of "Trainer to the Stars." Never content, Erin has launched her amazing training style on her Pretty Muscles app and now boasts thousands of clients around the world. She currently lives in Nashville with her husband and two boys.