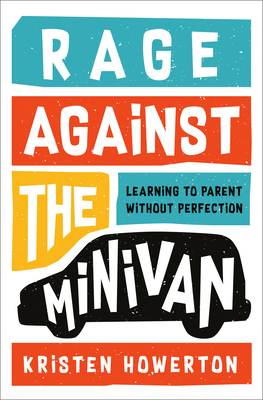 Rage Against the Minivan
Learning to Parent Without Perfection
Hardcover

* Individual store prices may vary.
Other Editions of This Title:
Digital Audiobook (6/8/2020)
Description
"Howerton writes unflinchingly about what it means to be raising children in today's world and how to liberate ourselves from the myth of perfect motherhood."—Glennon Doyle, author of Untamed and Love Warrior, founder of Together Rising

In this smart and subversively funny memoir, Kristen Howerton navigates the emotional and sometimes messy waters of motherhood and challenges the idea that there's a "right" way to raise kids. Recounting her successes, trials, mishaps, and hard-won wisdom, this mother of four advocates for letting go of the expectations, the guilt, and the endless race to be the perfect parent to the perfect child in the perfect family.

This book is for
● the parent who loves their kids like crazy but feels like parenting is making them crazy, too
● the parent who said "I will never . . ." and now they have
● the parent who looks like they have it all together but feels like a hot mess on the inside
● the parent who looks like a hot mess on the outside, too
● the parent who asks Am I good enough? Doing enough? Doing it right? What's wrong with me? What's wrong with these children? Are they eighteen yet?

With her signature blend of vulnerability, sarcasm, and insight, Howerton shares her unexpected journey from infertility to adoption to pregnancy to divorce to dealing with the shock and awe of raising teens. As a mom of a multiracial family and as a marriage and family therapist, she tackles the thorny issues parents face today, like hard conversations about racism, disciplining other people's kids, the reality of Dad Privilege, and (never) attaining that elusive work/life balance. Rage Against the Minivan is a permission slip to let it go and allow yourself to be a "good enough" parent, focused on raising happy, kind, loving humans.
Praise For Rage Against the Minivan: Learning to Parent Without Perfection…
"Howerton is one of the clearest, wisest, smartest voices in our culture. She tackles the complicated aspects of motherhood and distills them down to what is absolutely true, right, and good. Plus, she is funny and endearing, so she will forever be one of my favorite writers."—Jen Hatmaker, author of Fierce, Free, and Full of Fire, For the Love, and Of Mess and Moxie

"This book is imperfectly perfect. Or perfectly imperfect. I get those confused. Either way, you should totally read it."—Jenny Lawson, author of Furiously Happy and Let's Pretend This Never Happened

"This book is like no parenting book I've ever read—it's hilarious, thoughtful, and chock-full of the very best advice about raising kids. Read it. Not only will you have better tools and ideas for your parenting journey, but you'll also realize you're not alone."—Matthew Paul Turner, author of When God Made You and When I Pray for You

"Howerton has a unique ability to be simultaneously playful and wise, funny and deeply thoughtful. She writes like a familiar friend and an insightful guide in the same moment. That's a rare gift, and it makes this book so special."—Shauna Niequist, author of Present Over Perfect and Savor

"Howerton tells a much bigger story than motherhood—she tells a human story. As someone without kids, I wondered where I might find myself in these pages, but everywhere I looked, there I was. Her honest and hilarious examination of motherhood —about losing control, never arriving, and learning something new at every turn—is deeply relatable and a fresh reminder that you're not the only one who doesn't have it all together."—Brit Barron, author of Worth It

"I'm a grandpa now, enjoying all the high-reward, low-cost payoffs for decades of front-line parenting. But I vowed never to forget those most demanding (and amazing) years of my life, those years of the minivan slimed with orange Cheetos grease and perfumed with soccer-sock sweat. Kristen Howerton has written the book I wish I could have read back then, the book I would wish on any young parent whose moods swing between elation and exhaustion, rage and pride, unspeakable love and a desperate desire for five minutes without a diaper to change or a whine to interrupt. Read this book, parents. You'll know how much you need it when you're a few pages in."—Brian D. McLaren, author of The Great Spiritual Migration

"Howerton, a marriage and family therapist, gives readers a refreshing take on parenting: Relax. Nobody is perfect. . . . Howerton's tone is refreshingly authentic and upfront but not cheeky, sassy, or heavy-handed. . . . Candid and witty."—Kirkus Reviews

"Howerton's parenting manifesto is a laugh-out-loud funny read many moms may find themselves nodding along with. . . . [Her] sage humor will resonate with a variety of readers of all types. Whether ruining her daughter's lunch by putting a yellow straw in a pink cup, discussing the travails and joys of adopting her son Kembe from Haiti, or poking fun at unrealistic ideals of parenting culture, Howerton is both hilarious and relatable."—Library Journal­­­
Convergent Books, 9781984825162, 224pp.
Publication Date: June 9, 2020
About the Author
Kristen Howerton is a licensed marriage and family therapist and became the mother of four children within four years via birth and adoption. She is the founder of the blog Rage Against the Minivan and has created several popular humor destinations online, including the popular Tumblr "Pinterest, You Are Drunk" and the #assholeparent meme and Instagram account. She is the co-host of Selfie, a podcast dedicated to exploring the mind, body, and spirit aspects of self-care.
or
Not Currently Available for Direct Purchase