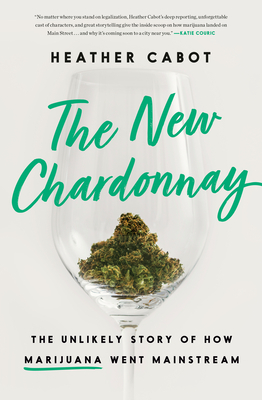 The New Chardonnay (Hardcover)
The Unlikely Story of How Marijuana Went Mainstream
Currency, 9781984826244, 288pp.
Publication Date: September 22, 2020
* Individual store prices may vary.
Description
A fascinating journey into the world of legal cannabis: the first deeply reported story of how marijuana went mainstream, offering the inside scoop on how pot shed it's unseemly image and came to be embraced by new and unlikey consumers, from "Chardonnay Moms," to health and wellness fanatics, to aging baby boomers.

From headlines like "Pets on Pot" to Snoop Dogg and Martha Stewart "putting the pot back into potluck" in their Emmy-nominated show on VH1, to the array of CBD lotions and oils for sale at CVS and Sephora, to Arizona Iced Tea making a run at selling THC-infused drinks, one thing is clear: Marijuana has fully entered the mainstream.

Drawing on exclusive interviews with some of the biggest names in the world of cannabis, Cabot explores the economic, social, and cultural forces that have collided to create a frenetic gold rush mentality that has spurred new culinary trends, inspired innovative new uses for health, beauty and wellness, and attracted tens of millions in investor dollars while generating hundreds of thousands of jobs and untold tax revenue. All as cannabis remains federally illegal in America.

Cabot takes readers on the road with Snoop Dogg and his business partner Ted Chung as they roll out the star's own brand of bud; to wine country, where chefs and vintners are harkening a new age of elevated dining; on the wild adventures of marijuana mogul Beth Stavola, where vaults of cash, armed guards and shady characters are just another day at the office; to the Marijuana Business Convention, as professionals gather to see cutting-edge technology for growing, manufacturing, and packaging a whole new generation of consumer products.

The New Chardonnay tells the story of pot's astonishing rebranding, pulling back the curtain to show how a drug that was once the subject of multi-million dollar PSA warnings managed to shed its unsavory image and land at the center of a booming and surprisingly upstanding industry.
About the Author
Heather Cabot is an award-winning journalist, contributor to ForbesWomen and serves on the alumni board of Columbia University Graduate School of Journalism, where she has also taught part-time. A former ABC News correspondent and anchor and former digital lifestyle editor for Yahoo!, she has appeared on Good Morning America, Today, CNN, MSNBC, Fox, nationally syndicated TV talk shows, and dozens of local TV and radio stations. Her byline has appeared in Elle, Wired, Parents, USA Today, and numerous daily local newspapers. She is the co-author of the acclaimed Geek Girl Rising, optioned by Kelly Ripa and ABC Studios for scripted TV development. She is also an investor and advisor to women-led social impact startups and a married mom of twins.