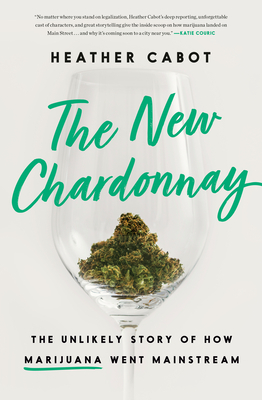 The New Chardonnay (Hardcover)
The Unlikely Story of How Marijuana Went Mainstream
Currency, 9781984826244, 320pp.
Publication Date: August 11, 2020
* Individual store prices may vary.
Description
A deeply reported journey into the new world of legal cannabis: From gleaming dispensaries to the CBD lotions at your local drugstore to Martha Stewart cooking up marijuana munchies on prime-time television, this is the inside story of how pot shed its stoner image.

In The New Chardonnay, award-winning reporter Heather Cabot takes readers on the road with Snoop Dogg and his business partner Ted Chung as they roll out the star's own brand of bud; to California wine country, where chefs and vintners are ushering in a new age of elevated dining; on wild adventures with marijuana mogul Beth Stavola, for whom fending off shady characters is just another day at the office; and to rural Canada to meet the Willy Wonka of Weed.

Drawing on exclusive interviews with some of the biggest names in the world of cannabis, Cabot's book explores the confluence of social, economic, and political forces that have brought marijuana into the mainstream. Among them, outrage over the racial injustice of U.S. drug laws, the booming self-care industry catering to stressed-out professionals and busy parents in search of better sleep and more sex, seniors clamoring for natural alternatives to opioids to manage their aches and pains, and tens of millions of investor dollars fueling a frenetic "green rush" mentality.

The story of an astonishing rebranding, The New Chardonnay explores how a plant that was once the subject of multimillion-dollar public service announcements came to spark new culinary trends; inspire new uses for health, beauty, and wellness; and generate hundreds of thousands of jobs and untold tax revenue—all while remaining federally illegal in America.
About the Author
Heather Cabot is an award-winning journalist and serves on the alumni board of Columbia University's Graduate School of Journalism. A former ABC News correspondent and anchor and former digital lifestyle editor for Yahoo!, Cabot has appeared on Good Morning America, Today, CNN, MSNBC, Fox News, and dozens of local TV and radio stations. She is a contributor to Forbes and is the co-author of the acclaimed book Geek Girl Rising.