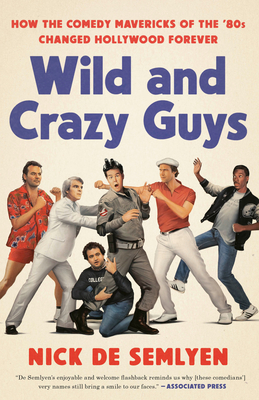 Wild and Crazy Guys
How the Comedy Mavericks of the '80s Changed Hollywood Forever
Paperback

* Individual store prices may vary.
Other Editions of This Title:
Digital Audiobook (5/27/2019)
Hardcover (5/28/2019)
Description
The behind-the-scenes story of the iconic funnymen who ruled '80s Hollywood—Bill Murray, Steve Martin, Chevy Chase, John Belushi, Dan Aykroyd, and Eddie Murphy—and the beloved films that made them stars, including Animal House, Caddyshack, and Ghostbusters

NAMED ONE OF THE BEST BOOKS OF THE YEAR BY NEW YORK

"An enjoyable romp that vividly captures the manic ups and downs of the remarkable group of funny folk who gave us a golden age of small and big screen comedy, from SNL to Groundhog Day."—Peter Biskind, author of Easy Riders, Raging Bulls

Wild and Crazy Guys opens in 1978 with Chevy Chase and Bill Murray taking bad-tempered swings at each other backstage at Saturday Night Live, and closes 21 years later with the two doing a skit in the same venue, poking fun at each other, their illustrious careers, triumphs and prat falls. In between, Nick de Semlyen takes us on a trip through the tumultuous '80s, delving behind the scenes of movies such as National Lampoon's Vacation, Beverly Hills Cop, The Blues Brothers, Dirty Rotten Scoundrels, and dozens more. Chronicling the off-screen, larger-than-life antics of Bill Murray, Chevy Chase, Steve Martin, Dan Aykroyd, Eddie Murphy, John Belushi, John Candy, and Rick Moranis, it's got drugs, sex, punch-ups, webbed toes, and Bill Murray being pushed into a swimming pool by Hunter S. Thompson while tied to a lawn chair. What's not to like?

Based on candid interviews from many of the stars themselves, as well as those in their immediate orbit, including directors John Landis, Carl Reiner, and Amy Heckerling, Wild and Crazy Guys is a fantastic insider account of the friendships, feuds, triumphs, and disasters experienced by these beloved comedians. Hilarious and revealing, it is both a hidden history of the most fertile period ever for screen comedy and a celebration of some of the most popular films of all time.

Praise for Wild and Crazy Guys

"Eminently readable . . . Children of the 1980s, take note: this is a fond, engrossing look back at the making of movies that became cultural touchstones."—Booklist (starred review)

"Nick de Semlyen smartly charts the pinballing career paths of the stars of this new comic wave. . . . His punchy, nonstop narrative . . . tells a [story] where art and commerce smash hard against each other, sometimes causing destruction, but sometimes making sparks fly."—The Sunday Times (UK)
Praise For Wild and Crazy Guys: How the Comedy Mavericks of the '80s Changed Hollywood Forever…
"Offering colorful film backstories and insightful portraits . . . de Semlyen's enjoyable [and] welcome flashback reminds us why [these comedians'] very names still bring a smile to our faces."—Associated Press

"The definitive account of the golden age of American comedy—if it were any more addictive to read, these wild and crazy guys would probably have tried to snort it in the '70s. Riveting."—David Ehrlich, senior film critic, IndieWire
 
"Highly readable . . . pithy and propulsive . . . De Semlyen racks up the good anecdotes and behind-the-scenes tidbits."—The Times (UK), "The Best Books So Far of 2019"
 
"Highly entertaining and interesting."—Houston Press
 
"There is no shortage of excellent critical writing about the US comedy scene in the 80s, and Nick de Semlyen's Wild and Crazy Guys is a terrific contribution to the genre."—The Guardian

"The irresistible Wild and Crazy Guys charts the roller-coaster ride of the groundbreaking comedy stars of the '70s and '80s, giving a fascinating look at the helium highs and crushing lows surrounding some of your favorite funny films. I couldn't put it down. Although that may have been the glue."—Edgar Wright, director of Shaun of the Dead, Hot Fuzz, and Baby Driver

"An authoritative look at how the creators of Saturday Night Live and the films that followed . . . changed the face of comedy."—Leonard Maltin

"A master storyteller, de Semlyen weaves extensive research and interviews into an entertaining narrative [that] will resonate long after the last chapter. . . . Beautifully written and absorbing, this is a valuable addition to the chronicles of American comedic cinema."—Library Journal (starred review)
 
"Fans of Steve Martin, Dan Aykroyd, and their wild-and-crazy ilk will find pleasure here."—Kirkus Reviews

"Bill Murray, Steve Martin, Eddie Murphy—they're all here like you've never seen them before (with no shortage of drugs, competitiveness, and egos).Fast-paced and addictive, Wild and Crazy Guys is the Easy Riders, Raging Bulls of the wild and crazy '80s Hollywood comedy scene."—Chris Nashawaty, author of Caddyshack: The Making of a Hollywood Cinderella Story

"It's amazing that anybody survived making comedies in the impulsive, excessive, drug-fueled, rage-filled period in the decade following the explosive arrival of Saturday Night Live. And some didn't. But, aided by the sharp recollections of those who did, Nick de Semlyen gives that more-is-more period of comedy what it desperately needs: Clarity and perspective. Wild and Crazy Guys maps the era and its swaggering players beautifully."—Mark Harris, author of Pictures at a Revolution and Five Came Back
Crown, 9781984826664, 368pp.
Publication Date: May 26, 2020
About the Author
Nick de Semlyen is a film journalist who has written for publications including Rolling Stone, Stuff, and Time Out. He is the features editor for Empire, the world's biggest movie magazine.
or
Not Currently Available for Direct Purchase