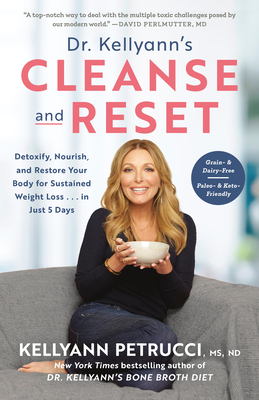 Dr. Kellyann's Cleanse and Reset
Detoxify, Nourish, and Restore Your Body for Sustained Weight Loss...in Just 5 Days
Paperback

* Individual store prices may vary.
Other Editions of This Title:
Digital Audiobook (12/2/2019)
Hardcover (12/3/2019)
Description
Combat and prevent the effects of burnout with a detoxifying and nourishing cleanse program that liberates your body from poisons that make you sick, tired, and overweight—from the New York Times bestselling author of Dr. Kellyann's Bone Broth Diet and The 10-Day Belly Slimdown

"If you are feeling tired, unhealthy, and emotionally burned-out and want a fresh way to rejuvenate, Kellyann has a message for you: she's been where you are. And she knows the way out."—Mehmet Oz, MD

"Dr. Kellyann Petrucci has done a terrific job bringing the science of detoxification to the table. This is a top-notch way to deal with the multiple toxic challenges posed by our modern world."—David Perlmutter, MD, #1 New York Times bestselling author of Grain Brain and Brain Wash

Whether from stressful times like the holidays or from the demands of your regular routine, your body naturally becomes depleted over time, making it even more difficult to lose weight and maintain the energy and vitality you need to get through the day. This is something Dr. Kellyann Petrucci experienced firsthand in 2017 while she was writing her last book, doing nonstop TV appearances, and running her business. She gained 20 pounds, her hormones went haywire, and she was at a loss for how to turn things around. She decided it was time to hit the reset button and created her simplest plan yet, specifically designed to help the millions of women who are overweight, overworked, and overextended get reenergized both physically and mentally.

This is a comfortable, incredibly powerful 5-day cleanse protocol that resets your metabolism, giving you the kind of quick, confidence-boosting results you need to get back on a healthy track. The power ingredient in the Cleanse and Reset is collagen, which improves skin elasticity and brings back that coveted youthful glow, eases joint pain, heals leaky gut, supports weight management, and has anti-inflammatory properties. The healing and reparative smoothies, shakes, soups, and bone broth blends that you'll enjoy on the 5-day cleanse are packed with collagen and can be adapted to any diet, with a focus on modifying the cleanse for the keto diet (along with great collagen alternatives for vegetarians and vegans!). The program also includes an optional 1-day "keto push" that you can follow for an extra boost the day before you begin your cleanse. Dr. Kellyann's Cleanse and Reset will help you slim your body, deep-cleanse your cells, and reclaim your energy and focus so you can start feeling truly good again.
Praise For Dr. Kellyann's Cleanse and Reset: Detoxify, Nourish, and Restore Your Body for Sustained Weight Loss...in Just 5 Days…
"Dr. Kellyann proves that a cleanse doesn't need to be harsh to work. This painless plan, centered around delicious foods packed with healing nutrition, gives you big results without stress or starvation."—Mark Hyman, MD, #1 New York Times bestselling author of Food: What the Heck Should I Eat?

"If you're overweight, out of shape, and aging too fast, you can rewrite your story—and Dr. Kellyann will show you how."—Bo Eason, former NFL player 
 
"The nutrient-dense foods you'll eat on Dr. Kellyann's cleanse are nothing short of transformative. You'll feel lighter, cleaner, and healthier in just days."—Terry Wahls, MD, founder, the Wahls Research Fund and author of The Wahls Protocol

"This cleanse gets the job done fast—and the hearty soups, rich shakes, and refreshing green drinks will keep you satisfied from start to finish."—JJ Virgin, New York Times bestselling author of The Virgin Diet and The Sugar Impact Diet

"The most profound discovery I made on my own journey to wellness was the healing power of food—a power that Dr. Kellyann harnesses in this brilliant plan."—Dr. Izabella Wentz, #1 New York Times bestselling author of Hashimoto's Thyroiditis and Hashimoto's Protocol

"I absolutely love this cleanse—it's so easy and gentle, and it takes off extra pounds fast. If you're looking for a cleanse that restores and invigorates you, this is it."—Penelope Ann Miller, award-winning stage, film, and TV actress

"I'm a huge fan of collagen, and I love cleanses—and Dr. Kellyann's plan combines the best of both worlds. Try it, and get more beautiful inside and out."—Elena George, eight-time Emmy–winning celebrity makeup artist

"Do your body a big favor and try this quick, easy, science-based cleanse. You're going to love the results."—Amy Shah, MD, double board-certified MD and wellness expert

"If you're starting to feel old and tired and you want to stop the clock—or even turn it back—this cleanse will give you the information and inspiration you need."—Tony Youn, MD, author of The Age Fix

"A fresh, fun cleanse, packed with fantastic recipes you'll be making long after you're done."—Robb Wolf, New York Times bestselling author of Wired to Eat and The Paleo Solution
"Dr. Kellyann's cleanse is a smart, simple way to jump-start your journey to good health."—Mark Sisson, New York Times bestselling author of The Primal Blueprint and The Keto Reset Diet

"Loading your cells with the right nutrients can heal your body and mind—and Dr. Kellyann's cleanse is a powerful way to do it."—Max Lugavere, New York Times bestselling author of Genius Foods
Rodale Books, 9781984826848, 272pp.
Publication Date: April 12, 2022
About the Author
Kellyann Petrucci, MS, ND, is a board-certified naturopathic physician, a certified nutrition consultant, and the author of four books, including the New York Times bestseller Dr. Kellyann's Bone Broth Diet and The 10-Day Belly Slimdown. A concierge doctor for celebrities in New York and Los Angeles, Dr. Kellyann has been a host for Public Television specials and has been featured on Dr. Oz, The Doctors, Good Morning America, and Today.