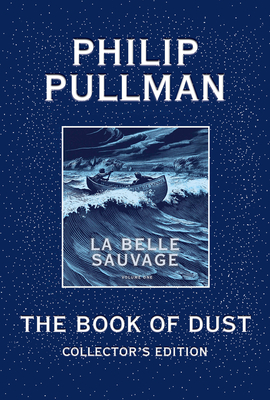 The Book of Dust (Hardcover)
La Belle Sauvage Collector's Edition (Book of Dust, Volume 1)
Knopf Books for Young Readers, 9781984830579, 496pp.
Publication Date: September 18, 2018
Other Editions of This Title:
Digital Audiobook (10/18/2017)
Paperback (6/4/2019)
Hardcover (10/19/2017)
Paperback, Large Print (9/25/2018)
CD-Audio (10/19/2017)
Library Binding (10/19/2017)
Hardcover (10/19/2017)
Pre-Recorded Audio Player (10/19/2017)
* Individual store prices may vary.
Description
A deluxe edition of Philip Pullman's bestselling classic, with gorgeous new full-page illustrations, just in time for the holidays.

"It's a stunning achievement, the universe Pullman has created and continues to build on." --The New York Times

Philip Pullman's return to the world of The Golden Compass in this first book in a new trilogy was hailed as an instant classic.

In it we learn more about Lyra's origins, meet a stalwart new hero with a pivotal role to play in keeping Lyra safe, and catch our first glimpse of the ever elusive substance known as Dust.

This impeccably designed and produced collector's edition includes beautiful new illustrations from cover artist Chris Wormell and an exclusive interview with Philip Pullman about writing La Belle Sauvage.
About the Author
PHILIP PULLMAN is one of the most acclaimed and best-selling writers at work today. He is best known for the His Dark Materials trilogy: The Golden Compass, The Subtle Knife, and The Amber Spyglass, which has been named one of the top 100 novels of all time by Newsweek and one of the all-time greatest novels by Entertainment Weekly. In 2004, he was appointed a Commander of the Order of the British Empire. He lives in Oxford, England.

To learn more, please visit philip-pullman.com or follow him on facebook at Philip Pullman author, and on Twitter at @PhilipPullman.
Praise For The Book of Dust: La Belle Sauvage Collector's Edition (Book of Dust, Volume 1)…
"Reading this novel is like standing in a room in which suddenly all of the windows have blown open at once." —Slate 

"It's a stunning achievement, the universe Pullman has created and continues to build on." —The New York Times

"A phantasmagoric waterborne odyssey. Mr. Pullman is a supple and formidable writer." —The Wall Street Journal 

"Enthralling, enchanting. The first half reads like a thriller. The story becomes darker, deeper and even more engrossing when a cataclysmic flood overtakes Southern England. Too few things in our world are worth a seventeen year wait: The Book of Dust is one of them." — The Washington Post

"Pullman's writing is as deftly brilliant as ever. A triumphant return to the alternate Oxford we love."—Bustle

"The Book of Dust passes by in one tumultuous wave of literature, that leaves you queasy, but wanting the next volume as quickly as possible. It deserves not only a reread, but an unpacking. It is not a one and done novel, something that, in a time where binging and passing is the status quo. This is a novel to digest. One to take in, let settle, and then revisit. We are lucky to have Pullman's words. Words that will continue to nourish the souls and imaginations of readers for a long, long time." —Hypable

"Once again, Pullman's fantasy arrives precisely when it can teach us the most about ourselves, as if it were guided by Dust itself." —Entertainment Weekly

"High-octane adventure accompanies ingenious plotting." The Times (London)

"Lyra Silvertongue, Lyra Belacqua, but really just Lyra: one of those characters—Pip, Emma, Lolita—who is on first-name terms with her public."—The New York Times Magazine

"Pullman's imagery is as dazzling as ever. La Belle Sauvage reveals the incredible ways in which 'ordinary' children can react whenplaced in extraordinary circumstances: with kindness, bravery and cunning." —The Bookseller

"A rollicking adventure. Delightful." —Mother Jones

"A stunning, otherworldly journey. La Belle Sauvage dives deeply into magic and intrigue. What a gift it is to be allowed back into this universe." —BuzzFeed

"Full of acute observation. A rich, imaginative, vividly characterized rite-of-passage tale." —London Sunday Times

"Thrilling and thought-provoking." —Times Literary Supplement 

"A singularly beguiling work of fantasy. [Pullman is] perhaps the best fantasy writer alive." —The A.V. Club

"A profoundly compelling foundation for a new trilogy." —Vox

"This tense, adventure-packed book will satisfy and delight Pullman's fans and leave them eager to see what's yet to come" —Publishers Weekly, starred review

"Pullman is an easeful storyteller and an intricate and inventive world-builder, and everything he has to write is worth reading." —The Telegraph

"Magisterial storytelling will sweep readers along; the cast is as vividly drawn as ever; and big themes running beneath the surface invite profound responses and reflection." —Kirkus Reviews, starred review

"Luminous prose, heady philosophical questions, and a lovable protagonist combine with a gripping plot sure to enchant fans and newcomers alike." —SLJ, starred review

"Pullman demonstrates that his talent for world building hasn't diminished, nor has his ability to draw young characters—here, Malcolm, who is layered enough to carry an adventure through multiple dimensions." —Booklist, starred review

"Pullman's immense powers of kinesthetic visualization keep the story pulsing on an epic scale."—The Guardian

"An immersive, creepy, edge-of-your seat adventure." —Shelf Awareness

"To connect once more with a fictional universe of such great power is a delight." —Financial Times