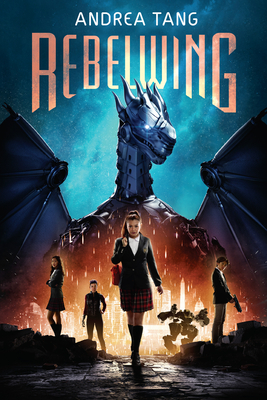 Rebelwing
Hardcover

* Individual store prices may vary.
Other Editions of This Title:
Digital Audiobook (2/24/2020)
Paperback (2/23/2021)
Description
"Mixing everything that's best about dragons, dystopia, and generational conflict, Tang delivers a high flying debut that pulls no punches." --E.K. Johnston, #1 New York Times Bestselling Author

Things just got weird for Prudence Wu.

One minute, she's cashing in on a routine smuggling deal. The next, she's escaping enforcers on the wings of what very much appears to be a sentient cybernetic dragon.

Pru is used to life throwing her some unpleasant surprises--she goes to prep school, after all, and selling banned media across the border in a country with a ruthless corporate government obviously has its risks. But a cybernetic dragon? That's new.

She tries to forget about the fact that the only reason she's not in jail is because some sort of robot saved her, and that she's going to have to get a new side job now that enforcers are on to her. So she's not exactly thrilled when Rebelwing shows up again.

Even worse, it's become increasingly clear that the rogue machine has imprinted on her permanently, which means she'd better figure out this whole piloting-a-dragon thing--fast. Because Rebelwing just happens to be the ridiculously expensive weapon her government needs in a brewing war with its neighbor, and Pru's the only one who can fly it.

Set in a wonderfully inventive near-future Washington, D.C., this hilarious, defiant debut sparkles with wit and wisdom, deftly exploring media consumption, personal freedoms, and the weight of one life as Pru, rather reluctantly, takes to the skies.
Praise For Rebelwing…
"Tang's prose is snappy, Pru's voice strikes a likeable balance between sarcastic and sincere, and the inclusive cast is fleshed out, making this an enjoyable tale of political conspiracy." —Publishers Weekly
 
"In Tang's debut, cybernetic dragons and robotic hybrids clash as readers follow a lovable cast through the political machinations of war." —Booklist

"The writing is excellent, the characters well drawn and the mech-dragon offers a unique spin (sometimes literally)." —School Library Journal

"This will appeal to fans of mecha anime; young, fumbling romance; and stories about superintelligent teens trying the save the world." —Kirkus Reviews

"Tang brings a little something for everyone to this genre mashup of dragon fantasies, boarding-school narratives, Transformers movies, and social commentary about the growing influence of corporations." —BCCB

"Mixing everything that's best about dragons, dystopia, and generational conflict, Tang delivers a high flying debut that pulls no punches." —E.K. Johnston, #1 New York Times Bestselling Author

"An engaging high tech fairy tale in which storytelling is as much a part of the resistance as the battles themselves." —Natalie C. Parker, author of Seafire

"Rebelwing is a brilliant sci-fi debut that had my heart at cybernetic dragons. Full of clever banter and characters that burst from the pages, Andrea Tang's writing is nuanced and captivating—I was entranced from beginning to end!" —Akemi Dawn Bowman, award-winning author of Starfish, Summer Bird Blue, and Harley in the Sky

"Freedom! Revolution! Mecha-dragons! Soaring with wit, heart, and thrilling heroics in spades, Rebelwing is too much fun to put down." —Emily Skrutskie, author of Hullmetal Girls
 
"A rollicking, razor-sharp tale of family, war, and revolution." —Tochi Onyebuchi, author of Beasts Made of Night and Crown of Thunder
 
"Anime fans rejoice! Andrea Tang's Rebelwing is a stunning, witty blend of giant mecha battles and complex, multi-faceted characters, set against the backdrop of a near-future North America. Pru and her motley group of friends challenge one another, flirt outrageously, and discuss politics, philosophy, and the diaspora, just as they're swept up on the wings of revolution. Immersive and riveting—this is sci-fi at its very best." —Axie Oh, award-winning author of Rebel Seoul

"High stakes and dazzlingly clever, Rebelwing explores the glorious and devastating impact revolution has on society—but also the toll that war takes on its heroes, across multiple generations. You can't help but fall in love with these characters and their wild dystopic world of book smuggling and mechadragons." —Victoria Lee, author of The Fever King

Razorbill, 9781984835093, 368pp.
Publication Date: February 25, 2020
About the Author
Andrea Tang grew up in Princeton, New Jersey, and currently resides in Washington, DC, where she pens fiction by night and collects geopolitical gossip by day. A graduate of Bryn Mawr College and the University of Oxford, she's also a perpetually recovering theater kid, Fulbright grantee, former pentathlete, tae kwon do black belt, and serial dabbler in various martial and movement arts. Among other things, she enjoys superheroes, giant robots, and the endless versatility of pie.