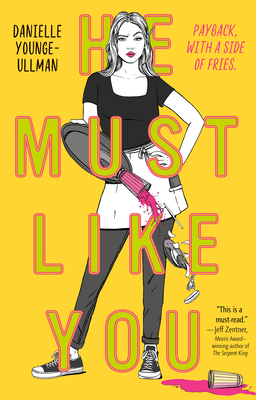 He Must Like You
Hardcover

* Individual store prices may vary.
Other Editions of This Title:
Digital Audiobook (2/1/2021)
Paperback (5/10/2022)
Description
An authentic, angry, and surprisingly funny and romantic novel about sexual harassment, from award-winning author Danielle Younge-Ullman.

Libby's having a rough senior year. Her older brother absconded with his college money and is bartending on a Greek island. Her dad just told her she's got to pay for college herself, and he's evicting her when she graduates so he can Airbnb her room. A drunken hook-up with her coworker Kyle has left her upset and confused. So when Perry Ackerman, serial harasser and the most handsy customer at The Goat where she waitresses, pushes her over the edge, she can hardly be blamed for dupming a pitcher of sangria on his head. Unfortunately, Perry is a local industry hero, the restaurant's most important customer, and Libby's mom's boss. Now Libby has to navigate the fallout of her outburst, find an apartment, and deal with her increasing rage at the guys who've screwed up her life--and her increasing crush on the one guy who truly gets her. As timely as it is timeless, He Must Like You is a story about consent, rage, and revenge, and the potential we all have to be better people.
Praise For He Must Like You…
One of the Ontario Library Association's 2020 Best Bets selection, Young Adult Fiction category

Praise for He Must Like You:

"There are few writers of any stripe capable of tackling important, tough topics with as much grace, heart, humor, and righteous fury as Danielle Younge-Ullman and nowhere is that more abundantly on display than in He Must Like You. This is a must-read." —Jeff Zentner, Morris Award–winning author of The Serpent King

"This novel opens a much-needed conversation about consent, boldly addressing personal and professional assault in an empowering, engrossing read. A must for young women."—Lori Goldstein, author of Screen Queens

"Inspired by the well-intentioned but demeaning title phrase that girls hear when boys mistreat them, Younge-Ullman has produced a spot-on story that educates and illuminates the gray areas of sexual consent. Libby's experiences with the adult offender are textbook examples of the indignities women have suffered in public and in private, and her male friends' reactions speak volumes. Realistic fiction with lessons for all."--Booklist

"The novel takes on the topic of nonconsent and how deeply it is baked into male-female interactions in American society, a subject as fraught as things can get." --Kirkus Reviews

"[C]andidly considers rape culture and consent." --Publishers Weekly

"This is a must-read novel for every teenage girl – and guy for that matter." --Highly Recommended, CM Reviews





Viking Books for Young Readers, 9781984835710, 336pp.
Publication Date: July 14, 2020
About the Author
Danielle Younge-Ullman (danielleyoungeullman.com) studied English and Theater at McGill University in Montreal, then worked as professional actor for ten years. This was character-building time during which she held a wild variety of acting and non-acting jobs--everything from working on the stage and in independent films, to dubbing English voices for Japanese TV, to temping, to teaching Pilates. She now lives with her husband and two daughters in an old house in Toronto that's constantly being renovated. Follow her on Twitter @DanielleYUllman.