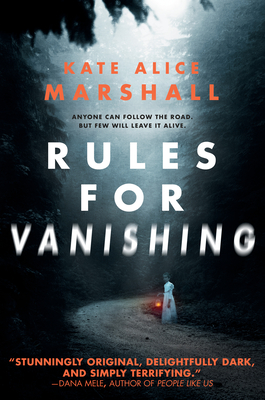 Rules for Vanishing
Paperback

* Individual store prices may vary.
Other Editions of This Title:
Digital Audiobook (3/18/2020)
Digital Audiobook (9/23/2019)
Hardcover (9/24/2019)
Description
In the faux-documentary style of The Blair Witch Project comes the campfire story of a missing girl, a vengeful ghost, and the girl who is determined to find her sister--at all costs.

Once a year, a road appears in the forest. And at the end of it, the ghost of Lucy Gallows beckons. Lucy's game isn't for the faint of heart. If you win, you escape with your life. But if you lose....

Sara's sister disappeared one year ago--and only Sara knows where she is. Becca went to find the ghost of Lucy Gallows and is trapped on the road that leads to her. In the sleepy town of Briar Glen, Lucy's road is nothing more than local lore. But Sara knows it's real, and she's going to find it.

When Sara and her skeptical friends meet in the forest to search for Becca, the mysterious road unfurls before them. All they have to do is walk down it. But the path to Lucy is not of this world, and it has its own rules. Every mistake summons new horrors. Vengeful spirits and broken, angry creatures are waiting for them to slip, and no one is guaranteed safe passage. The only certainty is this: the road has a toll and it will be paid.

Sara knows that if she steps onto the road, she might not come back. But Becca needs her.

And Lucy is waiting.
Praise For Rules for Vanishing…
Raves for Rules for Vanishing:

"This story is woven with eerie small town folklore, lost girls, and vengeful ghosts! I loved the documentary-style storytelling and I couldn't read it fast enough."--Shea Ernshaw, New York Times bestselling author of The Wicked Deep

"Rules for Vanishing will make you question what is real and what is illusion, and which option is more terrifying."--Caitlin Starling, author of The Luminous Dead

"Rules for Vanishing has all the prerequisites of a horror classic--stunningly original, delightfully dark, and simply terrifying. A tense and exhilarating read for those with or without a pulse."--Dana Mele, author of People Like Us

"Delightfully chilling! Marshall delivers riveting twists, gasp-out-loud surprises, and a series of truly haunting revelations right up to the final page in this irresistible mystery."--Natalie C. Parker, author of Seafire

* "In this chilling tale, Marshall ties together regional folklore, urban legends, and ghost stories to craft an exquisitely unsettling dark fantasy."--Publishers Weekly, starred review

"Engrossing.... [Readers] will enjoy this mashup of The X-Files and the The Blair Witch Project."--Kirkus

"Marshall delivers a haunting tale about a childhood game that twists into a disturbing rescue mission."--SLJ

"Marshall keeps the twisty narrative intentionally murky, ensuring that readers, like Sara and her friends, may never find their way out."--Booklist

Raves for I Am Still Alive:

"This tense wire of a novel thrums with suspense. . . . [this book] just might be the highlight of your summer."–The New York Times

"An expertly conceived plot plus a true heroine (and her dog) make for an original, engrossing, and twisty survival story that I tore through compulsively. You won't regret the hours that disappear when you read this one." –Nancy Werlin, National Book Award honoree and New York Times bestselling author
 
"I couldn't set this book down—the words actually made me shiver. It's Hatchetmeets The Revenant, infused with fierce, undaunted girl power." –S.A. Bodeen, award-winning author of The Raft

"If Hatchet was your favorite book in grade school, but you wish it was filled with much more girl power, then I Am Still Alive is the book you've been waiting for."–Bustle

"A gripping adventure."–The Wall Street Journal

* "A taut, gripping page-turner with a strong female hero to root for."–Kirkus, starred review

* "With masterful pacing, rich characterization, a dynamic voice, and a thrilling blend of wilderness survival and revenge, this is an engrossing read from a writer to watch."–Booklist, starred review

"A gripping tale of endurance and discovery of inner strength."–School Library Journal

"[A] striking first novel. Marshall's immersive descriptions will hook readers into this exhilarating survival story."–Publishers Weekly

"Marshall's thrilling tale is also a deeply moving story about coming to terms with imperfections (both in oneself and in others) and about finding true resourcefulness and inner strength."–BookPage
Penguin Books, 9781984837035, 432pp.
Publication Date: February 16, 2021
About the Author
Kate Alice Marshall started writing before she could hold a pen properly, and never stopped. She lives in the Pacific Northwest with a chaotic menagerie of pets and family members, and ventures out in the summer to kayak and camp along Puget Sound. I Am Still Alive was her YA debut, followed by Rules for Vanishing. Visit her online at katemarshallbooks.com and follow her on Twitter @kmarshallarts.