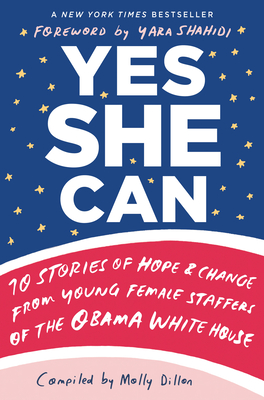 Yes She Can
10 Stories of Hope & Change from Young Female Staffers of the Obama White House
Hardcover

* Individual store prices may vary.
Other Editions of This Title:
Library Binding (3/5/2019)
MP3 CD (7/14/2020)
Description
"Young women can run the world. These are the stories of those who did..." @hillaryclinton

"An excellent guide to the how and why of a life of public service." --Amy Poehler

Return to President Obama's White House in this New York Times bestselling anthology for young women by young women, featuring stories from ten inspiring young staffers who joined his administration in their 20s with the hope of making a difference.

Includes a foreword by actress (Grown-Ish) and activist Yara Shahidi! Shahidi is the creator of Eighteen x '18, a platform to empower first-time voters.

They were teens when Barack Obama announced he was running for president.
They came of age in the Obama Era.
And then they joined his White House. Smart, motivated, ambitious--and ready to change the world.

Kalisha Dessources Figures planned one of the biggest summits held by the Obama White House--The United State of Women. Andrea Flores fought for the president's immigration bill on the Hill. Nita Contreras traveled the globe and owned up to a rookie mistake on Air Force One (in front of the leader of the free world!).

Here are ten inspiring, never-before-told stories from diverse young women who got. Stuff. Done. They recall--fondly and with humor and a dose of humility--what it was like to literally help run the world.

YES SHE CAN is an intimate look at Obama's presidency through the eyes of some of the most successful, and completely relatable, young women who were there. Full of wisdom they wish they could impart to their younger selves and a message about the need for more girls in government, these recollections are about stepping out into the spotlight and up to the challenge--something every girl can do.

With contributions from Jenna Brayton, Eleanor Celeste, Nita Contreras, Kalisha Dessources Figures, Molly Dillon, Andrea R. Flores, Vivian P. Graubard, Noemie C. Levy, Taylor Lustig, and Jaimie Woo.
Praise For Yes She Can: 10 Stories of Hope & Change from Young Female Staffers of the Obama White House…
"There is nothing more powerful than an army of young women and their combined voices. Smart and sharply written, this is an excellent guide to the how and why of a life of public service." —Amy Poehler, creator of Smart Girls

"I am so inspired by these amazing stories, each a testament to the fact that we need more young women devoted to public service. Yes She Can shows the extraordinary difference their voices can make." —Valerie Jarrett, former advisor to President Obama

"Human beings are way more likely to do what we see than what we are told. That's why YES SHE CAN, a collection of firsthand stories, is even more likely to bring women's talent to Washington than are the statistics about why such talent is needed. This book is like out-stretched hands from personal friends who want to help you make a difference." – Gloria Steinem, author & feminist activist

"The extraordinary women whose stories are reflected in this book embody courage, hard work, persistence, and resilience—characteristics we should demand from all of our leaders. This honest and inspiring look at politics and government is a must-read for anyone—especially any girl—who dreams of changing the world for the better."
—Cecile Richards, lifelong activist and former president of Planned Parenthood
 
"Yes She Can offers heartfelt stories of public service from unstoppable young women determined to make this world a better place. Necessary reading that will inspire and empower a new generation of girls focused on social impact." —Elaine Welteroth, activist, editor, and author

"Yes She Can shows the importance of creating spaces for women and girls to showcase their brilliance and excellence. It is exactly the book girls need to read right now to show them that everyday girls can and will change the world."  
—Marley Dias, Author, Activist, & Founder of #1000blackgirlbooks

"Amidst difficult times, Yes She Can is a beacon of hope. A road map for girls who want to make a difference, these stories show a depth of diverse experiences and the breadth of opportunities young women have to change the world. Yes She Can reminds us that government belongs to everyone." —Amanda Nguyen, founder of Rise
 
"Oh, how I welcome this book! I heard the women of Yes She Can telling me boldly and clearly: We are bringing change. And what a powerful, most welcome, and much-needed message that is." —Mariska Hargitay, actor, advocate, director, and producer
 
"Inspiring, hopeful, funny and emotional, Yes She Can is a marvelous collection of untold stories of American women committed to public service. They dared to believe in themselves and their nation and, by doing so, helped change the Presidency, the White House, and the course of history for us all." —Raffi Freedman-Gurspan, former Obama Administration LGBT liaison
 
"Yes She Can mixes narratives of poignant personal journeys and exceptional work with clear guidance on how to make a deep meaningful impact through public service." —Megan Smith, CEO of shift7 and third U.S. Chief Technology Officer
Schwartz & Wade, 9781984848451, 288pp.
Publication Date: March 5, 2019
About the Author
Molly Dillon served in the White House from 2013 - 2017 in the Domestic Policy Council's Office of Urban Affairs, Justice and Opportunity. Originally from Highland Park, Illinois, she currently resides in New York, NY.

With contributions from Jenna Brayton, Eleanor Celeste, Nita Contreras, Kalisha Dessources, Molly Dillon, Andrea R. Flores, Vivian P. Graubard, Noemie C. Levy, Taylor Lustig, and Jaimie Woo.
or
Not Currently Available for Direct Purchase