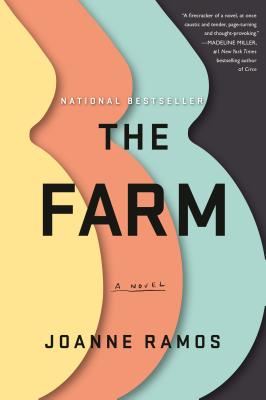 The Farm (Hardcover)
A Novel
Random House, 9781984853752, 336pp.
Publication Date: May 7, 2019
* Individual store prices may vary.
Description
Life is a lucrative business, as long as you play by the rules.

"[Joanne] Ramos's debut novel couldn't be more relevant or timely."—O: The Oprah Magazine (25 Books We Can't Wait to Read in 2019)

Nestled in New York's Hudson Valley is a luxury retreat boasting every amenity: organic meals, personal fitness trainers, daily massages—and all of it for free. In fact, you're paid big money to stay here—more than you've ever dreamed of. The catch? For nine months, you cannot leave the grounds, your movements are monitored, and you are cut off from your former life while you dedicate yourself to the task of producing the perfect baby. For someone else.

Jane, an immigrant from the Philippines, is in desperate search of a better future when she commits to being a "Host" at Golden Oaks—or the Farm, as residents call it. But now pregnant, fragile, consumed with worry for her family, Jane is determined to reconnect with her life outside. Yet she cannot leave the Farm or she will lose the life-changing fee she'll receive on the delivery of her child.

Gripping, provocative, heartbreaking, The Farm pushes to the extremes our thinking on motherhood, money, and merit and raises crucial questions about the trade-offs women will make to fortify their futures and the futures of those they love.

Advance praise for The Farm

"This topical, provocative debut anatomizes class, race and the American dream."—The Guardian, "What You'll Be Reading This Year"

"Wow, Joanne Ramos has written the page-turner about immigrants chasing what's left of the American dream. . . . Truly unforgettable."—Gary Shteyngart, New York Times bestselling author of Super Sad True Love Story and Lake Success

"A highly original and provocative story about the impossible choices in so many women's lives. These characters will stay with me for a long time."—Karen Thompson Walker, New York Times bestselling author of The Age of Miracles and The Dreamers

"Ramos has written a firecracker of a novel, at once caustic and tender, page-turning and thought-provoking. This is a fierce indictment of the vampiric nature of modern capitalism, which never loses sight of the very human stories at its center. . . . Highly recommended."—Madeline Miller, #1 New York Times bestselling author of Circe
About the Author
Joanne Ramos was born in the Philippines and moved to Wisconsin when she was six. She graduated with a B.A. from Princeton University. After working in investment banking and private-equity investing for several years, she became a staff writer at The Economist. She currently serves on the board of The Moth. She lives in New York City with her husband and three children.
Praise For The Farm: A Novel…
"[Joanne] Ramos's debut novel couldn't be more relevant or timely."—O: The Oprah Magazine (25 Books We Can't Wait to Read in 2019)

"A highly original and provocative story about the impossible choices in so many women's lives. These characters will stay with me for a long time."—Karen Thompson Walker, New York Times bestselling author of The Age of Miracles and The Dreamers

"Ramos has written a firecracker of a novel, at once caustic and tender, page-turning and thought-provoking. This is a fierce indictment of the vampiric nature of modern capitalism, which never loses sight of the very human stories at its center. . . . Highly recommended."—Madeline Miller, #1 New York Times bestselling author of Circe

"The Farm is a smart, thoughtful novel about women, choices, and the immigrant experience that asks the question: How far would you go for the American dream?"—PopSugar, "Buzzy Books to Read This Spring"
 
"[The Farm] hits home hard—a thrilling read about the myth of meritocracy, the way some people get ahead in life before they're even born."—New York, "Spring Books Preview"

"Perhaps the most powerful element of this debut novel by Ramos, who was born in Manila and moved to Wisconsin when she was six, is its portrait of the world of Filipinas in New York. The three-page soliloquy of instructions for nannying delivered to Jane by her more experienced cousin is a work of art in itself. . . . Excellent."—Kirkus Reviews (starred review)

"Compelling storytelling . . . Ramos's debut is so engaging that the reader might not understand the depths she probes until the book is done. . . . Each character's complexity will give book groups plenty to discuss."—Booklist (starred review)

"Traveling from the glitz of Manhattan to multiethnic, immigrant Queens and the isolation of the rural Hudson Valley, this is an exciting read about the politics of motherhood and female autonomy."—Library Journal

"Transfixing . . . Ramos particularly shines at her nuanced, emotional depictions of these women's interior struggles. A surefire hit with book groups, this striking novel will also appeal strongly to readers who like dystopian touches and ethically complicated narratives."—Publishers Weekly

"The Farm terrifies with a simple question: How much of ourselves are we willing to sell? With characters so real they leap off the page, Ramos yanks the reader into a world of Haves and Have-Nots, and her question lingers long after we turn the final page."—Christina Dalcher, author of Vox

"The Farm is a completely plausible imagination of the future of pregnancy in a world of ever-greater inequality. What at first feels off-kilter is slowly ramped up to truly chilling, and it's done so subtly that we barely notice the change happening—it's not afraid to ask searching questions about who wins and who loses when women's bodies are commodified, and how freedom and agency for some come at a cost for others. It's sharply prescient, and terrifying, too."—Sophie Mackintosh, author of The Water Cure