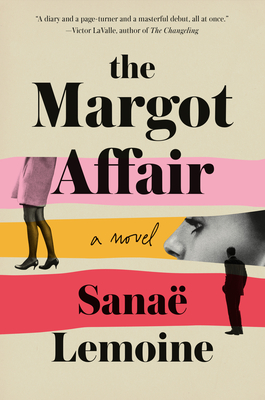 The Margot Affair
A Novel
Hardcover

* Individual store prices may vary.
Other Editions of This Title:
Paperback (3/2/2021)
Description
A NEW YORK TIMES EDITORS' CHOICE

The secret daughter of a French politician and a famous actress drops the startling revelation that will shatter her family in this beguiling debut novel of intrigue and betrayal.

NAMED ONE OF SUMMER'S BEST BOOKS BY The Skimm • Marie Claire • LitHub • Subway Book Review • Paperback Paris

Margot Louve is a secret: the child of a longstanding affair between an influential French politician with presidential ambitions and a prominent stage actress. This hidden family exists in stolen moments in a small Parisian apartment on the Left Bank.

It is a house of cards that Margot—fueled by a longing to be seen and heard—decides to tumble. The summer of her seventeenth birthday, she meets the man who will set her plan in motion: a well-regarded journalist whose trust seems surprisingly easy to gain. But as Margot is drawn into an adult world she struggles to comprehend, she learns how one impulsive decision can threaten a family's love with ruin, shattering the lives of those around her in ways she could never have imagined.

Exposing the seams between private lives and public faces, The Margot Affair is a novel of deceit, desire, and transgression—and the exhilarating knife-edge upon which the danger of telling the truth outweighs the cost of keeping secrets.
Praise For The Margot Affair: A Novel…
"Betrayal and desire fuel the story of Margot, the secret daughter of a twenty-year affair between a French politician and a famous actress. . . . It's impossible not to love Margot's delicate mixture of maturity and naïveté. . . . This is a startling, affecting first book by an author who is confident in her craft, who knows that a loving portrait includes flaws."—The New York Times

"This is what it means to come of age, and it is a messy business."—Financial Times 

"A diary and a page-turner and a masterful debut, all at once."—Victor LaValle, author of The Changeling

"Gorgeous . . . very French. . . in lush, lyrical prose that perfectly captures the heightened emotion and confusion of being a young woman with a bruised heart and limited experience. Though the book seems to be about an absent father, it's more about a tricky mother, and about motherhood in general. It asks the ultimate question about this most complicated of relationships: What will a mother do for her child?"—Sarah Lyall, The New York Times (Daily Review)

"Drumming with tension, The Margot Affair grapples with the complexity of familial love."—Marie Claire 
 
"[A] perfect mix of literary and entertaining . . . This is one of those books that you didn't know you needed until you read the first few pages and you go: oh, I'm home."—LitHub

"Unusual and accomplished . . . Good novels can supply insights into other cultures, and, for outsiders, one of this book's pleasures is the glimpse it affords into French mores and habits. . . . Here she lifts the window slats not just on the covert behavior of consenting adults, but on many facets of bourgeois Parisian life."—The Economist

"Absorbing . . . Margot, on the cusp of adulthood, takes liberties with other people's lives, because she considers liberties to have been taken with hers. This is what it means to come of age, and it is a messy business."—Lauren Elkin, Financial Times
 
" . . . one juicy book. It's a commentary about the tolls of secrets and power—and will make you feel like you're sitting in a Parisian café the whole time."—The Skimm

"Subtle, beautiful, serious."—Karen Russell, author of Swamplandia!

"A deeply immersive novel about the ways in which your family may fail you . . . Written in graceful prose carrying clairvoyant insights, its wisdom stayed with me."—Ling Ma, author of Severance

"A stunning debut, simmering with tension and sensuality. This jewel of a novel examines the in-between spaces in life. . . . A mesmerizing story by an important new voice."—Crystal Hana Kim, author of If You Leave Me   

"Astonishing . . . Sanaë Lemoine is fearless and almost unbearably tender in her exploration of all the ways we both exalt and wound one another."—Stacey D'Erasmo, author of Wonderland 

"An extraordinary, gorgeous novel . . . With exquisite precision and insight, The Margot Affair builds to an unexpected heat."—Idra Novey, author of Those Who Knew
Hogarth, 9781984854438, 336pp.
Publication Date: June 16, 2020
About the Author
Sanaë Lemoine was born in Paris to a Japanese mother and French father, and raised in France and Australia. She earned her undergraduate degree from the University of Pennsylvania and her MFA at Columbia University. She now lives in New York.