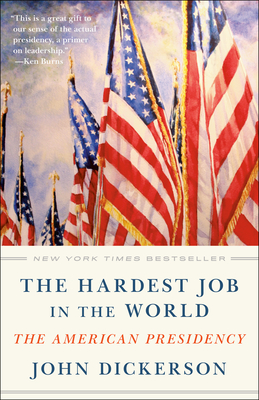 The Hardest Job in the World
The American Presidency
Paperback

* Individual store prices may vary.
Other Editions of This Title:
Digital Audiobook (6/15/2020)
Hardcover (6/16/2020)
Description
NEW YORK TIMES BESTSELLER • From the veteran political journalist and 60 Minutes correspondent, a deep dive into the history, evolution, and current state of the American presidency, and how we can make the job less impossible and more productive—featuring a new post-2020–election epilogue

"This is a great gift to our sense of the actual presidency, a primer on leadership."—Ken Burns

Imagine you have just been elected president. You are now commander-in-chief, chief executive, chief diplomat, chief legislator, chief of party, chief voice of the people, first responder, chief priest, and world leader. You're expected to fulfill your campaign promises, but you're also expected to solve the urgent crises of the day. What's on your to-do list? Where would you even start? What shocks aren't you thinking about?

The American presidency is in trouble. It has become overburdened, misunderstood, almost impossible to do. "The problems in the job unfolded before Donald Trump was elected, and the challenges of governing today will confront his successors," writes John Dickerson. After all, the founders never intended for our system of checks and balances to have one superior Chief Magistrate, with Congress demoted to "the little brother who can't keep up."

In this eye-opening book, John Dickerson writes about presidents in history such a Washington, Lincoln, FDR, and Eisenhower, and and in contemporary times, from LBJ and Reagan and Bush, Obama, and Trump, to show how a complex job has been done, and why we need to reevaluate how we view the presidency, how we choose our presidents, and what we expect from them once they are in office. Think of the presidential campaign as a job interview. Are we asking the right questions? Are we looking for good campaigners, or good presidents? Once a candidate gets the job, what can they do to thrive? Drawing on research and interviews with current and former White House staffers, Dickerson defines what the job of president actually entails, identifies the things that only the president can do, and analyzes how presidents in history have managed the burden. What qualities make for a good president? Who did it well? Why did Bill Clinton call the White House "the crown jewel in the American penal system"? The presidency is a job of surprises with high stakes, requiring vision, management skill, and an even temperament. Ultimately, in order to evaluate candidates properly for the job, we need to adjust our expectations, and be more realistic about the goals, the requirements, and the limitations of the office.

As Dickerson writes, "Americans need their president to succeed, but the presidency is set up for failure. It doesn't have to be."
Praise For The Hardest Job in the World: The American Presidency…
"Dickerson has a gift for effectively mixing anecdote and history, as he did so well in Whistlestop: My Favorite Stories from Presidential Campaign History, and he does it again in his rich chronicle of the American presidency. The qualities required of a good candidate differ from that of a great president, and Dickerson makes a convincing case for reforming the job, which is radically different from how it was conceived by the founders."—The National Book Review

"You should read [The Hardest Job in the World] if you want to understand what the presidency should and should not be. Dickerson . . . brilliantly explains how the presidency grew and evolved and accumulated power, how Trump has warped it, and how it can be fixed."—Business Insider

"Brilliantly chronicles what the American presidency has meant, what it could mean . . . With wit, sweep, and unfailing generosity, The Hardest Job in the World is a book for our times, informed and delightful and definitely not to be missed."—Brenda Wineapple, author of The Impeachers: The Trial of Andrew Johnson and the Dream of a Just Nation

"Superb . . . a captivating read . . . I found myself sometimes nodding in agreement so vigorously that I worried about hurting my neck. . . . A wonderful contribution to understanding what is, for sure, the hardest job in the world."—Robert Gates, former United States Secretary of Defense

"This is a wonderful 'inside' look at the difficult act of being the president of the United States. It is told with grace and insight by a man who not only knows his subject—he understands it. This is a great gift to our sense of the actual presidency, a primer on leadership, and, of course, of necessity, a reflection on failure."—Ken Burns, award-winning filmmaker

"From one of our closest students of the presidency, John Dickerson's thoughtful, learned, original, shrewd, comprehensive, up-to-the-minute book, full of wisdom and personal observations, could not be more needed than at this moment in American history."—Michael Beschloss, bestselling author of Presidential Courage: Brave Leaders and How They Changed America 1789–1989

"Evenhanded and insightful . . . Drawing on illuminating interviews with former White House officials and presidential historians, Dickerson packs the book with intriguing arcana and colorful quotes. . . . This entertaining history rises above the political fray to cast even the most maligned chief executives in a new light."—Publishers Weekly

Random House Trade Paperbacks, 9781984854537, 672pp.
Publication Date: March 23, 2021
About the Author
John Dickerson is 60 Minutes correspondent. Prior to that, he was a co-host of CBS This Morning, the anchor of Face the Nation, and CBS News's chief Washington correspondent. Dickerson is also a contributing writer to The Atlantic, co-host of Slate's Political Gabfest podcast, and host of the Whistlestop podcast. Dickerson won the Ford Prize for Distinguished Reporting on the Presidency as Slate's chief political correspondent. Dickerson covered the White House for Time during his twelve years at the magazine. The 2020 presidential campaign is the seventh he has covered.