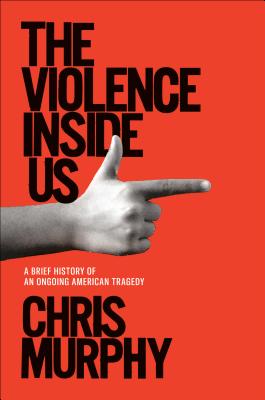 The Violence Inside Us
A Brief History of an Ongoing American Tragedy
Hardcover

* Individual store prices may vary.
Other Editions of This Title:
Digital Audiobook (8/31/2020)
Paperback (5/18/2021)
Description
"An engrossing, moving, and utterly motivating account of the human stakes of gun violence in America."—Samantha Power, Pulitzer Prize–winning author of The Education of an Idealist

Is America destined to always be a violent nation? This sweeping history by U.S. senator Chris Murphy explores the origins of our violent impulses, the roots of our obsession with firearms, and the mythologies that prevent us from confronting our national crisis.
 
In many ways, the United States sets the pace for other nations to follow. Yet on the most important human concern—the need to keep ourselves and our loved ones safe from physical harm—America isn't a leader. We are disturbingly laggard. To confront this problem, we must first understand it. In this carefully researched and deeply emotional book, Senator Chris Murphy dissects our country's violence-filled history and the role that our unique obsession with firearms plays in this national epidemic. 
 
Murphy tells the story of his profound personal transformation in the wake of the mass murder at Newtown, and his subsequent immersion in the complicated web of influences that drive American violence. Murphy comes to the conclusion that while America's relationship to violence is indeed unique, America is not inescapably violent. Even as he details the reasons we've tolerated so much bloodshed for so long, he explains that we have the power to change. Murphy takes on the familiar arguments, obliterates the stale talking points, and charts the way to a fresh, less polarized conversation about violence and the weapons that enable it—a conversation we urgently need in order to transform the national dialogue and save lives.
Praise For The Violence Inside Us: A Brief History of an Ongoing American Tragedy…
"The Violence Inside Us offers a nuanced exploration of the history of violence in America, the driving forces behind the country's fascination with firearms and why so many American citizens are impacted by gun violence."—Time

"This superb book will enlighten any reader who has wondered why humans are violent and why Americans are so much more violent than the citizens of other affluent democracies. It combines extensive learning, fine writing, and a richness of experience that could come only from a dedicated public servant with a deep connection to the lives of his constituents. The Violence Inside Us is an excellent contribution to our understanding of human lethal aggression and how it can be reduced."—Steven Pinker, Johnstone Family Professor of Psychology, Harvard University, and author of The Better Angels of Our Nature: Why Violence Has Declined

"An engrossing, moving, and utterly motivating account of the human stakes of gun violence in America . . . From his earliest days in the Senate, when he grieved with the families of the children of Sandy Hook Elementary, Chris Murphy has fearlessly challenged the fatalism of those who have resigned themselves to mass shootings. All the while he has exposed the cynicism of those in America who put profit over people. With a historian's talent for narrative and a memoirist's gift for introspection, Murphy shines a light on the men and women who will not rest until American laws are changed to protect our citizens, while offering an inspiring blueprint for how this struggle can—and will—be won."—Samantha Power, Pulitzer Prize–winning author of The Education of an Idealist and former U.S. ambassador to the United Nations

"The Violence Inside Us is not a book by a politician—it is a book by a father, a neighbor, a citizen—and it offers a comprehensive and deeply personal accounting of the entrenched role of guns in America, as well as a path forward to break this cycle of senseless violence and the toll it has taken on our society, especially our nation's children."—Darren Walker, president, the Ford Foundation

"This book is essential to understanding America's gun violence epidemic, our history of gun ownership, and the nature of violence itself. It's an essential primer for anyone who's sick of thoughts and prayers in the wake of these tragedies and wants to be armed with the knowledge to ght for change."—Tommy Vietor, co-host, Pod Save America

"In this important and necessary book, Senator Murphy adeptly uses science, history, and his own experiences to present an honest, thoughtful picture of violence in America. Even more critical, this book is a call to action that rings with eloquence and tremendous moral clarity."—John King, Jr., former U.S. secretary of education
Random House, 9781984854575, 384pp.
Publication Date: September 1, 2020
About the Author
Elected in 2012 as the youngest member of the U.S. Senate, Chris Murphy has earned a reputation as a serious legislator who is willing to stand up for his principles and reach across the aisle. Since the Newtown school shooting in December 2012, he has also become the best-known leader in Congress in confronting the plague of gun violence in America. Now in his second term representing Connecticut, he and his wife, Cathy, an attorney, have two young sons, Owen and Rider.
or
Not Currently Available for Direct Purchase