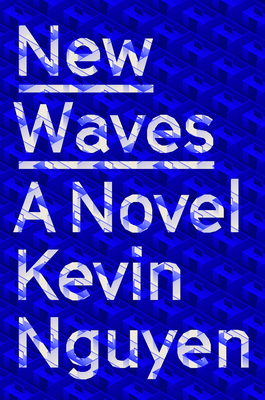 New Waves (Hardcover)
A Novel
One World, 9781984855237, 320pp.
Publication Date: March 10, 2020
Other Editions of This Title:
Digital Audiobook (3/9/2020)
* Individual store prices may vary.
Description
A wry and edgy debut novel about race and startup culture, secrecy and surveillance, social media and friendship 

"A knowing, witty, and thought-provoking exploration of love, modern isolation, and what it means to exist—especially as a person of color—in our increasingly digital age."—Celeste Ng, bestselling author of Everything I Never Told You and Little Fires Everywhere

Lucas and Margo are fed up. Margo is a brilliant programmer tired of being talked over as the company's sole black employee, and while Lucas is one of many Asians at the firm, he's nearly invisible as a low-paid customer service rep. Together, they decide to steal their tech startup's user database in an attempt at revenge. The heist takes a sudden turn when Margo dies in a car accident, and Lucas is left reeling, wondering what to do with their secret—and wondering whether her death really was an accident. When Lucas hacks into Margo's computer looking for answers, he is drawn into her private online life and realizes just how little he knew about his best friend.

With a fresh voice, biting humor, and piercing observations about human nature, Kevin Nguyen brings an insider's knowledge of the tech industry to this imaginative novel. A pitch-perfect exploration of race and startup culture, secrecy and surveillance, social media and friendship, New Waves asks: How well do we really know one another? And how do we form true intimacy and connection in a tech-obsessed world?

Praise for New Waves

"Nguyen's stellar debut is a piercing assessment of young adulthood, the tech industry, and racism. . . . Nguyen impressively holds together his overlapping plot threads while providing incisive criticism of privilege and a dose of sharp humor. The story is fast-paced and fascinating, but also deeply felt; the effect is a page-turner with some serious bite."—Publishers Weekly (starred review)

"A blistering sendup of startup culture and a sprawling, ambitious, tender debut."—Kirkus Reviews (starred review)
About the Author
Kevin Nguyen is the features editor at The Verge and was previously a senior editor at GQ. He lives in Brooklyn, New York.
Praise For New Waves: A Novel…
"A brilliant meditation on death and grief in the age of the internet. New Waves is full of modern noise and complicated love. Its prismatic, futuristic take on race and identity are a thrill to read. The book is funny and sad in equal measure, inventive, self-aware, full of insight, but also entirely enjoyable."—Tommy Orange, author of There There 

"E.M. Forster's mandate was to 'only connect.' Kevin Nguyen shows us that in our brave new digital world, the best way to do that might be to disconnect. The result isNew Waves, a sleek, stylish novel that weaves between disaffection and desire."—Viet Thanh Nguyen, Pulitzer Prize–winning author of The Sympathizer and The Refugees

"Kevin Nguyen's New Waves collapses every tired distinction about the internet. In this novel of relationships, race, and loss, everything is both permanent and ephemeral—technology both preserves and buries culture, and the people who ghost you can also haunt you. With his swift, funny, and merciless prose, Nguyen smartly dissects how life online may be digital, but it's far from binary."—Tony Tulathimutte, award–winning author of Private Citizens

"New Waves is a delight and a gamble and a treasure and a miracle. Nguyen's novel broke my heart. It made me laugh harder than any book reasonably should. It's everything I could possibly want in a story—but it's also that rarest, most unachievable of things: New Waves is truly something new."—Bryan Washington, author of Lot

"New Waves is a virtuosic debut novel delving into the wild vicissitudes of living with, and on, the internet. I'll read anything by Kevin Nguyen."—R. O. Kwon, author of The Incendiaries

"Mordant and fiercely smart, Kevin Nguyen's New Waves is a mystery within a mystery within a love story and it left me haunted, breathless. An ambitious, unsparing, exhilarating debut."—Megan Abbott, Edgar Award­–winning author of You Will Know Me

"New Waves is not one novel, but several: an acerbic portrait of startup culture, a circa-now account of twentysomething life in New York City, a moving exploration of grief, and a clear-eyed appraisal of race, sex, and privilege. Nguyen deserves our loudest applause."—Ryan Chapman, author of Riots I Have Known

"[New Waves] cleverly conjures a modern Gatsby-and-Nick-Carraway dynamic between the narrator, Lucas, and his co-worker Margo. . . . [Kevin Nguyen] captures beautifully the subtle strains of being disenfranchised, poor and lonely in New York."—The New York Times Book Review
Coverage from NPR