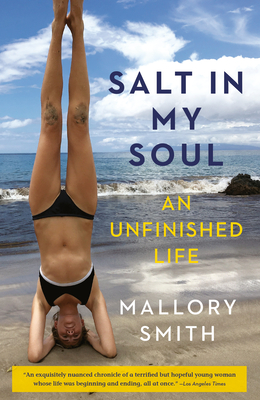 Salt in My Soul
An Unfinished Life
Paperback

* Individual store prices may vary.
Other Editions of This Title:
Digital Audiobook (3/11/2019)
Hardcover (3/12/2019)
Description
The diaries of a remarkable young woman who was determined to live a meaningful and happy life despite her struggle with cystic fibrosis and a rare superbug—from age fifteen to her death at the age of twenty-five—the inspiration for the original streaming documentary Salt in My Soul

"An exquisitely nuanced chronicle of a terrified but hopeful young woman whose life was beginning and ending, all at once."—Los Angeles Times

Diagnosed with cystic fibrosis at the age of three, Mallory Smith grew up to be a determined, talented young woman who inspired others even as she privately raged against her illness. Despite the daily challenges of endless medical treatments and a deep understanding that she'd never lead a normal life, Mallory was determined to "Live Happy," a mantra she followed until her death. Mallory worked hard to make the most out of the limited time she had, graduating Phi Beta Kappa from Stanford University, becoming a cystic fibrosis advocate well known in the CF community, and embarking on a career as a professional writer. Along the way, she cultivated countless intimate friendships and ultimately found love.

For more than ten years, Mallory recorded her thoughts and observations about struggles and feelings too personal to share during her life, leaving instructions for her mother to publish her work posthumously. She hoped that her writing would offer insight to those living with, or loving someone with, chronic illness.

What emerges is a powerful and inspiring portrait of a brave young woman and blossoming writer who did not allow herself to be defined by disease. Her words offer comfort and hope to readers, even as she herself was facing death. Salt in My Soul is a beautifully crafted, intimate, and poignant tribute to a short life well lived—and a call for all of us to embrace our own lives as fully as possible.
Praise For Salt in My Soul: An Unfinished Life…
"A moving portrait of an extraordinary young woman fighting to live a full life despite a devastating chronic illness."—Bustle

"A richly compelling story of an unfinished life."—The San Diego Union-Tribune

"Brilliant, compassionate, and radically optimistic, Salt in My Soul captures the heartbreaking beauty of being alive. I feel fuller, more educated, and more human having read this book. Mallory Smith may have salt in her soul, but she's all firecracker. She is a gift and so is her writing—every grain of it."—Beck Dorey-Stein, New York Times bestselling author of From the Corner of the Oval

"In Salt in My Soul, Mallory Smith is bracingly candid and unflinching in her portrayal of life with chronic illness. Yet she also writes with warmth and humor about the everyday experiences of growing up as a young woman in search of meaning, purpose, and love while knowing her life will likely be cut short. This is a deeply moving book full of wisdom about health, life, and love—and about the importance of finding happiness wherever and whenever we can. Salt in My Soul broke my heart but also inspired me to make the most of every day."—Will Schwalbe, New York Times bestselling author of The End of Your Life Book Club

"Those of us fortunate enough to know the amazing Mallory Smith learned that no matter how sick, she would find escape from the prison of her illness to play water polo, to be prom queen, to go to Stanford, to graduate Phi Beta Kappa, and to know true love in her twenty-five years. With the strength of her parents, the support of her many friends, and her own great grit, Mallory lived her ambitions. Salt in My Soul is a beautiful, brave, unsparingly insightful account of a courageous girl who becomes a woman warrior and fights for her life while living it fully."—Eric Lax, author of The Mold in Dr. Florey's Coat

"With spicy wit and brutal honesty, Salt in My Soul reveals the heartache and courage of a young woman who always knew that her life would be cut short by a chronic disease. Read this memoir and you'll be astonished by Mallory's bravery and uplifted by her vivacious spirit."—Randi Hutter Epstein, MD, MPH, writer in residence, Yale Medical School, author of Aroused
Random House Trade Paperbacks, 9781984855442, 336pp.
Publication Date: January 28, 2020
About the Author
Mallory Smith, who grew up in Los Angeles, was a freelance writer and editor specializing in environmental issues, social justice, and healthcare-related communications. She graduated Phi Beta Kappa from Stanford University and worked as a senior producer at Green Grid Radio, an environmental storytelling radio show and podcast. Her radio work was featured on KCRW, National Radio Project, and State of the Human. She was a fierce advocate for those who suffered from cystic fibrosis, launching the viral social media campaign Lunges4Lungs with friends and raising over $5 million with her parents for CF research through the annual Mallory's Garden event. She died at the age of twenty-five on November 15, 2017, two months after receiving a double-lung transplant. Mallory's Legacy Fund has been established in her memory at the Cystic Fibrosis Foundation.