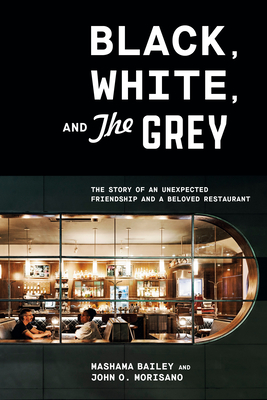 Black, White, and The Grey
The Story of an Unexpected Friendship and a Beloved Restaurant
Hardcover

* Individual store prices may vary.
Other Editions of This Title:
Digital Audiobook (1/11/2021)
Description
A story about the trials and triumphs of a Black chef from Queens, New York, and a White media entrepreneur from Staten Island who built a relationship and a restaurant in the Deep South, hoping to bridge biases and get people talking about race, gender, class, and culture.
 
NAMED ONE OF THE BEST COOKBOOKS OF THE YEAR BY GARDEN & GUN • "Black, White, and The Grey blew me away."—David Chang

In this dual memoir, Mashama Bailey and John O. Morisano take turns telling how they went from tentative business partners to dear friends while turning a dilapidated formerly segregated Greyhound bus station into The Grey, now one of the most celebrated restaurants in the country. Recounting the trying process of building their restaurant business, they examine their most painful and joyous times, revealing how they came to understand their differences, recognize their biases, and continuously challenge themselves and each other to be better.
 
Through it all, Bailey and Morisano display the uncommon vulnerability, humor, and humanity that anchor their relationship, showing how two citizens commit to playing their own small part in advancing equality against a backdrop of racism.
Praise For Black, White, and The Grey: The Story of an Unexpected Friendship and a Beloved Restaurant…
"From the first few paragraphs of Mashama Bailey's prologue, you know that you're dealing with a writer of uncommon honesty. She and partner John O. Morisano offer us an illuminating exploration of what it takes to build something and understand one another, and in the process remind us that restaurants are about much more than just food—even though every recipe, from the Dirty Rice to the Clams Oreganata to the Country Pasta, is proof that Bailey is one of our country's brightest chefs. Black, White, and The Grey blew me away."—David Chang, author of Eat a Peach

" The book arrives at an ideal time to help facilitate the tough, continuing conversations around social justice and equity in the food space."—Bill Addison, The Los Angeles Times

"The fact that neither author narrates like a pro is part of the appeal: It feels as if you're overhearing a real conversation about the ways their partnership has been tested. . . . together they fitfully map out a small-scale blueprint for racial cooperation."—Jennifer Resse, New York Times

". . . a fascinating book on so many levels."—Evan Kleiman, "Good Food" podcast

"It's one of the best and most honest books about business, partnership, race, class, culture, and gender I've encountered."—Hunter Lewis, Food & Wine

"It's not often that a book full of recipes can pack an emotional wallop, but this is no ordinary book. It's a memoir. It's a conversation. It's a meditation on race, and friendship. . . . beautiful, thoughtful book."—Mary Elizabeth Williams, Salon

"Black, White, and The Grey is the tale of a fortuitous collaboration, a lasting friendship, and an iconic restaurant. In these racially divisive times, this book offers a much-needed commodity . . . hope."—Jessica B. Harris, author, lecturer, and culinary historian

"Black, White, and The Grey is a story for our hearts, minds, and times. It breaks out of any genre ever associated with restaurants—cookbooks or otherwise—taking us on a journey into the minds and motivations of two unlikely partners, each on a mission to prove something to themselves, the world, and ultimately to each other."—Danny Meyer, author of Setting the Table

"This book fills the silences that readers are typically left to observe or interpret. With bold admissions of bias, discomfort, and downright tension, it illustrates the challenges faced by Bailey and Morisano, who occupy different yet interconnected worlds."—Jamila Robinson, Philadelphia Enquirer food editor and James Beard Journalism chair

"Black, White, and The Grey speaks volumes to the moment we're in and is exactly what we need as we look to the future of the restaurant industry. This book is so important as we have our own uncomfortable conversations and demonstrates how we can ultimately transcend and unite."—Marcus Samuelsson, author of The Rise: Black Cooks and the Soul of American Food
Lorena Jones Books, 9781984856203, 304pp.
Publication Date: January 12, 2021
About the Author
Mashama Bailey, executive chef and partner at The Grey and The Grey Market, was previously the head chef at Gabrielle Hamilton's beloved restaurant Prune and chairs the board of the Edna Lewis Foundation. She has been the subject of stories in USA Today, The New York Times, The Wall Street Journal, The Washington Post, Condé Nast Traveler, Food & Wine, Ebony, Bon Appétit, Cherry Bombe, Garden & Gun, and Cosmopolitan; has starred in an episode of Chef's Table; and has won the James Beard Award for Best Chef (Southeast).

John O. Morisano, previously a media startup entrepreneur, is the founding partner at The Grey and The Grey Market. Morisano oversaw the painstaking restoration of the dilapidated Greyhound bus station and directs the business operations. He has helped reshape and expand the mission of the Edna Lewis Foundation and serves as a board member and the treasurer.