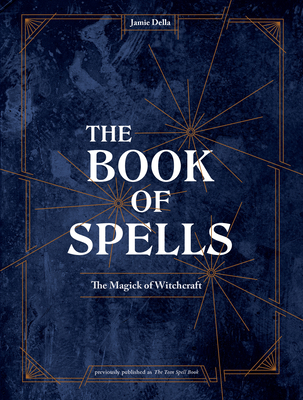 The Book of Spells (Hardcover)
The Magick of Witchcraft
Ten Speed Press, 9781984857026, 224pp.
Publication Date: October 1, 2019
* Individual store prices may vary.
Description
Complete with over 50 spells and information on the magickal tools and traditions of witchcraft, The Book of Spells is the ultimate guide to healing, manifesting your desires, and diving confidently into the mysteries of magick.

Calling upon ancient powers and the ways of the Witch, The Book of Spells contains rituals and visualizations for releasing negativity, increasing bliss, healing a broken heart, finding your Spirit guides, embarking on the adventure of astral flight, and more. With the help of timeless myths and fables, as well as author Jamie Della's personal anecdotes, each spell offers empowering insight to help you uncover your innate Divine essence. This beautifully gilded compendium includes need-to-know information on Sabbats and ancient traditions, Gods and Goddesses, and tools of the Craft such as herbs, crystals, tarot archetypes, moon phases, and runes. The Book of Spells is the perfect beginner's guide to following the Path, practicing the Craft, and incorporating magick into your daily life.

Advance praise for The Book of Spells

"This book opens the door to a life of magic and inspiration. The most wonderful thing about it is that Jamie actually lives by the book. She's the real deal! The Book of Spells is personal, engaging, and empowering. Her information about the Craft is heartfelt, user-friendly, and a treasure trove of witchy wisdom. You'll love this book whether you are a novice or an expert. Enjoy!"—Victoria Bearden, nationally renowned astrologer and psychic
 
"What a sweet book this is. Spells and a lot more for people new to the Craft written by an experienced Witch who practices what she preaches."—Barbara Ardinger, author of Goddess Meditations and Finding New Goddesses

"Creative, ethical, and respectful of tradition but modern in focus, these spells are focused on self-healing, rather than forcing your will on others."—Anna Korn, Adocentyn Research Library

"Young and old alike find a rainbow of solutions in Jamie Della's self-empowering Book of Spells. Simultaneously bold and inviting, Della's unswerving devotion to self-love, self-awareness, and growth shines through on every page of this gem of a soul's companion guidebook."—Tania Pryputniewicz, author of November Butterfly 
About the Author
JAMIE DELLA has studied magick and spirituality from around the world for more than twenty years. As a practitioner of healing arts, she leads workshops and ritual retreats on earth-based spirituality at the Northern California Women's Herbal Symposium. Jamie is the author of eight books, including The Wicca Herbal and The Wicca Cookbook, and writes the "Herbal Journeys" column in Witches & Pagans Magazine. Several of her essays and articles have also been featured in online and print publications such as Southwestern American Literary Journal, SageWoman Magazine, Rebelle Society, and the Manifest-Station.
Praise For The Book of Spells: The Magick of Witchcraft…
"Doing spell-work is often a big step for many along their magickal journey. With The Book of Spells, Della makes that process relevant, accessible, and personal. The wonderfully simple spells are easy to connect with and get right to the heart of the matter. This handy collection will be a valuable resource in everyone's magickal tool-kit."—Jan Tjeerd, host of Gifts of the Wyrd podcast and writer for the Gifts of the Wyrd blog

Praise for The Teen Spell Book:

"Not only has she approached the subject of teen paganism with insight and bravado, she's done it without talking down or gathering groupies...If you are a teen, the parent of a teen or child, you should have this one on your shelves." --ProlificPagans.com