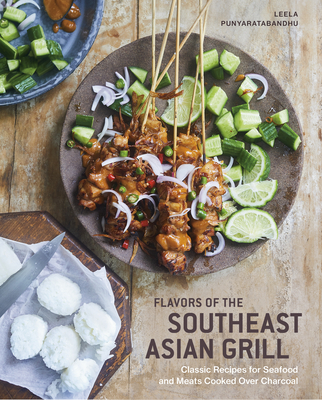 Flavors of the Southeast Asian Grill
Classic Recipes for Seafood and Meats Cooked over Charcoal [A Cookbook]
Hardcover

* Individual store prices may vary.
Description
60 vibrant recipes proving that Asian roadside barbecue is just as easy, delicious, and crowd-pleasing as American-style backyard grilling.

Sharing beloved barbecue dishes from the Southeast Asian countries of Thailand, Burma, Laos, Cambodia, Vietnam, Malaysia, Singapore, Philippines, and Indonesia, experienced author and expert on Asian cooking Leela Punyaratabandhu inspires readers with a deep dive into the flavor profile and spices of the region. She teaches you how to set up your own smoker, cook over an open flame, or grill on the equipment you already have in your backyard. Leela provides more than sixty mouthwatering recipes such as Chicken Satay with Coriander and Cinnamon, Malaysian Grilled Chicken Wings, and Thai Grilled Sticky Rice, as well as recipes for cooking bone-in meats, skewered meats, and even vegetable side dishes and flavorful sauces.

The fact that Southeast Asian-style barbecue naturally lends itself to the American outdoor cooking style means that the recipes in the book can remain true to tradition without any need for them to be Westernized or altered at the expense of integrity. This is the perfect book for anyone looking for an easy and flavorful way to expand their barbecue repertoire.
Praise For Flavors of the Southeast Asian Grill: Classic Recipes for Seafood and Meats Cooked over Charcoal [A Cookbook]…
"Anyone who has spent time in Southeast Asia is familiar with the curl of smoke rising up behind the crowds on busy street corners; the whiff of charred meat, caramelized sugar, and fish sauce drifting from alleyways; and the deeply flavorful, charred meal that they announce. With plenty of photos, precise recipes, and Leela's deep understanding of both her native cuisine as well as western supermarkets and kitchens, Flavors of the Southeast Asian Grill will quickly help that fragrant smoke become a permanent resident above your own backyard."––J. Kenji López-alt, author of The Food Lab: Better Home Cooking Through Science
 
"I want every weekend warrior who dotes on burgers, brats, steaks, and ribs to buy this book. I know you love Thai satay and Vietnamese delicacies, but you didn't think you could do it at home. Well you can, and you must, because you can actually do it better than most restaurants. Leela has opened a whole new world of taste adventures to the barbecue lover, and we should all rush into it. I am inspired!"––Meathead, barbecue whisperer, publisher of AmazingRibs.com, and author of Meathead: The Science of Great Barbecue and Grilling
Ten Speed Press, 9781984857248, 224pp.
Publication Date: March 31, 2020
About the Author
Leela Punyaratabandhu is the author of Bangkok: Recipes and Stories from the Heart of Thailand, winner of the 2018 The Art of Eating Prize for the best of food book of the year, and Simple Thai Food: Classic Recipes from the Thai Home Kitchen. Since 2008, she has written about Thai cuisine on her cooking blog, SheSimmers.com, which was named the best Regional Cuisine blog in 2012 by Saveur magazine. Leela's writing has appeared in CNN, The Wall Street Journal, Serious Eats, Food52, TASTE, and Dill Magazine. She has been named one of the 100 Greatest Home Cooks of All Time by Epicurious. Leela's work focuses on Thai food and Thai restaurants both in the United States and Thailand, and she divides her time between Chicago and Bangkok.