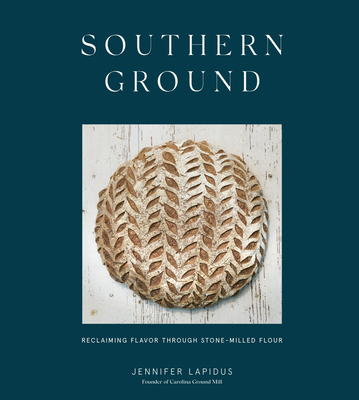 Southern Ground
Reclaiming Flavor Through Stone-Milled Flour [A Baking Book]
Hardcover

* Individual store prices may vary.
Description
A groundbreaking tour of Southern craft bakeries featuring more than 75 rich, grain-forward recipes, from one of the leaders of the cold stone-milled flour movement in the South.

"I felt like I was there, on the journey with Jennifer Lapidus herself, as I read her beautifully written book."—Peter Reinhart, author of The Bread Baker's Apprentice

At Carolina Ground flour mill in Asheville, North Carolina, Jennifer Lapidus is transforming bakery offerings across the southern United States with intensely flavorful flour, made from grains grown and cold stone–milled in the heart of the South. While delivering extraordinary taste, texture, and story, cold stone-milled flour also allows bakers to move away from industrial commodity flours to create sustainable and artisanal products.

In Southern Ground, Lapidus celebrates the incredible work of craft bakers from all over the South. With detailed profiles on top Southern bakers and more than seventy-five highly curated recipes arranged by grain, Southern Ground harnesses the wisdom and knowledge that the baking community has gained. Lapidus showcases superior cold stone-milled flour and highlights the importance of baking with locally farmed ingredients, while providing instruction and insight into how to use and enjoy these geographically distinct flavor-forward flours. Southern Ground is a love letter to Southern baking and a call for the home baker to understand the source and makeup of the most important of ingredients: flour.
Praise For Southern Ground: Reclaiming Flavor Through Stone-Milled Flour [A Baking Book]…
"I felt like I was there, on the journey with Jennifer Lapidus herself, as I read her beautifully written book Southern Ground. By sharing with us the reinvention of herself from baker to miller, she actually has become a living bridge, linking farmers and bakers in a new, yet ancient kind of collaborative dance. Rich in its wisdom and telling—not to mention its many inspirational recipes—you will definitely want to add this book to your collection, no matter how many bread books you already own."—Peter Reinhart, executive director of the Johnson & Wales University International Symposium on Bread and author of The Bread Baker's Apprentice

"With head and heart, Jennifer Lapidus shares the story of grain in the United States and the people who have lovingly nurtured and transformed it. Her commitment to elevating the many factors that distinguish commodity from artisan is why I am thrilled that she has not only filled out the picture of her life but shared—through exquisite, delicious recipes—the ways in which baking has transformed the lives of others."—Simran Sethi, journalist and author of Bread, Wine, Chocolate: The Slow Loss of Foods We Love

"The inspired and delicious recipes in Jennifer Lapidus's Southern Ground make the case that fresh flour—which is to say freshly milled flour—is the foundation of Southern cuisine. Which makes this more than a cookbook—it's a blueprint for the future of American baking, powered by a dedicated community of millers, farmers, and bakers."—Dan Barber, executive chef and co-owner of Blue Hill at Stone Barns

"Southern Ground is a collection of smart, deeply flavorful recipes that also tell the fascinating story of what we have given up in the name of extractive food production and how we can get it back. Jennifer Lapidus will change the way you look at the power of food and farming."—Andrea Reusing, chef and owner of Lantern, author, Cooking in the Moment: A Year of Seasonal Recipes
Ten Speed Press, 9781984857484, 288pp.
Publication Date: April 27, 2021
About the Author
Jennifer Lapidus is the founder and principal of Carolina Ground flour mill in Asheville, North Carolina. She launched Natural Bridge Bakery in 1994, where she milled her flours in-house and baked her naturally leavened breads in a wood-fired brick oven. Her bakery was the first of its kind in western North Carolina and was featured in Peter Reinhart's Whole Grain Breads. Jennifer has appeared on The Splendid Table podcast and in the New York Times, Wall Street Journal, Bon Appétit, Food & Wine, Saveur, Taste of the South, and numerous other local publications. Jennifer sits on the board of Carolina Farm Stewardship Association and is co-organizer of the Asheville Bread Festival.