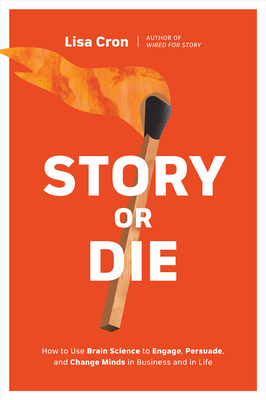 Story or Die
How to Use Brain Science to Engage, Persuade, and Change Minds in Business and in Life
Paperback

* Individual store prices may vary.
Other Editions of This Title:
Digital Audiobook (3/1/2021)
Description
"A practical, heartfelt manual for anyone who needs to change minds and actions. Lisa Cron shares the art of practical empathy with leaders who care enough to make a difference."—Seth Godin, author of The Practice
 
A step-by-step guide to using the brain's hardwired need for story to achieve any goal, from the author of Wired for Story
 
Whether you're pitching a product, saving the planet, or convincing your kids not to text and drive, story isn't just one way to persuade. It's the way. It's built into the architecture of the brain, and has been since early humans gathered around the camp fire, trying to figure out how to outsmart the lion next door.

In Story or Die, story coach Lisa Cron sets out to decode the power of story, first by examining how the brain processes information, translates it into narrative, and then guards it as if your life depends on it. Armed with that insight, she focuses on how to find your real target audience and then pinpoint their hidden resistance. Finally, she takes you, step-by-step, through the creation of your own story, one that allows your audience to overcome their resistance and take up your call to action, not because you told them to, but because they want to.

That is the power of story. Use it wisely.
Praise For Story or Die: How to Use Brain Science to Engage, Persuade, and Change Minds in Business and in Life…
"Since ancient times (and childhood bedtime, for that matter), we've known that stories are humans' most compelling force. Now, in Story or Die, Lisa Cron masterfully shows you how to turn your stories into an unstoppable force of persuasion."—Jay Heinrichs, author of Thank You for Arguing

"Lisa Cron is authoritative, compelling, and always worth listening to. If storytelling is important to your work in any way, Story or Die is essential reading."—Andy Goodman, director, The Goodman Center

"Lisa Cron has studied the science and architecture of powerful stories for decades. In Story or Die, she translates her knowledge into a compelling storytelling guide for anyone with an idea to spread or a cause to advance. If you want to change how others see the world, then this book will show you how."—Bernadette Jiwa, creator of The Story Skills Workshop
Ten Speed Press, 9781984857682, 272pp.
Publication Date: March 2, 2021
About the Author
Lisa Cron is a story coach, speaker, and the author of Wired for Story and Story Genius. She has previously worked as a literary agent, a television producer, and a story consultant for Warner Brothers and The William Morris Agency, among others, and currently advises writers, nonprofits, educators, and journalists on the art and craft of story. Cron has also served on the faculty of the School of Visual Arts MFA program in visual narrative, and since 2006 has taught in the UCLA Extension Writers' Program. She lives in Santa Monica, California.