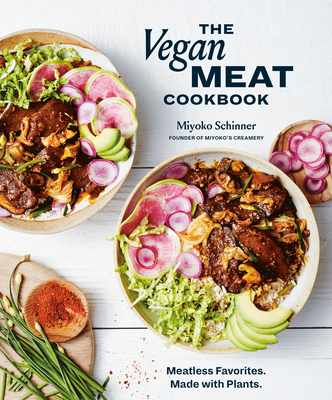 The Vegan Meat Cookbook
Meatless Favorites. Made with Plants. [A Plant-Based Cookbook]
Hardcover

* Individual store prices may vary.
Description
100+ hearty, succulent, people-pleasing meals featuring vegan meat, from comfort food classics and speedy weeknight dinners to global flavors and showstoppers, plus recipes for DIY vegan meats and cheeses.
 
"When vegan cheese queen Miyoko Schinner pens a new cookbook, you don't walk to your nearest bookstore. You run. . . . Get ready for your weeknight dinners to never be the same."—VegNews

From the Impossible Burger and Beyond Meat to MorningStar Farms, Boca Burgers, and more, plant-based meats are a growing trend for those who want to help the planet, animals, and their health but don't want to give up the meaty flavors they love. In The Vegan Meat Cookbook, bestselling author Miyoko Schinner guides you through the maze of products available on store shelves and offers straightforward guidance on how to best use them in everything from Sausage Calzones with Roasted Fennel and Preserved Lemon to Hominy and Carne Asada Enchiladas with Creamy Green Sauce. Dig in to a satisfying vegan meal of Weeknight Shepherd's Pie with Bratwurst and Buttery Potatoes or Meaty, Smoky Chili. Wow your guests with Coq au Vin, Linguine with Lemon-Garlic Scallops and Herbs, or Lettuce Wraps with Spicy Garlic Prawns.

For those interested in making their own vegan meats and cheese from scratch, there are recipes for Juicy Chicken, King Trumpet Mushroom Bacon, Easy Buffalo Mozzarella, Miyoko's famous Unturkey, and many more that you'll never find in stores. Whether you're cutting back on meat for your health, the environment, animal welfare, or affordability, The Vegan Meat Cookbook will satisfy the cravings of flexitarians, vegans, vegetarians, and even carnivores.
Praise For The Vegan Meat Cookbook: Meatless Favorites. Made with Plants. [A Plant-Based Cookbook]…
"Explore how vegan dishes can get a similar 'meaty' texture and hearty flavor without actually using any animal products. By re-examining vegetables' roles in cooking and drawing from a selection of meat alternative companies . . . Schinner lays out accessible recipes for dishes including Spanish chorizo, bouillabaisse, and shiitake pot stickers."—Thrillist

"As if Miyoko hasn't given us all enough to last a lifetime with her line of gourmet cheeses and her incredible book, The Homemade Vegan Pantry, now she's coming in hot with The Vegan Meat Cookbook and I wholeheartedly approve! Miyoko is our vegan guru, guiding us through all the tricks for cooking with available products and demystifying how to make your own elevated homemade plant proteins. This book is a winner and needs to have a place on your bookshelf."—Lauren Toyota, creator of hot for food and bestselling author of Hot for Food Vegan Comfort Classics
 
"Miyoko's ability to innovate and lovingly craft such brilliant food has always been incredible, but to make it so accessible to the home cook is no less than miraculous. Using a palette of plant-based meat and cheese from across the globe, Miyoko has masterfully painted a symphony of flavors that will tantalize taste buds for years to come."—Kale Walch, cofounder of The Herbivorous Butcher
 
"At last—a cookbook expressly for making vegan meat. I'm drooling over these incredibly easy versions of all of our favorite all-time classic meals. Sit down and feast on buttermilk fried chicken, meatloaf, calamari, beef stroganoff, and so many more. And wait till you try her burgers! Bravo, Miyoko!"—Chloe Coscarelli, vegan chef and author of Chloe Flavor

"Miyoko's recipes are fun and flavorful, we know you'll love them as much as we do!"—Coco & Lala, hosts of cooking show Keeping up with Coco & Lala

"Chef Schinner (The Homemade Vegan Pantry), known as the 'Queen of Vegan Cheese,' proves she knows her way around vegan meat as well, in this stellar recipe collection. Appetizing and accessible, these recipes could just as easily enhance a meat lover's diet as change minds about the place of plants in one's diet."—Publishers Weekly (starred review)
Ten Speed Press, 9781984858887, 256pp.
Publication Date: May 11, 2021
About the Author
Miyoko Schinner is the founder of Miyoko's, the fastest-growing plant-based cheese and butter company in the country, carried in more than 29,000 retailers nationwide, plus Canada and Australia. Schinner is the author of four cookbooks, including The Homemade Vegan Pantry; cohost of the national PBS cooking show Vegan Mashup; a sought-after speaker for events and conferences; and cofounder of Rancho Compasión, an animal sanctuary that is home to over a hundred farm animals. She has been featured in Bloomberg, the New York Times, Washington Post, Los Angeles Times, HuffPost, and Food & Wine, and was named to the Forbes 50 over 50 list in 2021 as one of the country's top women who are changing the world.