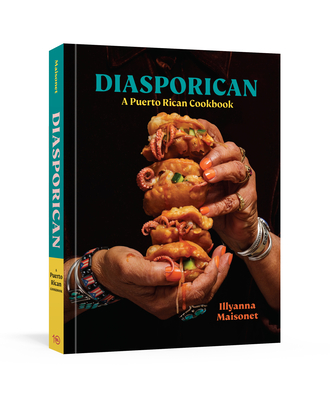 Diasporican
A Puerto Rican Cookbook
Hardcover

* Individual store prices may vary.
Description
Over 90 delicious, deeply personal recipes that tell the story of Puerto Rico's Stateside diaspora from the United States' first Puerto Rican food columnist, award-winning writer Illyanna Maisonet.

"A delicious journey through purpose, place, and the power of food that you won't want to miss."—José Andrés, chef, cookbook author, and founder of World Central Kitchen

ONE OF THE TEN BEST COOKBOOKS OF THE YEAR: Simply Recipes
ONE OF THE BEST COOKBOOKS OF THE YEAR: The New York Times, Los Angeles Times, Saveur, Smithsonian Magazine, Delish, Vice

Illyanna Maisonet spent years documenting her family's Puerto Rican recipes and preserving the island's disappearing foodways through rigorous, often bilingual research. In Diasporican, she shares over 90 recipes, some of which were passed down from her grandmother and mother—classics such as Tostones, Pernil, and Arroz con Gandules, as well as Pinchos with BBQ Guava Sauce, Rabbit Fricassee with Chayote, and Flan de Queso.

In this visual record of Puerto Rican food, ingredients, and techniques, Illyanna traces the island's flavor traditions to the Taino, Spanish, African, and even United States' cultures that created it. These dishes, shaped by geography, immigration, and colonization, reflect the ingenuity and diversity of their people. Filled with travel and food photography, Diasporican reveals how food connects us to family, history, conflict, and migration.
Praise For Diasporican: A Puerto Rican Cookbook…
"Each recipe is easy to follow, and each chapter is an education on Puerto Rican food and the colonial history that shaped it. Ms. Maisonet lets us into her own kitchen, alongside her mami and nana, sharing their resilience and care for one another. Diasporican reads like the best memoirs: engaging, educational, and, at times, laugh-out-loud funny."—The New York Times

"In this vibrant volume about Puerto Rican food, Illyanna Maisonet offers compelling explanations of indigenous ingredients and great meditations on the things we take for granted in cooking. . . . Diasporican has recipes any fan of Puerto Rican cuisine will love."—VICE

"Her book is a memoir, cookbook, and retelling of Puerto Rican history and it's a testament to her life's work of documenting and preserving food throughout the Puerto Rican diaspora."—NPR

"In her powerful and personal new cookbook, Diasporican, Puerto Rican food writer Illyanna Maisonet pokes holes in common assumptions about the island and shows dishes from Puerto Rico well outside the tourist center of San Juan."—Garden & Gun
 
"Maisonet's full powers are on display in her forthcoming debut cookbook. . . . It's a book that deals with grief and childhood trauma and the long-reaching effects of American colonialism. It'll also make you want to drop everything and immediately cook up a pot of arroz con gandules or carne guisada, or a sizzling hot plate of tostones."—KQED

"A vivid, compelling book."—Eater

"This one-of-a-kind cookbook is highly recommended for its combination of island flare, little-known history, and tons of personality."—Booklist (starred review)

"Food writer Maisonet discards the rose-colored perspective many cookbooks offer in this provocative look at the food traditions of Puerto Rico. . . . The ample headnotes are as bracing as the spicy-enticing food in this bold combo of memory and recipes."—Publishers Weekly

"Diasporican is a delicious journey through purpose, place, and the power of food that you won't want to miss."—José Andrés, chef, cookbook author, and founder of World Central Kitchen

"This book BRINGS IT: In voice, instructions, visuals, history, education, and hilarity—a decolonization of the cookbook world like few others."—Gustavo Arellano, author of Taco USA: How Mexican Food Conquered America

"This is a treasure of a book—an honor to hold, a delight to read, and a feast to cook from."—Pati Jinich, Mexican chef, cookbook author, and television host

"The strength of Diasporican is that it moves the conversation beyond the island, drawing us into the essence of Puerto Rican food as it morphs across North America. In these pages, we go to New York, New Jersey, Connecticut, Hawai'i, Chicago, California, and beyond, getting a real sense of what matters most in Puerto Rican culture and civilization—family, friends, spirit, ancestors, rhythm, and joy-inducing flavor."—from the foreword, by Michael W. Twitty
Ten Speed Press, 9781984859761, 256pp.
Publication Date: October 18, 2022
About the Author
Illyanna Maisonet was the United States' first Puerto Rican food columnist for a major newspaper, the San Francisco Chronicle, and sold out pop-up dinners across the San Francisco Bay Area. An IACP award winner for narrative food writing, she has collaborated with José Andrés for Steven Spielberg's West Side Story wrap party, contributed recipes to Rancho Gordo, authored a crowdfunded cookbooklet, and has written for the Los Angeles Times, Bon Appétit, Saveur, Food52, Food & Wine, Lucky Peach, and more.

Michael W. Twitty is a food writer, independent scholar, culinary historian, and author of the award-winning The Cooking Gene. He is personally charged with preparing, preserving, and promoting African American foodways and its parent traditions in Africa and her Diaspora and its legacy in the food culture of the American South. He is also a Judaic studies teacher from the Washington, D.C., area.