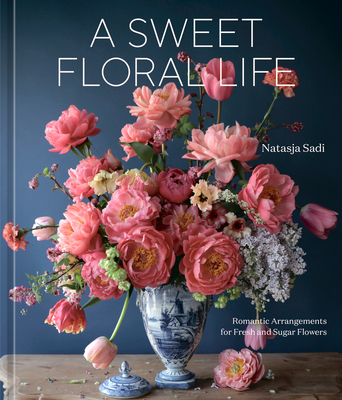 A Sweet Floral Life
Romantic Arrangements for Fresh and Sugar Flowers [A Floral Décor Book]
Hardcover

* Individual store prices may vary.
Description
Learn how to create exquisite, lifelike sugar flowers and arrange them with fresh blooms in the floral arrangements of your dreams—regardless of season or availability.

Rising Instagram star Natasja Sadi's floral arrangements have a sumptuous, old-world look straight out of a classical painting. But among the glorious profusion of fresh flowers, there is often a surprise twist: handmade sugar flowers (traditionally used in cake decorating) that are indistinguishable from real ones and last forever.

In A Sweet Floral Life, Natasja guides you through her creative process of flower arranging and developing your personal style, along with tutorials for seasonal arrangements, living and entertaining with flowers, and how to photograph flowers.

A former fashion designer, Natasja began making flowers out of sugar to honor her African and Indonesian ancestors who worked in the sugarcane fields of Suriname. In A Sweet Floral Life, Natasja provides steps for sculpting sugar flowers, a versatile medium with limitless possibilities—they can be used in fresh floral arrangements, displayed on their own as unique home décor, or used to adorn cakes. And whether it's the middle of summer or the dead of winter, sugar flowers are always in season and always in perfect full bloom.

Capture the romance, set the mood, and be swept away by gorgeous and inspiring floral art with A Sweet Floral Life.
Praise For A Sweet Floral Life: Romantic Arrangements for Fresh and Sugar Flowers [A Floral Décor Book]…
"A Sweet Floral Life is pure magic. Page after gorgeous page, you feel as if you are spending the afternoon in Natasja's cozy home atelier. Brimming with history, wisdom, and inspiration, this book invites you to step into her flower-filled world of wonder and sumptuous beauty."—Ariella Chezar, author of The Flower Workshop and Seasonal Flower Arranging

"A Sweet Floral Life is full of fascinating historical information, exquisite photography, and endless inspiration. Beginning with the complicated colonial history of the Netherlands, Natasja relates her family's immigration from the sugarcane fields of Suriname to her current home in Amsterdam. She generously shares lessons in arranging live blooms from the market as well as creating the magical sugar flowers for which she is known the world over. This is an essential resource for flower and sweets lovers everywhere."—Frances Palmer, author of Life in the Studio: Inspiration and Lessons on Creativity

"Ever since discovering Natasja Sadi's extraordinary gifts as an artist, I have followed her work and her exploration of her beautiful city of Amsterdam with such joy. This is the book I had hoped for from Natasja, and I am so happy it is here! It is just what we need right now, to lift us up with its extraordinary beauty and inspiration."—Wendy Goodman, New York magazine
Ten Speed Press, 9781984861641, 256pp.
Publication Date: April 25, 2023
About the Author
Natasja Sadi is a celebrated floral artist who composes fresh flower arrangements and sculpts exquisite sugar flowers from her home atelier in Amsterdam. Her cakes are lifelike resemblances of floral beauty and are some of the most sought after in Europe. She and her flowers have been featured in magazines such as Elle Décor, Victoria, Flower, and Dutch Vogue and Harper's Bazaar. She teaches floral design and the secrets of sugar flower artistry in Europe, Asia, South Africa, and North America.