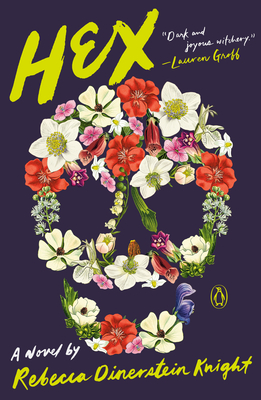 Hex
A Novel
Paperback

* Individual store prices may vary.
Other Editions of This Title:
Digital Audiobook (3/30/2020)
Hardcover (3/31/2020)
Description
One of Vanity Fair's 21 Best Books of 2020 (So Far)

A Vulture, LitHub, and PureWow Most Anticipated Book of 2020

"As precise as any scientific observation and far more tantalizing." --Vogue

"A sophisticated, surprising take on the campus novel (with a welcome dose of witchery). Knight's writing feels a little wild and charged, as if you're constantly on the edge of discovering something new with her."
--Goop

"Hex is some dark and joyous witchery." --Lauren Groff, author of Florida

"A beautiful, spooky spell." --Jenny Slate, actress and author of Little Weirds

A breathtaking and hypnotic novel about poison, antidotes, and obsessive love

Nell Barber, an expelled PhD candidate in biological science, is exploring the fine line between poison and antidote, working alone to set a speed record for the detoxification of poisonous plants. Her mentor, Dr. Joan Kallas, is the hero of Nell's heart. Nell frequently finds herself standing in the doorway to Joan's office despite herself, mesmerized by Joan's elegance, success, and spiritual force.

Surrounded by Nell's ex, her best friend, her best friend's boyfriend, and Joan's buffoonish husband, the two scientists are tangled together at the center of a web of illicit relationships, grudges, and obsessions. All six are burdened by desire and ambition, and as they collide on the university campus, their attractions set in motion a domino effect of affairs and heartbreak.

Meanwhile, Nell slowly fills her empty apartment with poisonous plants to study, and she begins to keep a series of notebooks, all dedicated to Joan. She logs her research and how she spends her days, but the notebooks ultimately become a painstaking map of love. In a dazzling and unforgettable voice, Rebecca Dinerstein Knight has written a spellbinding novel of emotional and intellectual intensity.
Praise For Hex: A Novel…
Praise for Hex

"[An] arresting novel of obsession. . . . Nell's intensity and the hypnotic, second-person prose convincingly render the protagonist's bewitched, self-destructive state. Readers who liked I Love Dick and want something more lurid will appreciate this."
—Publishers Weekly

"Knight writes in a distinctive, addictive, and poetic style in which every sentence provokes and nothing is predictable."
—Booklist

"In her brilliant second novel, Rebecca Dinerstein Knight cannily explores both the poisons and the antidotes of love, ambition, mentorship, and yearning, and she does it all in prose so lively that I often found myself laughing with pleasure. Hex is some dark and joyous witchery."
—Lauren Groff, author of Florida

"Rebecca has written a book that examines our natural and absolutely astounding reactions to each other. The language of this novel is so finely tailored, so elegant yet organic, so absorbing that it takes the reader a moment to realize that this is not just a deliciously engaging tale of what it is like to be social and sexual, but that this writing is an actual incantation in itself. It is a beautiful, spooky spell that divides and processes our innate potential for poison or pleasure."
—Jenny Slate, actress and author of Little Weirds
 
"Hex reads like a botanist's cross-breeding of The Secret History and Department of Speculation, full of brilliant and bodily obsession. Rebecca Dinerstein Knight is both a scientist and a magician, and she conjures this beautiful spell of a novel with total control."
—Emma Straub, author of Modern Lovers

"Hex is sexy, unhinged, revelatory, so smart it gives the reader whiplash. It works on you like the poisonous plants that wind through the story line, until you're as obsessed and intoxicated as the vivid characters that make up this love hexagon gone fascinatingly and beautifully wrong. I can't remember the last time I had so much fun reading a book or was so impressed by the wizardry of the language."
—Julie Buntin, author of Marlena 
 
"Hex is a gem of a book: sharp and exquisite. Dinerstein Knight writes about women's obsession with devastating wisdom, insight, and humor. It is pure pleasure to be under her spell."
—Julia Pierpont, author of Among the Ten Thousand Things

"Hex offers pleasures on every page. It is wise, funny, suspenseful, and quite moving. Dinerstein Knight takes great care with every word."
—Jonathan Safran Foer, author of Here I Am

"Hex is neon-bright and guided by a fierce, scintillating interest in the innermost chambers of the human heart, where melancholic and bright humors mingle together.  In every line you hear the voice of a writer who knows how to lead you expertly into the place where the story is most alive: spooky, shifty, darkly funny, and delectable in every way."
—Alexandra Kleeman, author of You Too Can Have a Body Like Mine

"Offbeat yet entirely precise; original and universal. Hex is a nut with sweet meat and a poison shell, at once disarming and quietly devastating. This is a book for anyone who's ever felt adrift, or felt alone, or loved someone out of reach, or all the above." 
—Rachel Khong, author of Goodbye, Vitamin



Praise for The Sunlit Night

"Quirky, exuberant. . . . An original work of gentle irony counterpoised by delightful sincerity, which offers distinct turns of phrase with precision and beauty."
—Wall Street Journal
 
"The Norwegian Arctic of Dinerstein's imagination is a strange and wonderful place. . . . The constant sunlight of midsummer feeds the book's dreamy, surreal quality. . . . Her narrative style is also dreamlike."
—The New York Times Book Review
 
"Luminous. . . . Dinerstein brings a contagious wonder to her storytelling."
—O, the Oprah magazine
 
"Darkly charming."
—The New Yorker
 
"Dinerstein's much buzzed-about debut novel is a fanciful Arctic Circle romance between a Russian immigrant raised in a Brighton Beach bakery and a Manhattanite seeking refuge from family problems in a Norwegian artists' colony."
 —The Forward
 
"Engaging and alive. . . . The Sunlit Night heralds the beginning of an intriguing career in fiction during which Dinerstein will hopefully continue to take us off the beaten path."
—Huffington Post
 
"A rare find. . . . With precision and ease, Dinerstein gives us a love story that's about so much more than finding love: it's about finding yourself in the company of another, even when you're far from home."
—Bustle
 
"Dinerstein's special blend of melancholy and hope renders a character-rich, multifaceted story."
—Elle
 
"This poetically written novel . . . reminds us that love is more important than geography."
—The New York Post
 
"It's hard to read The Sunlit Night without feeling as though you're enveloped in warmth, swathed by the author's lyricism and imagery. The sensation is one unique to Dinerstein's hand—and perfectly matched for the sun-soaked Nordic tale of lives intersecting at the top of the world."
—Electric Literature
 
"Captivating. . . . [Dinerstein's] prose is lyrical and silky, but it's also specific, with acute observations and precise detail. . . . Provocative. . . . A rich reading experience."
—Publishers Weekly, starred review
Penguin Books, 9781984877390, 224pp.
Publication Date: March 30, 2021
About the Author
Rebecca Dinerstein Knight is the author of the novel and screenplay The Sunlit Night, and a collection of poems, Lofoten. Her nonfiction has appeared in The New York Times and The New Yorker online, among others. Born and raised in New York City, she lives in New Hampshire.