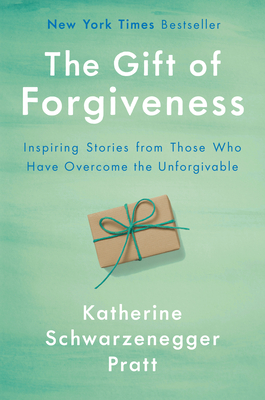 The Gift of Forgiveness
Inspiring Stories from Those Who Have Overcome the Unforgivable
Hardcover

* Individual store prices may vary.
Other Editions of This Title:
Digital Audiobook (3/9/2020)
Paperback (3/30/2021)
Description
AN INSTANT NEW YORK TIMES BESTSELLER!

"[The Gift of Forgiveness] will spark conversations across families, across friendships, at workplaces, everywhere." –Maria Shriver

A fresh, inspiring book on learning how to forgive, with firsthand stories from those who have learned to let go of resentment and find peace.

"When we learn to embrace forgiveness, it opens us up to healing, hope, and a new world of possibility." --Katherine Schwarzenegger Pratt

Written with grace and understanding and based on more than twenty in-depth interviews and stories as well as personal reflections from Schwarzenegger Pratt herself, The Gift of Forgiveness is about one of the most difficult challenges in life--learning to forgive. Here, Katherine Schwarzenegger Pratt shows us what we can learn from those who have struggled with forgiveness, some still struggling, and others who have been able to forgive what might seem truly unforgivable. The book features experiences from those well-known and unknown, including Elizabeth Smart, who learned to forgive her captors; Sue Klebold, whose son, Dylan, was one of the Columbine shooters, learning empathy and how to forgive herself; Chris Williams, who forgave the drunken teenager who killed his wife and child; and of course Schwarzenegger Pratt's own challenges and path to forgiveness in her own life. All provide different journeys to forgiveness and the process--sometimes slow and thorny, sometimes almost instantaneous--by which they learned to forgive and let go.

The Gift of Forgiveness is a perfect blend of personal insights, powerful quotations, and hard-won wisdom for those seeking a way to live with greater acceptance, grace, and peace.

A PAMELA DORMAN BOOKS/VIKING LIFE TITLE
Praise For The Gift of Forgiveness: Inspiring Stories from Those Who Have Overcome the Unforgivable…
Praise for The Gift of Forgiveness:

"An inspirational book on learning how to forgive." 
–USA Today

"Schwarzenegger Pratt tackles this tricky subject with compassion and empathy. . . and offers guidance on how to participate in the cycle of forgiveness." 
–Parade

"Affecting. . . Those looking for help with letting go and moving on will love [The Gift of Forgiveness]."
—Publishers Weekly

"Here's a sure conclusion from reading Pratt's book: The world would be a far better place if we practiced more of what the people Pratt profiles have discovered."
—Associated Press 

"Thoughtful. . . This contemplative book offers fresh insights with each immersion."
—Booklist 

"Katherine is wise beyond her years. Everyone can learn a thing or two about forgiveness, especially now more than ever before."
–Jenna Bush Hager, co-host of Today with Hoda & Jenna and co-author of Sisters First
 
"No matter your age or your belief system, there is something in this book for everyone. Read it and you will be inspired to reach for the gift of forgiveness."
–Don Miguel Ruiz, New York Times bestselling author of The Four Agreements
 
"I believe this book will help many people to begin, participate in and ultimately complete a cycle of forgiveness."
–Jamie Lee Curtis
 
"Katherine's book teaches us one of life's most important lessons: that through forgiveness we can find our own power."
–Gretchen Carlson, New York Times bestselling author of Be Fierce

"Katherine has written a smart, brave, personal book on something our society could use more of: the courage and grace of forgiveness. Everyone should read this."
–Rob Lowe

"I can't think of a topic that carries more life-altering promise than forgiveness and this is just the book to guide us through."
–Kelly Corrigan, New York Times bestselling author of The Middle Place and Tell Me More

"Fascinating, moving, insightful, and immensely liberating. The Gift of Forgiveness will help you become strong at the broken places."
–Martha Beck, New York Times bestselling author of Finding Your Own North Star
 
"A powerful book that is astonishingly true, real, and uniquely universal. The Gift of Forgiveness shatters the barriers of the preconceived idea of what is or isn't an apology."
–Roma Downey, New York Times bestselling author of Box of Butterflies
 
"A great book to start a conversation and begin the process of healing. The stories within are illuminating, inspiring, and courageous."
–Bob Goff, New York Times bestselling author of Live in Grace, Walk in Love
 
"Katherine's book will enlighten, inspire, and ignite your own personal journey with forgiveness."
–Judah Smith, pastor, founder of Churchome, and New York Times Bestselling author of Jesus Is ___.
 
"A must-read for anyone who has struggled with forgiveness in their life, and a necessary reminder for all of us that inner peace begins with self-love."
–Mallika Chopra, author of Living With Intent
Penguin Life, 9781984878250, 224pp.
Publication Date: March 10, 2020
About the Author
Katherine Schwarzenegger Pratt is a mother, wife, daughter, sister, animal activist and New York Times bestselling author. As a passionate animal advocate, Katherine works as an Ambassador for Best Friends Animal Society and the ASPCA, lending her time, voice and energy to spread awareness about animal rescue. As an author, Katherine has skillfully translated her own personal experiences into all four of her books that speak to her generation. Katherine lives with her family in Los Angeles.