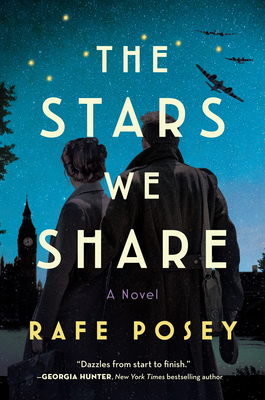 The Stars We Share
A Novel
Hardcover

* Individual store prices may vary.
Other Editions of This Title:
Digital Audiobook (5/17/2021)
Paperback (5/31/2022)
Description
"Dazzles from start to finish." —Georgia Hunter, New York Times bestselling author of We Were the Lucky Ones

Set against the backdrop of World War II, a sweeping, atmospheric novel of sacrifice, ambition, and commitment, and the secrets we keep from the ones we love

It's 1927 when Alec and June meet as children in a tranquil English village. Alec, an orphan, anchors himself in the night sky and longs for adventures. June memorizes maps and railway timetables, imagining a future bright with possibilities.

As the years pass, their loves feels inevitable, but soon the Second World War separates them. Alec enlists as a Royal Air Force pilot flying daredevil fighter sorties at night; June finds her calling as a codebreaker at Bletchley Park, covert work that will mean keeping her contribution to the war effort a secret from Alec forever. Each is following a dream—but those dreams force them apart for years at a time.

Their postwar reunion is bittersweet: Alec, shot down and imprisoned in a series of POW camps, grapples with his injuries and the loss of his RAF career. June, on the other hand, has found her vocation and struggles to follow the expected path to domesticity, as much as she loves Alec. But Alec wants nothing more than to make a life and a family together.

With the war behind them, their scars—both visible and unseen—make them strangers to each other. Now each must decide how much to reveal to the other, which dreams can be sacrificed, and which secrets are too big to bear alone.

Spanning forty years and shifting from bustling Indian ports to vibrant gardens in Edinburgh to a horse farm in Kenya, The Stars We Share is a poignant, heart-wrenching novel about the decisions and concessions that make a life and a love worth having.

Praise For The Stars We Share: A Novel…
Praise for The Stars We Share:

"This compelling debut novel offers rich descriptions [and] . . . plenty to discuss about how world events impact individuals and the sometimes heart-wrenching compromises we must make to find happiness."
—Booklist

"Posey impresses in his moving debut. . . . Posey displays gifts for crafting realistic dialogue and bringing people and places to life . . . fans of [All the Light We Cannot See] are likely to be engrossed." 
—Publishers Weekly

"Posey's prose is a joy, evocative and expertly cadenced. . . . [The Stars We Share] dares to explore, in a hopeful way, the road taken."
—Kirkus Reviews

"A silkily written story, deeply personal despite the sweep."
—Library Journal (named a Best Debut Novel of Spring and Summer 2021)

"A love story at its core, The Stars We Share explores the layered repercussions of war and secrecy on the bodies and souls of two unforgettable characters. Whether portraying the bewildering map of a star-studded sky, the low whine of an incoming Zero, or the shifting, tender terrain of love and family, Posey's exquisitely rendered prose dazzles from start to finish."
—Georgia Hunter, New York Times bestselling author of We Were the Lucky Ones

"Rafe Posey's impressive debut, The Stars We Share, takes us deep into a relationship between childhood sweethearts tested time and again by war, secrets, and their own humanity. Nuanced, insightful, and beautifully written, the story unsentimentally documents June and Alec as they struggle to remain true to each other and to themselves while forging a better life. This is one of the most accomplished first novels you'll read this year."
—Mark Sullivan, #1 New York Times bestselling author of Beneath a Scarlet Sky

"A gripping, tender, and sparkling debut—with impeccable research and exquisite prose, Posey weaves a story of love and loss before, during, and after the Second World War. A beguiling, thought-provoking, and ultimately satisfying novel."
—Susan Elia MacNeal, Edgar-nominated author of the New York Times bestselling Maggie Hope series

"A moving exploration of the love between Alec and June, who find themselves in danger of being torn apart by war. Posey observes their secrets and their struggles with a keen and sensitive eye. The writing is tremendous, at once evocative and precise, the ending deeply touching."
—Frances Liardet, New York Times bestselling author of We Must Be Brave

"The Stars We Share is an absolutely captivating debut that's equally suspenseful, sweet, lush, and propulsive. It's the best book I've read in quite a while."
—J. Ryan Stradal, New York Times bestselling author of Kitchens of the Great Midwest

"The Stars We Share is a beautifully rendered story, tender and true, that gets to the heart of what it means—and what it costs—to love a person in this imperfect world of ours, and to be loved in return. An evocative and stunning debut."
—Susan Meissner, bestselling author of The Nature of Fragile Things

"Gorgeously written and impeccably researched, The Stars We Share is by turns a love story, a coming-of-age story, and ultimately a gripping story of the secrets people keep and the toll they take on a family. I loved this utterly engaging, beautiful, and heartbreaking novel."
—Jillian Cantor, bestselling author of Half Life

"Written with the mythical grandeur of Isak Dinesen, The Stars We Share is a lyrical meditation about how two people born for each other can be torn asunder by war, the corrosive power of secrets, and the divisiveness of individual desires. Posey has created vivid, sensitive characters, a wholly believable twentieth-century Great Britain, and a tale you won't soon forget. A beautiful, heartrending read."
—Jennie Fields, author of Atomic Love
Pamela Dorman Books, 9781984879622, 400pp.
Publication Date: May 18, 2021
About the Author
Rafe Posey works as a bookseller on an island in the Pacific Northwest, where he enjoys ferries, tide pools, and exploring. Previously he taught English, writing, and humanities courses at the University of Baltimore and in a maximum security prison. The Stars We Share is his debut novel.