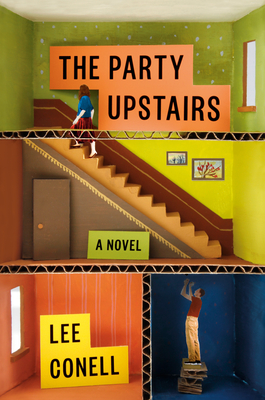 The Party Upstairs
A Novel
Hardcover

* Individual store prices may vary.
Other Editions of This Title:
Digital Audiobook (7/6/2020)
Paperback (7/6/2021)
Description
An electrifying debut novel that unfolds in the course of a single day inside one genteel New York City apartment building, as tensions between the building's super and his grown-up daughter spark a crisis that will, by day's end, change everything.

Ruby has a strange relationship to privilege. She grew up the super's daughter in the basement of an Upper West Side co-op that gets more gentrified with each passing year. Though not economically privileged herself, her close childhood friendship with Caroline, the daughter of affluent tenants, and the mere fact of living in such a wealthy neighborhood, close to her beloved Natural History Museum, brought her certain advantages, even expectations. Naturally Ruby followed her dreams and took out loans to attend a prestigious small liberal arts college and explore her interest in art. But now, out of school for a while, she is no closer to her dream job, or anything resembling it, and she's been forced by circumstances to do the last thing she wanted to do: move back in with her parents, back into the basement. And Caroline is throwing one of her parties tonight, in her father's glorious penthouse apartment, a party Ruby looks forward to and dreads in equal measure.

With a thriller's narrative control, The Party Upstairs distills worlds of wisdom about families, great expectations, and the hidden violence of class into the gripping, darkly witty story of a single fateful day inside the Manhattan co-op Ruby calls home. Told from the alternating points of view of Ruby and her father, the novel builds from the spark of an early morning argument between them to the ultimate conflagration to which it leads by day's end. By the time the ashes have cooled, the façade that masks the building's power structure will have burned away, and no party will be left unscathed.
Praise For The Party Upstairs: A Novel…
Winner of the Wallant Award

"The Party Upstairs is a nuanced, heartfelt novel that offers righteous anger spiked with enough good humor to keep the cocktail balanced, and a refreshing twist on an old genre: it doesn't try to disentangle character from class. The tangle, it suggests, is the point." —Washington Square Review

"Conell creates a microcosm of life on the s*** side of the wealth gap in New York City, fills it with absurd, infuriating, and endearing characters, and hilariously skewers privilege that can't (or won't) recognize privilege." —Buzzfeed

"Lee Conell has a keen eye for the grand delusions and small daily hypocrisies of a 'classless' America . . . brisk, canny fun—an upstairs-downstairs for the modern age." —Entertainment Weekly
 
"A gripping tale of class and privilege . . . page-turning." —The Economist

"Singularly suited to the specific times we're in. . . The novel's portrayal of class, the real and lasting effects that wealth, or lack thereof, can have on your mentality and outlook, is unparalleled." —Literary Hub 

"Sharp and well-observed." —New York Post's Best Books of the Year

"There's nothing like a great New York City novel, and praise be to the novelists who take us there: Think Cathleen Schine, Elinor Lipman, Emma Straub, Jennifer Egan and now Lee Conell, whose exquisite debut gets to the heart of the city . . . Like Kiley Reid's Such a Fun Age, The Party Upstairs will make you laugh even as you grapple with how money defines many of its characters' most significant choices. . . . an on-the-nose, of-the-moment dark comedy that delves deep into issues of wealth, gender and privilege in the most iconic of American cities." —BookPage (starred review)

"Masterful . . . A portrait of aspiration, class immobility, love, and rage, it's a gem." —Kenyon Review

"Conell manifests a tension so tangible that we are left on edge, desperate for some cathartic return. But in a tale that is as poignant as it is funny, Conell's portrait of class division and privilege ultimately reminds us of the gaping disparities between our expectations and the harsh realities that often follow." —ZYZZYVA 

"A portrait of social class in New York City, The Party Upstairs is at once witty, spooky, and lively, with several realities all performing themselves simultaneously. Lee Conell is a maestro." —Lorrie Moore

"The Party Upstairs brings the Aristotelian unities to one Upper West Side apartment building in her debut, which follows a single day in the life of Ruby, the daughter of the super who oversees a gentrifying complex. What follows is Conell's perceptive observation of how class and politics plays out in the real world, behind the metal chain securing an apartment door." —The Millions 

"Conell, who won the Nelson Algren Literary Award for short fiction in 2016, ignites this suspenseful novel, taking place over a single day, with a passion, psychological insight, and a keen sensibility about class and economic difference." —The National Book Review

 "The chapters alternate focus between Martin and Ruby, depicting their self-interrogations and flickering emotions with a nimble facility that recalls Virginia Woolf. . . . sharp and affecting." —Chattanooga Times Free Press

"Conell's smashing debut creates a vivacious microcosm of life inside a tony Manhattan co-op building . . . Conell's talent for storytelling, wicked sense of humor, and compassion for her characters will leave readers eager for her next book." —Publishers Weekly, starred review

"Lee Conell is already one of my favorite writers, and The Party Upstairs is a triumphant debut novel. She writes with such precision, utilizing a sharp sense of humor, that the cuts go deep, so expertly placed, and you find yourself irrevocably changed. Conell's voice is wholly original, unafraid to work with issues of class and gender and family. A wonder in every way." —Kevin Wilson, author of Nothing to See Here and The Family Fang

"Conell's debut perfectly captures the co-op's ecosystem and the ways class informs every interaction, reaction, and relationship inside it. . . . Conell's writing remains cleareyed, darkly funny, and deeply empathetic. A slow-burning debut that keenly dissects privilege, power, and the devastation of unfulfilled expectations." —Kirkus

"The Party Upstairs made my pulse race. It builds its tensions expertly, like a thriller, unearthing suspense from the daily struggle to earn and keep a paycheck, the never-ending threat of job-loss and destitution. Lee Conell perceives everyone she writes about, rich and poor alike, with perfect clarity: on the one side those who gaze out on poverty as a kind of spectacle, on the other those who endure it as a kind of bombardment, and in the middle Martin and Ruby, the superintendent of an Upper West Side apartment building and his debt-ridden daughter, who pretend—but only pretend—that they're able to watch the bombs fall from afar." —Kevin Brockmeier, author of The Illumination

"In The Party Upstairs Lee Conell follows Martin and Ruby, father and daughter, through a single day as they negotiate the exasperating occupants, living and dead, of the co-op where Martin works as the superintendent. Conell writes with wonderful wit and empathy about the importance of money, the longing for a larger life and the confusions between a parent and an adult child. An irresistible novel." —Margot Livesey, author of The Flight of Gemma Hardy and The Boy in The Field

"I savored every word of this funny, wise, and cool book. Ruby's post-college return to her parents' apartment in the basement of a building near the Museum of Natural History is hardly triumphal, yet on one March day and night she and her father—the building's super—manage to do and undo their best-laid plans and beliefs about who they are to each other and in the world. Lee Conell is profound, wise, and witty, and in The Party Upstairs has offered us all a manual for how to care for the spaces we inhabit and the people and events that upset our equilibrium in ways both good and bad—including ourselves. This novel will take its well-earned place among the enduring books about young women. It is serious-minded and relevant in the hardest times, and also offers the pleasures of a great party." —Alice Elliott Dark

"The Party Upstairs is a dazzling and dioramic novel--Lee Conell situates so much intricate life and energy inside of one day, one building. I'll be recommending this smart, funny, suspenseful, timely, and beautifully constructed book to friends and strangers." —Chris Bachelder, author of The Throwback Special

"The Party Upstairs is thrilling—fiercely intelligent, meticulously crafted, and darkly, painfully funny. At every turn, on every page, Lee Conell offers rare insight and rewards her lucky readers' attention. This is a first-rate writer, unafraid and illuminating and vitally necessary." —Bret Anthony Johnston, author of Remember Me Like This

Penguin Press, 9781984880277, 320pp.
Publication Date: July 7, 2020
About the Author
Lee Conell is the author of the story collection Subcortical, which was awarded The Story Prize's Spotlight Award. Her short fiction has received the Chicago Tribune's Nelson Algren Award and appears in the Oxford American, Kenyon Review, Glimmer Train, American Short Fiction, and elsewhere. She is the recipient of creative writing fellowships from the Japan-United States Friendship Commission and the National Endowment for the Arts, the Tennessee Arts Commission, and the Sewanee Writers' Conference.
or
Not Currently Available for Direct Purchase