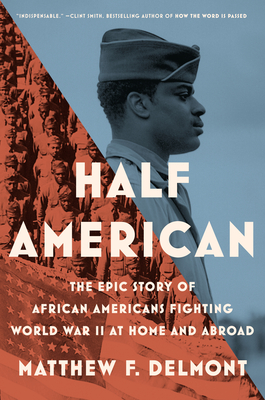 Half American
The Epic Story of African Americans Fighting World War II at Home and Abroad
Hardcover

* Individual store prices may vary.
Other Editions of This Title:
Digital Audiobook (10/17/2022)
Description
The definitive history of World War II from the African American perspective, written by civil rights expert and Dartmouth history professor Matthew Delmont

Over one million Black men and women served in World War II. Black troops were at Normandy, Iwo Jima, and the Battle of the Bulge, serving in segregated units and performing unheralded but vital support jobs, only to be denied housing and educational opportunities on their return home. Without their crucial contributions to the war effort, the United States could not have won the war. And yet the stories of these Black veterans have long been ignored, cast aside in favor of the myth of the "Good War" fought by the "Greatest Generation."

Half American is American history as you've likely never read it before. In these pages are stories of Black heroes such as Thurgood Marshall, the chief lawyer for the NAACP, who investigated and publicized violence against Black troops and veterans; Benjamin O. Davis, Jr., leader of the Tuskegee Airmen, who was at the forefront of the years-long fight to open the Air Force to Black pilots; Ella Baker, the civil rights leader who advocated on the home front for Black soldiers, veterans, and their families; James Thompson, the 26-year-old whose letter to a newspaper laying bare the hypocrisy of fighting against fascism abroad when racism still reigned at home set in motion the Double Victory campaign; and poet Langston Hughes, who worked as a war correspondent for the Black press. Their bravery and patriotism in the face of unfathomable racism is both inspiring and galvanizing. In a time when the questions World War II raised regarding race and democracy in America remain troublingly relevant and still unanswered, this meticulously researched retelling makes for urgently necessary reading.
Praise For Half American: The Epic Story of African Americans Fighting World War II at Home and Abroad…
"Half American is a triumph of eloquence and erudition. Historian Matthew Delmont sheds invigoratingly bold and new light on the dual struggle to end racial injustice at home and internationally during the Second World War. This expert distillation of the wartime struggle for Black dignity and citizenship reimagines the history of postwar American democracy. Through brilliantly moving personal histories that simultaneously touch the local, national, and global, Half American illuminates the depth and breadth of a 'Double V' campaign that, in many ways, never truly ended." 
—Peniel E. Joseph, author of The Third Reconstruction: America's Struggle for Racial Justice in the Twenty-First Century

"Matthew F. Delmont's Half American is a bold, searing, and moving account of the courageous Black men and women who served during World War II. While their stories and contributions are too often sidelined in American popular narratives, Delmont's brilliant book skillfully weaves together insights from an array of archival records and military documents to place Black Americans at the center of the story. With rigor, passion, and depth of analysis, Delmont compellingly demonstrates that Black participation was absolutely essential to American victory during World War II. This is a must-read for anyone interested in race, American democracy, and military history."
—Keisha N. Blain, coeditor of Four Hundred Souls and author of Until I Am Free: Fannie Lou Hamer's Enduring Message to America

"Matthew F. Delmont has opened up the conversation about World War II and civil rights in this artfully written book about the nuanced and complex relationship between Black soldiers and war supporters and visions of freedom abroad and at home. Through an absorbing series of narratives, Delmont reconsiders previously held notions of heroism to not only include the Black fighters often left out of stories of World War II, but he also includes the myriad of Black workers who staffed the nation's military industries and were subjected to racist attacks as they toiled. A brilliant piece of history, Delmont has ultimately challenged and transformed the definition of the Greatest Generation."
—Marcia Chatelain, Pulitzer Prize–winning author of Franchise: The Golden Arches in Black America

"Matthew F. Delmont has written a remarkable account of the shockingly oppressive conditions that African Americans—from the Tuskegee Airmen, to the men of the 92nd Infantry, to Black Marines—experienced during and after World War II. His research and ability to so eloquently describe those circumstances and the remarkable contributions that these men and women made in achieving our historic victories in Europe and Asia make this book a very compelling read. It ought to be mandatory reading for every member of Congress."
—Tom Daschle, former Senate majority leader
Viking, 9781984880390, 400pp.
Publication Date: October 18, 2022
About the Author
Matthew Delmont is the Sherman Fairchild Distinguished Professor of History at Dartmouth College. A Guggenheim Fellow and expert on African American history and the history of civil rights, he is the author of four books: Black Quotidian, Why Busing Failed, Making Roots, and The Nicest Kids in Town. His work has also appeared in The New York Times, The Atlantic, the Washington Post, NPR, and several academic journals. Originally from Minneapolis, Minnesota, Delmont earned his B.A from Harvard University and his M.A. and Ph.D. from Brown University.