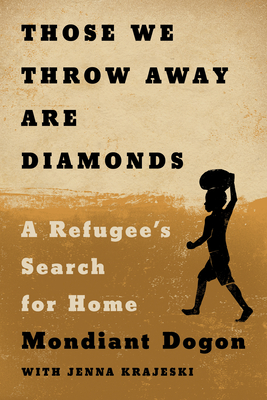 Those We Throw Away Are Diamonds
A Refugee's Search for Home
Hardcover

* Individual store prices may vary.
Other Editions of This Title:
Digital Audiobook (10/11/2021)
Library Binding, Large Print (3/9/2022)
Paperback (10/11/2022)
Description
A New York Times Book Review Editors' Choice • Named a Best Nonfiction Book of 2021 by Kirkus


A stunning and heartbreaking lens on the global refugee crisis, from a man who faced the very worst of humanity and survived to advocate for displaced people around the world

One day when Mondiant Dogon, a Bagogwe Tutsi born in the Democratic Republic of Congo, was only three years old, his father's lifelong friend, a Hutu man, came to their home with a machete in his hand and warned the family they were to be killed within hours. Dogon's family fled into the forest, initiating a long and dangerous journey into Rwanda. They made their way to the first of several UN tent cities in which they would spend decades. But their search for a safe haven had just begun.

Hideous violence stalked them in the camps. Even though Rwanda famously has a former refugee for a president in Paul Kagame, refugees in that country face enormous prejudice and acute want. For much of his life, Dogon and his family ate barely enough to keep themselves from starving. He fled back to Congo in search of the better life that had been lost, but there he was imprisoned and left without any option but to become a child soldier.

For most refugees, the camp starts as an oasis but soon becomes quicksand, impossible to leave. Yet Dogon managed to be one of the few refugees he knew to go to college. Though he hid his status from his fellow students out of shame, eventually he would emerge as an advocate for his people.

Rarely do refugees get to tell their own stories. We see them only for a moment, if at all, in flight: Syrians winding through the desert; children searching a Greek shore for their parents; families gathered at the southern border of the United States. But through his writing, Dogon took control of his own narrative and spoke up for forever refugees everywhere.

As Dogon once wrote in a poem, "Those we throw away are diamonds."
Praise For Those We Throw Away Are Diamonds: A Refugee's Search for Home…
"Notwithstanding the brutality he describes, Dogon's tale possesses a beguiling delicacy. We never lose sight of his humanity, even if he often doubts it himself . . . This book beautifully captures the colossal waste that the refugee experience—essentially a state of suspended animation—represents . . . refugees are engaged in a dogged battle to endow a modicum of dignity to lives over which they exert almost no control. Dogon rises to that challenge far better than most of us would." —New York Times Book Review

"Those We Throw Away Are Diamonds is a jarring reminder that we must never forget the refugee . . . And this is what makes Those We Throw Are Diamonds spectacular: war destroys; war burns things to the ground; war strips us naked. But our ability to retain our humanity afterward is what keeps us going." —Isele Magazine

"Throughout this memoir, Dogon shares stories about his family and their efforts to find safety. His plea is that the world does not forget the many refugees still living in stateless purgatory. Verdict: Those interested in international relations, immigration, and social work will find Dogon's firsthand account essential reading." —Library Journal

"An eloquent and necessary plea for compassion for war refugees everywhere . . . In a beautifully heartfelt, plainspoken account, a refugee from the Congo-Rwanda wars breaks his silence to reveal his family's story of fleeing their home amid unimaginable violence . . . With the assistance of journalist Krajeski, Dogon movingly, tragically describes the trauma he and his family endured. The pain was so deep that even among them, they could not talk about what they had witnessed, which led to a terrible, debilitating silence . . . Now, Dogon is able to advocate for the plight of all who suffer the terrors of civil war. Throughout, he delivers effectively vivid details of his life and culture, and it's clear that he is dedicated to helping others in similar terrible circumstances." —Kirkus (starred)

"Searing debut memoir . . . The result is an immensely moving memorial to the Rwandan tragedy." —Publishers Weekly (starred)

"In Those We Throw Away Are Diamonds we enter into the life and world of Mondiant Dogon, an exceptional young person, who has lived far beyond his years. The story is full of wisdom, goodwill, and the grace that human beings can deliver each other—even as the battles wage around us. It is a refusal to throw away memories of hardship and hope, of resilience and tragedies, of the conditions of our world and the circumstances that might lift us above the fray to offer kindness and care." —Kao Kalia Yang, author of Somewhere in the Unknown World

"A difficult dive into one of the bloodiest genocides in modern history leading to years of continuous suffering as a refugee. Dogon brings back to life the inhumanity he faced in order to open the hearts and minds of its readers connecting them to those who have been disconnected by unimaginable tragedy." —Atia Abawi, author of A Land of Permanent Goodbyes

"A harrowing story told with wisdom and grace, in a crisp, sensory style that instantly transports. From the first page, my heart was in my mouth." —Dina Nayeri, author of The Ungrateful Refugee

"Mondiant Dogon takes us on a journey through a heartrending window into the lives of the humans that live in Congo, Rwanda and Gihembe. Besides the heartbreaking accounts in the story, Mondiant also gives us the positive and human stories that do exist in his story, his families and his fellow refugees. This book should be read world-wide to counter the rhetoric of refugees as nothing but helpless, unable to do anything for their lives. This book shows otherwise." —Abdi Nor Iftin, author of Call Me American
 
"This incandescent book will transform you. Those We Throw Away Are Diamonds offers an immersive, riveting look at one Bagogwe man's singular journey from war in Congo to safety, in which good and evil are relative when war offers no good choices to anyone, when safety is an illusion, and when forgiveness is fraught. It is an uncompromising study in colonial powers as the root cause of rising displacement after centuries of redrawing boundaries, fomenting ethnic crises, and robbing regions of natural resources. But even as it offers high-level, international context, the book remains focused on the people whose lives are destroyed by war and policies, by disinterest and pity. Mondiant Dogon writes the stories of his community with such candor, compassion, and love that they can never be erased. I know I will never forget them." —Jessica Goudeau, author of After the Last Border
Penguin Press, 9781984881281, 336pp.
Publication Date: October 12, 2021
About the Author
Mondiant Nshimiyimana Dogon is an author, human rights activist, and refugee ambassador. Born into a Congolese Tutsi family in Bagogwe tribe in North Kivu province, at age three he was forced to leave his home village, Bikenke, because of the Rwandan genocide against Tutsis that spilled over into the Democratic Republic of Congo. Since 1996 he has lived in refugee camps. Dogon holds a BA from the University of Rwanda and an MA in international education from New York University.

Jenna Krajeski is a reporter for The Fuller Project whose writing has appeared in The New Yorker, The New York Times, and The Nation, among other publications. She is the coauthor of Nobel laureate Nadia Murad's memoir, The Last Girl, and was a Knight-Wallace Fellow at the University of Michigan.