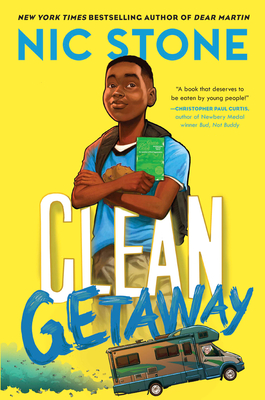 Clean Getaway
Hardcover

* Individual store prices may vary.
Other Editions of This Title:
Digital Audiobook (1/6/2020)
Paperback (1/5/2021)
Paperback, Large Print (9/16/2020)
CD-Audio (1/7/2020)
Library Binding (1/7/2020)
Winter 2019 Kids Indie Next List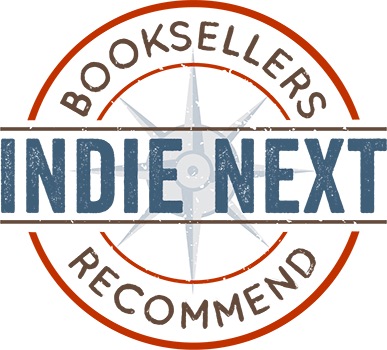 "Stone takes on the ugly realities of the Jim Crow laws, family stories untold, and love so deep and powerful it'll make you cry through your smile. Mind you, this is also a hilarious book. William 'Scoob' Lamar is on lockdown at home by a dad who refuses to hear his side of why he hit that kid at school, so when his G'ma invites him to her brand new mobile home, he's all in, even leaving his phone behind so he doesn't have to hear his dad yell. But when G'ma pulls out her 'treasure box' and the
Traveler's Green Book
, Scoob realizes this trip may be more than he bargained for. Brilliant weaving of historical realities into a funny, heartbreaking coming-of-age. Welcome to middle grade, Nic!"
— Linda Sherman-Nurick, Cellar Door Books, Riverside, CA
View the List
Description
From #1 New York Times bestselling author Nic Stone comes a timely middle-grade road-trip story through landmarks of the Civil Rights movement and the map they lay for contemporary race relations.

How to Go on an Unplanned Road Trip with Your Grandma:
Grab a Suitcase: Prepacked from the big spring break trip that got CANCELLED.
Fasten Your Seatbelt: G'ma's never conventional, so this trip won't be either.
Use the Green Book: G'ma's most treasured possession. It holds history, memories, and most important, the way home.

What Not to Bring:
A Cell Phone: Avoid contact with Dad at all costs. Even when G'ma starts acting stranger than usual.

Set against the backdrop of the segregation history of the American South, take a trip with this New York Times bestseller and an eleven-year-old boy who is about to discover that the world hasn't always been a welcoming place for kids like him, and things aren't always what they seem--his G'ma included.

"Truly a delight." -Christopher Paul Curtis, author of Newbery Medal winner Bud, Not Buddy
Praise For Clean Getaway…
Praise for Clean Getaway:

"A road novel that serves in part as a primer on important scenes and themes of the civil-rights movement... [A] poignant caper." —The Wall Street Journal 

"An absolute firecracker of a book." —Booklist, starred review

"A heartwarming, family-centered adventure that will leave readers guessing until the end." —Publishers Weekly, starred review

"Rich in history, Stone's middle-grade debut entertains and informs young readers....A road trip to remember." —Kirkus Reviews

"Stone has crafted a history lesson in road-trip form....a good addition for school ­libraries seeking unconventional approaches to history." —School Library Journal


Praise for Dear Martin:

"Powerful, wrenching." —John Green, #1 New York Times bestselling author of Turtles All the Way Down

"Absolutely incredible, honest, gut-wrenching. A must read!" —Angie Thomas, New York Times bestselling author of The Hate U Give

"Painfully timely and deeply moving." —Jodi Picoult

"Raw and gripping." —Jason Reynolds, New York Times bestselling coauthor of All American Boys
Crown Books for Young Readers, 9781984892973, 240pp.
Publication Date: January 7, 2020
About the Author
Nic Stone is an Atlanta native and a Spelman College graduate. After working extensively in teen mentoring and living in Israel for several years, she returned to the United States to write full-time. Nic's debut novel for young adults, Dear Martin, was a New York Times bestseller and a William C. Morris Award finalist. She is also the author of the teen titles Odd One Out, a novel about discovering oneself and who it is okay to love, which was an NPR Best Book of the Year and a Rainbow Book List Top Ten selection, and Jackpot, a love-ish story that takes a searing look at economic inequality.

Clean Getaway, Nic's first middle-grade novel, deals with coming to grips with the pain of the past and facing the humanity of our heroes. Nic lives in Atlanta with her adorable little family.

nicstone.info
1. What is your initial impression of Scoob? Why do you feel this way? What is your initial impression of G'ma? Why?
2. Scoob says that the RV gives him "the willies." (p. 9) Why does Scoob feel this way? He misses G'ma's house. Why do we become attached to places? Is it really about the place?
3. Scoob is in trouble with his father. Why? What happened at school? What do you think Scoob's father means when he says, "the punishment is harsher and the fallout is infinitely worse"? Who are "boys like you"? (pp. 13–17)
4. Who is Shenice? Who is Drake? What is epilepsy? What do you think about how Scoob responded to Bryce bullying Drake? (pp. 11–15)
5. Why was The Travelers' Green Booka necessary brochure when G'ma and G'pop were young adults?
6. Why do you suppose G'ma is swapping the license plates on the RV? (pp. 43–44)
7. G'ma keeps calling Scoob "Jimmy." Why? Who is Jimmy? What do you think is happening to G'ma? (pp. 82–83)
8. Scoob believes that G'ma is being less than truthful with him because she starts to whistle. How do you know if someone is being dishonest with you? What can you do about it?
9. G'ma is overwhelmed with guilt. Why does she think that being pulled over with G'pop was her fault? (pp. 135–136)
10. Chapter 15 details Scoob's dream about being back at home with his dad. What do you think this dream means?
11. Why do you think Scoob's mom is out of his and his father's lives? Why do you think Scoob is not ready to reconnect with her? (p. 216)
12. What does Scoob find inside G'ma's treasure chest? What do its contents inspire Scoob and his dad to do?