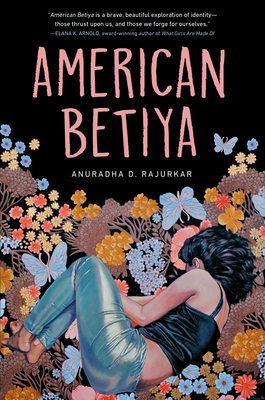 American Betiya
Hardcover

* Individual store prices may vary.
Other Editions of This Title:
Digital Audiobook (3/8/2021)
Library Binding (3/9/2021)
Description
A luminous story of a young artist grappling with first love, family boundaries and the complications of a cross-cultural relationship. Perfect for fans of Sandhya Menon, Erika Sanchez and Jandy Nelson.

Rani Kelkar has never lied to her parents, until she meets Oliver. The same qualities that draw her in--his tattoos, his charisma, his passion for art--make him her mother's worst nightmare.

They begin dating in secret, but when Oliver's troubled home life unravels, he starts to ask more of Rani than she knows how to give, desperately trying to fit into her world, no matter how high the cost. When a twist of fate leads Rani from Evanston, Illinois to Pune, India for a summer, she has a reckoning with herself--and what's really brewing beneath the surface of her first love.

Winner of SCBWI's Emerging Voices award, Anuradha D. Rajurkar takes an honest look at the ways cultures can clash in an interracial relationship. Braiding together themes of sexuality, artistic expression, and appropriation, she gives voice to a girl claiming ownership of her identity, one shattered stereotype at a time.

"A brave, beautiful exploration of identity--those thrust upon us, and those we forge for ourselves." --Elana K. Arnold, award-winning author of What Girls Are Made Of
Praise For American Betiya…
A YALSA nominee for Best Fiction for Young Adults

"A bold coming-of-age piece that a lot of us, who have had to seamlessly merge two separate identities, can relate to." –Buzzfeed
 
"American Betiya is a celebration of feminist allyship. Thoughtful and compelling, it is also a valuable conversation starter about cultural identity amid the complexities of sex, love, and respect." --The Bulletin

"Laser-focused prose will resonate with any teen reader who has been harassed for their brown skin, struggled with first love or borne the pressure of family expectations... impossible to read without tightness in your chest and your heart in your throat." —BookPage

"Laced with poetic and rich writing, American Betiya candidly captures the heartbreaking impetuousness of that all-consuming first love, the tightrope we walk as we seek to navigate cultural tensions, and, most importantly, the risks we must take to spread our wings and find ourselves." —Gae Polisner, author of The Memory of Things
 
"I was immediately captivated by Rani's unique voice, and her raw sincerity kept me hooked through every step of her journey. This book is overflowing with honesty, and stunningly beautiful." —Akemi Dawn Bowman, award-winning author of Starfish

"American Betiya is about Rani, an Indian American teen with a photographer's eye and dreams of medical school who experiences first love with a white American boy against her family's traditions. Beautifully written, this story tackles racism, identity, and learning what you really want." –Rajani LaRocca, author of Red, White, and Whole

"American Betiya explores the passion of teen romance, the steady and supportive (but sometimes overpowering) outpouring of love from family and community, and above all, the importance of learning to take care of oneself. In Rani, Rajurkar paints a tender portrait of a South Asian teen who is navigating boundaries, experimenting with self-expression, and ultimately, garnering the strength to speak up for herself. This gentle story about self-care and self-discovery, lightly sprinkled with humor, will surely be enjoyed by many young readers." —Padma Venkatraman, Author of The Bridge Home, Winner of the Walter Award 

"American Betiya is a brave, beautiful exploration of identity—those thrust upon us, and those we forge for ourselves." —Elana K. Arnold, award-winning author of What Girls Are Made Of

"American Betiya thoughtfully examines cross-cultural boundaries, first love, the first steps of independence from family, and the power of art to transform and heal. I loved Rani's fierce, heartfelt, and beautifully told journey." —Kathleen Glasgow, New York Times bestselling author of Girl in Pieces

"This is a book that doesn't shy away from risks taken, mistakes made, bridges crossed and broken, boundaries pushed and the understanding that comes from testing love and finding the places where it crumbles and where it holds." —Nandini Bajpai, author of A Match Made in Mehendi

"A beautiful, nuanced exploration of self-actualization, love, sex, and the complicated intersection of all three. From its witty banter and feminist overtones to its portrayal of the dire consequences of gaslighting and cultural appropriation, I loved every minute of this exquisite story. I can't wait to read what Anuradha D. Rajurkar writes next!" —Nora Carpenter, award-winning author of The Edge of Anything

"An eye-opening, edgy, emotional exploration of identity, love, family and clashing culture, American Betiya is an unputdownable must-read." —Liza Wiemer, author of The Assignment

"American Betiya is amazing! This glorious book is about finding yourself while trapped between two very different worlds. I loved how Rani was both a strong, independent American girl and also a loving, proud Indian betiya. I can't say enough good things about this book. It is brilliant! -Ellen Oh, author and co-founder of We Need Diverse Books, for Goodreads' Incredible YA Reading List
 
"This heartbreaking love story is a strong debut and an entertaining read. An interracial teen romance that unflinchingly tackles racism and patriarchy." —Kirkus Reviews

"Rajurkar's tight prose facilitates a gripping plot." —Publishers Weekly
Knopf Books for Young Readers, 9781984897152, 368pp.
Publication Date: March 9, 2021
About the Author
ANURADHA D. RAJURKAR is a teacher by day and a YA writer by night, who holds two degrees from Northwestern University. She lives in Evanston with her husband and two sons. American Betiya is her first novel.

Follow her on Twitter @ADRajurkar1