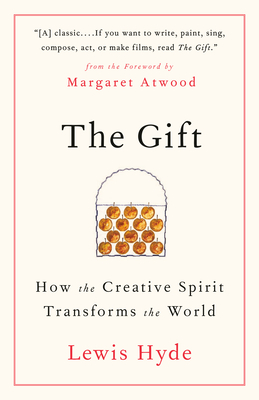 The Gift
How the Creative Spirit Transforms the World
Paperback

* Individual store prices may vary.
Other Editions of This Title:
MP3 CD (4/12/2022)
Compact Disc (4/12/2022)
Description
"If you want to write, paint, sing, compose, act, or make films, read The Gift." —from the Introduction by Margaret Atwood

A modern classic cherished by many of the greatest artists of our time and a brilliant, life-changing defense of the value of creative labor.

Drawing on examples from folklore and literature, history and tribal customs, economics and modern copyright law, Lewis Hyde demonstrates how our society—governed by the marketplace—is poorly equipped to determine the worth of artists' work. He shows us that another way is possible: the alternative economy of the gift, which allows creations and ideas to circulate freely, rather than hoarding them as commodities.

Illuminating and transformative, The Gift is a triumph of originality and insight—an essential book for anyone who has ever given or received a work of art.
Praise For The Gift: How the Creative Spirit Transforms the World…
"A classic.... If you want to write, paint, sing, compose, act, or make films, read The Gift." —from the Introduction by Margaret Atwood

"Brilliant.... If you care about art buy this book and let it give itself to you." —The Boston Globe

"Fascinating and compelling.... Seems to light up everything it touches, including the reader's mind." —The New Republic

"Inspiring.... Reckons with the act of creation.... Suggests how to keep art sacred." —The New York Times Book Review

"In a climate where we know the price of everything and the value of nothing, Lewis Hyde offers us an account of those few, essential aspects of human experience that transcend commodity.... A manifesto of sorts for anyone who makes art, cares for it and understands that our most precious possessions are not for sale." —Zadie Smith

"No one who is invested in any kind of art can read The Gift and remain unchanged." —David Foster Wallace

"Few books are such life-changers as The Gift: epiphany, in sculpted prose." —Jonathan Lethem

"Brave and startling.... Lewis Hyde is one of the finest essayists of his generation." —Robert Bly

"Absolutely interesting and original.... An exciting book for anyone interested in the place of creativity in our culture." —Annie Dillard

"This long-awaited new edition of Lewis Hyde's groundbreaking and influential study of creativity is a cause for across-the-board celebration." —Geoff Dyer

"Exhilarating.... Explores its subject in a thoroughly original manner." —Los Angeles Times

"Intriguing.... An original and provocative critique of capitalist culture." —The Nation

"The Gift is fascinating on the power of art to take us beyond ourselves.... I would share The Gift not only with anyone grappling with the question of how to balance a creative passion with making a living, anyone interested in life and literature, but also with 'all thinking humans' (Lewis's original intended audience)." —Anita Sethi, The Guardian

"Wise [and] charming.... A glimpse from the realm of necessity into the realm of freedom, it is, like the best gifts, good beyond expectation." —The Village Voice

"A source of inspiration and affirmation in my artistic practice for over twenty years. It is the best book I have read on what it means to be an artist in today's economic world. It has shown me why we still use the word gift to describe artistic talent, and that self lessness, not self-expression, lies at the root of all creative acts." —Bill Viola


Vintage, 9781984897787, 480pp.
Publication Date: September 24, 2019
About the Author
LEWIS HYDE is a poet, essayist, translator, and cultural critic with a particular interest in the public life of the imagination. In addition to The Gift, he is the author of Trickster Makes This World; Common as Air; A Primer on Forgetting; and a book of poems, This Error is the Sign of Love. He has also published two volumes of translations of Nobel laureate Vicente Aleixandre's poetry and is the editor of On the Poetry of Allen Ginsberg and The Essays of Henry D. Thoreau. A MacArthur Fellow and former director of creative writing at Harvard University, Hyde was the Richard L. Thomas Professor in Creative Writing at Kenyon College until his retirement in 2018. He lives in Cambridge, Massachusetts with his wife, the writer Patricia Vigderman.