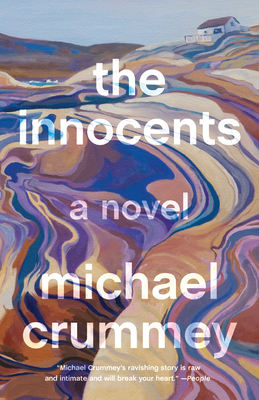 The Innocents
A Novel
Paperback

* Individual store prices may vary.
Other Editions of This Title:
Digital Audiobook (8/19/2020)
Digital Audiobook (11/11/2019)
Digital Audiobook (8/26/2019)
Hardcover (11/12/2019)
Library Binding, Large Print (3/1/2020)
Description
From prizewinning author Michael Crummey comes a spellbinding story of survival in which a brother and sister confront the limits of human endurance and their own capacity for loyalty and forgiveness.

A brother and sister are orphaned in an isolated cove on Newfoundland's northern coastline. Still children with only the barest notion of the outside world, they have nothing but the family's boat and the little knowledge passed on haphazardly by their mother and father to keep them alive. Still, they muddle through the severe round of the seasons, through years of meagre catches and storms and ravaging illness, their fierce loyalty to each other motivates and sustains them. But as seasons pass and they wade deeper into the mystery of their own natures, even that loyalty will be tested.

Richly imagined and compulsively readable, prizewinning author Michael Crummey's The Innocents is a riveting story of hardship and survival, and an unflinching exploration of the bond between brother and sister. By turns electrifying and heartbreaking, it is a testament to the bounty and barbarity of the world, to the wonders and strangeness of our individual selves.
Praise For The Innocents: A Novel…
*Finalist for the 2019 Giller Prize, 2019 Governor General's Literary Awards, & 2019 Rogers Writers' Trust Fiction Prize*

"Imagine Into the Wild with prepubescents, told in the voice of a William Blake acolyte as verbally inventive as Tolkien…The Innocents is a survivor narrative and a psychological thriller, a chilling study in isolation."
—Hillary Kelly, Vulture

"Michael Crummey's ravishing story is raw and intimate and will break your heart."
—People Magazine (Book of the Week)

"This is an extraordinary novel, emotionally precise, vivid in its portrayal of nature, and subtle in its exploration of the relationship between life and story."
—Wall Street Journal

 "Engrossing and beautifully written…A work of lyrical naturalism dressed as an allegory."
—Washington Post

"What begins as a gripping survival tale deepens into a psychological inquiry into intimacy, conflict and what it means to be alone together in the world…[a] harshly beautiful new novel."
—USA Today

"A gripping and credible page-turner about children surviving in the wilderness, but more than that: this Adam and Eve struggle to make sense of a world that's somewhere between Eden and Hell. Michael Crummey writes like an avenging angel, never putting a word wrong."
—Emma Donoghue, author of Room 

"Michael Crummey's The Innocents is a dazzling and myriad achievement. Set against the unforgiving Newfoundland frontier, this harrowing tale of two siblings eking out a teetering existence is difficult to witness and impossible to put to down.  But what makes this story timeless is Crummey's rich depiction of the human heart in extremis, the unflagging beat of life in a world that is too much to bear. Set aside whatever you're reading and pick this up—The Innocents is a masterpiece."
—Smith Henderson, author of Fourth of July Creek

"Michael Crummey's new novel The Innocents is a fantastic read. Written in graceful and evocative prose, Ada and Evered's story blurs the boundary between the quotidian and the strange until it becomes a meditation on the curious fact of existence itself. A wonderfully provocative and insightful book."
—Kevin Powers, author of Yellow Birds and A Shout in the Ruins

"Few novels have cast their spell on me as deeply as The Innocents.  I am reminded of Dickens, not just the nineteenth-century setting and the imperiled children, but the artfulness: brilliant plot, unforgettable minor characters, perfect pacing. Yet Michael Crummey's poetic voice and landscape are his own.  The Innocents is brilliant."
—Ron Rash, author of Serena

"Page-turning…An unusual, gripping period novel from a much-honored Canadian writer."
—Kirkus (starred review)

"The riveting story of an orphaned brother and sister whose relationship is tested by hardship and isolation in 19th-century coastal Labrador…A richly fashioned story told with great sensitivity—one that is as credible as it is magical. The Innocents reminds us of all the reasons we read—to understand, to imagine, to find compassion and to witness the making of art."
—BookPage (starred review)

"Heartfelt, extraordinary...Crummey delivers profound insight into how individuals grapple with the forces of nature, not only in the unpredictable environment, but in the mystifying interior of their temperaments, drives, and character. This story of how two guileless youngsters navigate life will have a deep emotional impact on its readers."
—Publishers Weekly

"A gorgeous portrait of remote Newfoundland of yesterday with a remarkable story of human resilience at its core."
—Booklist

"Moving...The relentless bleakness is alleviated by the cinematic depiction of the surrounding wilderness, with Crummey's prose recalling that of Jim Crace in its strange, archaic terminology and sense of timelessness."
—Library Journal

"Inventive, dark, pathos-evoking, this sensitive novel of survival and discovery asks just how far innocence stretches in a remote cove of Newfoundland...This searing novel will keep readers engrossed in its harsh world long after its hopeful conclusion."
—Shelf Awareness
Anchor, 9781984898234, 304pp.
Publication Date: October 20, 2020
About the Author
MICHAEL CRUMMEY is an award-winning poet and storyteller. Crummey was born in Buchans, a mining town in the interior of Newfoundland. He is the bestselling author of four critically acclaimed novels, River Thieves, The Wreckage, Galore, and Sweetland, as well as five collections of poetry. His novels have won or been shortlisted for many prizes, including the Giller Prize, the Governor General's Literary Award, the Commonwealth Writers' Prize, and the International Dublin Literary Award, and his books have sold more than 225,000 copies in North America. He lives in St. John's, Newfoundland.