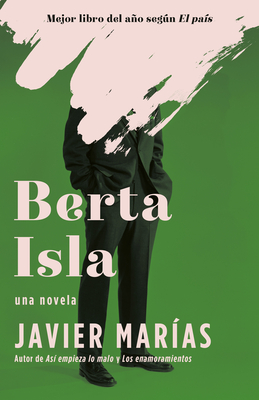 Berta Isla / Berta Isla
A novel
Paperback

* Individual store prices may vary.
Other Editions of This Title:
Digital Audiobook (8/5/2019)
Paperback (7/7/2020)
Digital Audiobook, Spanish, Castilian (11/20/2019)
Hardcover (8/6/2019)
Description
Una apasionante historia de espías y, al mismo tiempo, un profundo examen del matrimonio basado en secretos y mentiras.
 
En el colegio, Berta Isla decidió que se casaría con Tomás Nevinson, el apuesto chico de su clase, medio español medio inglés, con un extraordinario don de lenguas. Pero cuando Tomás regresa a Madrid tras sus estudios en Oxford, es un hombre diferente. Allí ha sido reclutado por un agente de los servicios secretos británicos, desencadenando así una serie de acontecimientos que afectarán la vida que ambos habían planeado. Con su inigualable modo de explorar los más oscuros rincones del ser humano, Marías sumerge al lector en el creciente abismo que se abre lentamente entre Berta y Tomás y las decisiones que cambiarán irremediablemente a ambos. Berta Isla es una novela sobre el amor y la verdad, sobre el miedo y los secretos, sobre las identidades ocultas y el destino que decidimos asumir en nuestra vida.

ENGLISH DESCRIPTION

From award-winning, internationally best-selling Spanish writer, author of The Infatuations, comes a gripping  novel of intrigue and missed chances--at once a spy story and a profound examination of a marriage founded on secrets and lies.

When Berta Isla was a schoolgirl, she decided she would marry Tomás Nevinson--the dashing half-Spanish, half-English boy in her class with an extraordinary gift for languages. But when Tomás returns to Madrid from his studies at Oxford, he is a changed man. Unbeknownst to her, he has been approached by an agent from the British intelligence services, and he has unwittingly set in motion events that will derail forever the life they had planned. With peerless insight into the most shadowed corners of the human soul, Marías plunges the reader into the growing chasm between Berta and Tomás and the decisions that irreversibly change the course of the couple's fate. Berta Isla is a novel of love and truth, fear and secrecy, buried identities, and the destinies we bring upon ourselves.
Praise For Berta Isla / Berta Isla: A novel…
"Marías ha forjado una obra maestra [...]. La gran literatura vuelve a estar escrita en español, para privilegio nuestro".
ABC Cultural
 
"Una mujer hecha de resistencia, insomnio y preguntas, casi Penélope. Y entre medias, una trama de intensidades [...], con reverberaciones líricas, luminosa de personajes en penumbra y bien armada".
El Mundo
 
"De nuevo Javier Marías ha fraguado una novela excepcional. Como instalado en una altísima cota de calidad literaria, el talento del escritor no desfallece ni se conforma con los caminos ya explorados".
El Periódico
 
"Berta Isla es una de las más complejas y atrevidas novelas del autor y, sin duda, la más inquietante y desolada".
Babelia
 
"Javier Marías debe ser un firme candidato para ganar el Nobel".
 J.M. Coetzee
 
"Javier Marías, uno de los más grandes, más geniales escritores del mundo".
 Claudio Magris
 
"Un gran escritor".
 Salman Rushdie
 
"Un escritor profundamente necesario, un caballero andante, divertido, punzante, lleno de ira y amor".
The Guardian
 
"Independientemente de nuestras expectativas, al leer elegimos pasar tiempo en compañía de un autor. En el caso de Javier Marías, se trata de una buena decisión: su mente es profunda, aguda, a veces turbadora, a veces hilarante, y siempre inteligente".
Edward St Aubyn, The New York Times Book Review
 
"Hechizante... evoca a creadores de acertijos como Borges, y las tramas de Marías, ingeniosas como jugadas de ajedrez, traen a la mente al gran maestro estratega del siglo XX, Vladimir Nabokov".
Los Angeles Times
Vintage Espanol, 9781984898258, 544pp.
Publication Date: August 6, 2019
About the Author
Javier Marías nació en Madrid en 1951. Ha publicado quince novelas, entre las que se encuentran Los enamoramientos y Así empieza lo malo, así como tres colecciones de cuentos y varios volúmenes de ensayos. Sus obras han sido traducidas a cuarenta y cuatro lenguas y ha sido galardonado con innumerables premios literarios internacionales, incluído el IMPAC Dublin Literary Award por Corazón tan blanco. Es también un experto traductor del inglés de autores como Joseph Conrad, Robert Louis Stevenson, Sir Thomas Browne y Lawrence Stern. Ha sido profesor en España, en Estados Unidos y en Gran Bretaña, donde fue profesor visitante de Literatura española en la Universidad de Oxford.