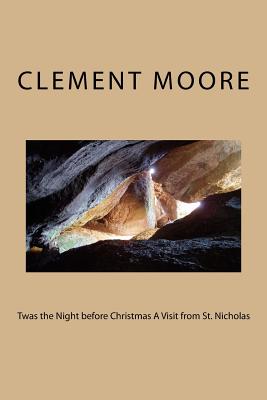 Twas the Night Before Christmas a Visit from St. Nicholas (Paperback)
Createspace Independent Publishing Platform, 9781986598835, 32pp.
Publication Date: March 17, 2018
Other Editions of This Title:
Paperback (12/8/2013)
Hardcover (11/17/2015)
Paperback (10/13/2017)
Paperback (12/26/2015)
Paperback (7/5/2016)
Paperback (10/12/2016)
Paperback (11/15/2015)
Board Books (9/1/2017)
Hardcover (9/4/2012)
Hardcover, Spanish (9/7/2012)
Board Books (9/15/2015)
Paperback (11/16/2010)
Paperback (10/10/2017)
Board Books (9/3/2019)
Paperback (8/24/2016)
Paperback (12/12/2011)
* Individual store prices may vary.
Description
was the Night Before Christmas is edited by Santa Claus for the benefit of children of the twenty-first century. Letter from Santa Claus: In this special twenty-first-century edition, selected lines have quietly slipped from the pages. Here at the North Pole, we decided to leave all of that tired old business of smoking well behind us a long time ago. The reindeer also asked that I confirm that I have only ever worn faux fur out of respect for endangered species. Publishers note: It was our sincere pleasure to act on Santa's express wishes. As the direct link between the exposure to the depiction of characters smoking and youth initiation to nicotine has been well established, we were compelled to make these recommended changes.
About the Author
Clement Clarke Moore (July 15, 1779 - July 10, 1863) was a writer and American Professor of Oriental and Greek Literature, as well as Divinity and Biblical Learning, at the General Theological Seminary of the Protestant Episcopal Church, in New York City. The seminary was developed on land donated by Moore and it continues on this site at Ninth Avenue between 20th and 21st streets, in an area known as Chelsea Square. Moore's connection with the seminary continued for more than 25 years.