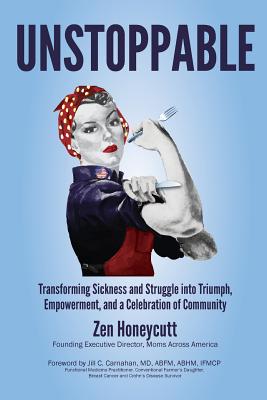 Unstoppable
Transforming Sickness and Struggle into Triumph, Empowerment and a Celebration of Community
Paperback

* Individual store prices may vary.
Description
UNSTOPPABLE is the story of a mother who learns about the current state of our world food supply, how it affects your dinner table, and how it affects the health of everyone you love. In her book, Zen walks you through her realization of the chemicals we all feed our loved ones, their origin and effects according to top-notch scientists from around the world, and why none of this is necessary according to farmers who not only want to feed the world, but to nourish it, and protect the environment at the same time. Moms come forward to talk about the chronic and life-threatening health issues of their children, themselves, and other family members that were greatly improved once they took matters into their own hands and acted on the truth. Scientists back up the moms with independent studies and unbiased peer-reviewed papers. Respected journalists, experts, and other activists share their stories of corporate greed and government corruption-all at the expense of our health. And Zen shows you, step-by-step, how to change things for yourself, your family, and the world. If you have a loved one who is sick, your family is struggling health issues, and/or you do not trust our current system to provide you the information you need-know that there is hope, that you are not alone, and there are steps you can take to be empowered to create the health and freedom you desire.
Createspace Independent Publishing Platform, 9781986668262, 272pp.
Publication Date: May 9, 2018
About the Author
Zen Honeycutt is a mom of three boys whose health improved greatly when she learned about GMOs and went organic. Her trials and tribulations led her to be an activist, speaker, documentary director, author, founding executive director of Moms Across America, a National Coalition of Unstoppable Moms, whose motto is Empowered Moms, Healthy Kids.